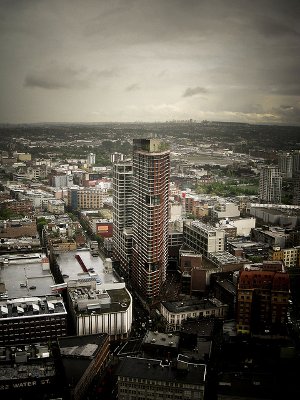 "Why are you afraid to talk to us? Is it because you know you're yuppie scum and you're rightly ashamed?" shouted Kim Hearty, a young anti-gentrification protester, with righteous glee, at a middle-class couple on a Friday night as they entered the new Pidgin Restaurant in Vancouver's Downtown Eastside.
"I'm here to prove that gentrification is inevitable if we let the ruling class take what's ours," explained Hearty to a reporter, as the heckled couple joined other patrons in the bourgeois new eatery, whose $5 plate of pickles has replaced the $3 donuts at nearby Cartems Donuterie as the plat-du-jour symbol of inner-city gentrification.
The scabrous shout-out came just as Hearty, 25, was being asked whether a new city hall report on homelessness doesn't prove that she and the other demonstrators are wrong about gentrification displacing low-income people in the inner-city neighbourhood.
The study found that the number of low-income housing units in Vancouver's downtown core not only stabilized during the gentrification boom that came before and after the 2010 Olympics -- it's on the rise.
There are 12,126 low-income units today compared to 11,371 in 1993.
It's true that the number of privately owned single-room-occupancy (SRO) units has declined. But that drop has been more than offset by an increase in rent-controlled social-housing projects which, barring a change in government policy, are beyond the reach of speculators. There are also a number of private units owned and rented out by charitable or non-profit groups who have no intention of going up-market.
In 1993, there were 3,604 non-market units, also known as social housing. Today there are 7,642. More than 300 additional social-housing units are expected next year.
This has helped create a critical mass in downtown Vancouver of low-income people living in government-funded buildings and SRO hotels -- exactly what was intended when the city set policy more than a decade ago, spelling out loud and clear that the area should be preserved as a mainly low-income neighbourhood.
These residents won't be eating at Pidgin or drinking IPAs across the street at Bitter or at whatever new boite turns up nearby. But they aren't leaving the historic area either, according to the report, despite the upward trajectory of their neighbourhood's price point.
Displacement versus mix
Vision Vancouver Councillor Kerry Jang said the new low-income housing figures show the protesters' warnings about displacement are bogus. "Gentrification is a problem if people are being displaced. But no one is being displaced."
Activist Hearty said the city's figures may be accurate, but that the number of low-income units in the Downtown Eastside is being swamped by the rising tide of market condos. "The number of (low-income) units has risen slightly whereas the number of rich people, and the housing for them, condos, has exploded dramatically."
Hearty's comment about the changing class makeup of the area underlines how the dispute over gentrification is less about displacement than about the future mix of the area.
The anti-gentrification activists centered at the Carnegie Community Action Project and various far-left websites want it to remain primarily a community of poor people.
The centre-left Vision Vancouver wants a mixed neighbourhood where low-income residents live beside more middle-class types, a model promoted by the late Vision Vancouver councillor Jim Green, and embodied by the mixed-income Woodward's building.
Ironically, Green was once a neighbourhood activist like Hearty & Co., adept at wielding a protest sign with the best. He turned to development as the best way to ensure that social housing was permanently embedded in the neighbourhood -- and is now vilified by his spiritual grandchildren.
Jang says Green had the right idea.
"We don't want ghettoization, which is actually what the Carnegie Action people want," said Jang. "They want a low-income-only neighbourhood, supported by government. That's what they told me in 2008, that has been their schtick, and we disagree. We want a mixed neighbourhood that is neither gentrified or ghettoized. We want a medium."
Pidgin is just the latest anti-gentrification flash point for the Carnegie protesters and young Marxist intellectuals steeped in writings about how capitalist neoliberalism escalates inequality in cities.
Over the past few years, they have opposed the condo-art space redevelopment of the Pantages Theatre, Mark Brand's revived Save On Meats and Wall Financial's massive redevelopment on the eastern edge of Hastings. They've also hassled some Strathcona hipsters for opening a clothing store in a building owned by one of the old Chinatown family societies.
They opposed these middle-class interlopers just as they reject city hall's long-standing policy of "revitalization without displacement" in the Downtown Eastside, a concept promoted by long-time city social planner Nathan Edelson, who spent over two decades working on projects in the Downtown Eastside.
They're not alone in their concerns.
The Portland Hotel Society (PHS), one of the most respected social service agencies in the Downtown Eastside, is less concerned with the trappings of the gentrification than the protesters. The PHS owns the Pennyslvania Hotel and leases its storefront space to upscale retailers, including the makers of the infamous $3 donuts.
But PHS founder Mark Townsend is concerned that gentrification will make the public spaces in the Downtown Eastside, including Pigeon Park, less tolerant of low-income residents and laments that there is no plan in place to secure land for more social housing.
He praised former premier Gordon Campbell and Housing Minister Rich Coleman for buying the SROs and building supportive housing facilities on city-owned land.
"We've been lucky because of these interventions," said Townsend, "but they are one-time interventions and not part of a long-term plan to secure land, which is the issue in the Downtown Eastside. Once land is gone to private owners, you can't get it back."
Townsend said there is a "misconception among well-meaning people that condos are somewhat cleansing. But condos don't take away the poverty, addiction, chronic mental illness and sexual abuse."
The PSA founder fears that many of the private SROs will increasingly rent to people who are not on social assistance and could eventually "evaporate" because the penalty imposed by the city for conversion to apartments or condos will no longer be enough of a disincentive.
Income mix possible: Edelson
Edelson, who now teaches in the University of B.C.'s planning school, argues that with the right policies, displacement is not an inevitable result of gentrification. And he believes the long-term rise in the number of low-income housing units proves him right and activist critics wrong.
"We didn't want the DTES to simply be a neighbourhood of poor people from all over the province. So we tried to come up with a middle-of-the-road solution that allowed some market investment with moderate income housing as well as one that had the SROs.
"Is it bad that this is bringing people in fancy cars into the heart of the DTES? I don't think so."
Edelson, whose roots are in the political left, sympathizes with the anti-gentrification activists.
"The new political leadership down there is mostly from a younger generation of people who, when they see the desperate poverty, are offended by it -- and which they should be.
"But many people believe that trends in different cities are inevitable here. And they are not. Where is our freeway?"
As a planner at city hall, Edelson was involved in one way or another with most of the low-income housing projects in the Downtown Eastside.
"I'm not afraid of an income mix because I've lived in mixed-income communities. I lived right next to people on social assistance and I think it's more than possible in the DTES because there is already a history of that because of Strathcona."
'We can't take anything for granted'
Market pressures on the low-income community were tempered in recent years by the BC Liberal government's move to buy 24 residential hotels with 1,499 rooms in the area, and by its decision to build new social and supportive housing units on 14 city-owned sites. Five of those big projects are in the Downtown Eastside. The private sector through the Streetohome Foundation has also brought some stability for the homeless.
But this investment is winding down. And the city, lacking necessary taxing powers and reliant on senior government, is increasingly relying on condo developers to provide social housing units -- a policy strongly opposed by the anti-gentrification side.
"The activists are saying: 'No new market housing until all the social housing is built,' " said Edelson. "The other side is saying: 'We can accommodate some market housing, especially when it yields social housing.' "
Edelson supports Wall Financial's large market condo development at 955 East Hastings, which will also create 70 units of social housing under city ownership. Activists who dislike the Woodward's redevelopment have called Wall Financial's project "Woodward's East," saying it will drive up rents at nearby SROs and allege that it was only approved because the developer funds Vision Vancouver.
The city isn't sanguine about the fate of the low-income community. Its new homelessness report found that only 24 per cent of private SROs are renting at the welfare rate, although 95 per cent of government-owned residential hotels are renting at the welfare rate.
Another major worry is that 900 of BC Housing's residential hotels units are undergoing major renovations rather than being replaced with self-contained social housing units.
Anti-gentrification activist Hearty said the new social housing is largely the result of street activism.
"The only reason we have so much social housing is because people fought for it. And so this is part of that struggle. We can't take anything for granted. People don't down here."
"Revitalization without displacement" advocate Edelson agrees. "I don't believe anything is inevitable. It's not inevitable that the low-income units will stay. They have to be fought for and the battles have to be renewed."
The veteran planner added that the marginalized should be able to remain in the Downtown Eastside despite the new outposts of upscale consumption around them.
"But if this lower-income community is so weak that it can be overthrown by a $3 donut, we're in real trouble."
Or by a $5 plate of pickles.