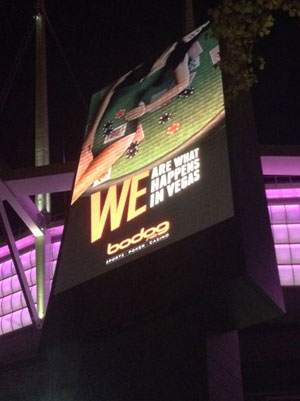 Fans arriving at B.C. Place Stadium for the Oct. 6 Vancouver Whitecaps' Major League Soccer game against the Portland Timbers were greeted with a rotation of advertisements on the video billboard facing the Cambie Bridge.
There were images and slogans hyping Pepsi, Telus Optik TV, Choices Markets, Vancouver Home + Design Show, B.C. Children's Hospital Dream Lottery and Bodog.net.
The latter is the so-called fun version (no money wagered or paid out) of a sports and poker gambling website that was founded in 1994 in Vancouver by Saskatchewan-born Calvin Ayre and now claims to be registered and licensed in Antigua.
Bodog.ca redirects to the company's European site, but Bodog.ca is registered to 0759920 B.C. Ltd. The corporate registry shows the numbered company was renamed Sequel Consulting, whose only director is Vancouver chartered accountant James L. Philip.
The new Bodog ad campaign shows a dark-haired woman in a green, cleavage-exposing bathing suit lying face-up on a green felt card table above the slogan "We Are What Happens in Vegas."
There is a red poker chip, two black chips and the King of Hearts card arranged between the model's belly and the top of her left thigh.
Even on the big screen, the .net is barely legible. Prospective Internet gamblers, were they to simply search for Bodog, could easily be directed to the pay-to-play domains instead.
Which begs a question: Why is British Columbia's biggest public building displaying an ad for an unlicensed, allegedly foreign foe of the province's publicly-owned, legal gambling monopoly?
Online gambling law rarely tested
"It just speaks to the chaos and competence issues both at [stadium-operator B.C. Pavilion Corporation] generally and just the complete lack of a coherent and comprehensive strategy around gambling in B.C.," said Sandy Garossino.
Garossino leads the Vancouver Not Vegas coalition opposed to Paragon Gaming's plan to build a casino/hotel complex next to the stadium by 2016.
B.C. Place, which opened in 1983, was partly financed with lottery proceeds and renovated for $514 million by taxpayers after the 2010 Winter Olympics.
The Canadian Criminal Code says it is illegal for anyone -- other than a provincial government monopoly (like the BC Lottery Corporation) -- to take bets online from Canadians or advertise gambling websites.
The last major case was in 2001 when Vancouver online gambling and porn pioneer Starnet International agreed to plea guilty to keeping or controlling a device for recording or registering bets. It was fined $100,000 and forfeited a $4 million bank account.
The high profile 1999 bust prompted Starnet to reorganize and move its gambling operations to Antigua.
The law has rarely been tested and even those who sell ad space seem confused.
According to the Out-of-Home Marketing Association of Canada website:
"Advertising of online gaming services, involving the exchange of money, according to Canadian authorities is illegal. There are some who disagree citing loopholes like the location of the hosting server, while deemed illegal by the attorney general, no legal action has been taken."
Based on member experience, the association said, advertising of free game play websites and promotion of websites ending in .net "appear to be acceptable."
However, "no official documentation was found to support this."
'Where are the Canadian authorities?'
Bodog was licensed by the United Kingdom Gambling Commission in 2011, the same year it announced it would move out of the U.S. market. The Department of Justice pounced in Feb. 2012 by seizing the Bodog.com domain and charging Ayre, Philip and two others with illegal gambling and a conspiracy to launder money over a six-year span.
Garossino said the B.C. Place Bodog ad is evidence of the lax approach north of the border.
"The American government is actually out there attempting to enforce the criminal law, where are the Canadian authorities here?" Garossino asked.
"Where is the protection of the public and where is the public interest? We legalize gambling in support of the public purse and [Bodog] does nothing but suck Canadian capital out of the country. Why are we having anything to do with it and why on Earth is a publicly funded venue advertising for them when their own business partners [the BC Lottery Corporation] are across the street in the current Edgewater?"
The National Gambling Impact Study Commission estimated $380 billion was bet illegally on sports in the U.S. in 2011. Canadians are believed to gamble $2 billion annually on more than 2,000 non-Canadian websites.
The BC Lottery Corporation (BCLC) grossed $2.73 billion for the year ending March 31, 2013. It reported a profit of nearly $1.128 billion, of which $706.8 million went to public services, $147.3 million to health care, $135 million to charities and community organizations and $84.5 million to municipalities with casinos.
BCLC CEO Michael Graydon did not respond to an interview request. Spokesperson Sarah Morris said he was traveling. "It's not BCLC's business to whom advertising space is sold," Morris told The Tyee.
Rookie BC Liberal MLA Todd Stone's transport and infrastructure portfolio includes responsibility for PavCo. But ministry spokeswoman Kate Trotter referred an interview request to PavCo.
Neither Bodog spokesman Ed Pownall nor PavCo CEO Dana Hayden (a former CEO of the Lottery Corporation) responded to interview requests.