Wrapped in a blanket with a Canadian flag on one side and "Jesus Christ" on the other, Keith Morriseau from the Sagkeeng First Nation in Manitoba stood outside Vancouver's Pacific National Coliseum yesterday morning. Morriseau is a residential school survivor, and this week he reconnected with his niece, who was taken into foster care as a small child. To him and many survivors, the connection between residential school and foster care is obvious.
On Wednesday, Sept. 18, the Truth and Reconciliation Commission opened its work at Vancouver's Coliseum, hearing testimony from residential school survivors and their descendants. The national event, which ends Saturday, includes testimony from survivors, workshops and panels, a marketplace with stunning crafts and fashions, and other activities. It's free and anyone can attend.
While the Commission's aim is to hear the stories of the survivors, record them and report back, there will still be much more work to do to achieve justice for Aboriginal people in Canada upon its conclusion.
More than 150,000 Aboriginal children were separated from their families during the residential school era, which ended in 1996. Today, some advocates say, more Aboriginal kids and teens are in foster care in Canada than at any time residential schools operated. There are 4,000 Aboriginal children currently in foster care in British Columbia alone.
Fixing the child protection system itself is only a small part of ending the mass apprehensions of Aboriginal children, according to Justice Ted Hughes' major review of child protection services in 2006.
"The challenge facing us all is to reduce the number of Aboriginal children who are at risk of harm by finding ways to make sure their families and communities are in a position to keep their children safe and well," he wrote. "It seems clear by now that the answers do not lie wholly, or evenly mainly, in the child protection system. Rather, the solutions lie in building strong, economically viable and culturally robust communities."
Seeking justice many ways
To seek justice and repair communities and families, 79,000 residential school survivors sued the Canadian government and won a 2005 settlement, which included funding for the three-year non-governmental Truth and Reconciliation Commission.
The aim of the Commission is to hear the stories of the survivors, record them and report back. It wraps up in June 2014, though other lawsuits continue.
At the Vancouver event's opening ceremonies, National Chief of the Assembly of First Nations Shawn Atleo drew attention to two current child protection fights: the 16,000-person class action lawsuit on behalf of Ontario Aboriginal kids taken into care in the "60s scoop," and the human rights tribunal asking for equitable funding for child welfare on reserves, which resumes on Sept. 23.
"In these many ways, we are working to ensure justice for our people," Atleo said to a cheering crowd.
Justice may also be found in healing relationships. For example, the United, Anglican, Presbyterian and Catholic churches that ran schools on behalf of the government have now become partners in the reconciliation movement.
In the Agrodome at the Commission this week, the churches' archivists are showing thousands of photographs of children at the schools. Many people who came to witness the opening ceremonies were ministers and priests wearing clerical collars.
Paddling forward
While the Coliseum was just half-filled for the opening event, the shores of False Creek were lined with thousands of reconciliation supporters for Tuesday's All Nations Canoe Gathering. Paddlers left Vanier Park at 10 a.m. and journeyed to Creekside Park.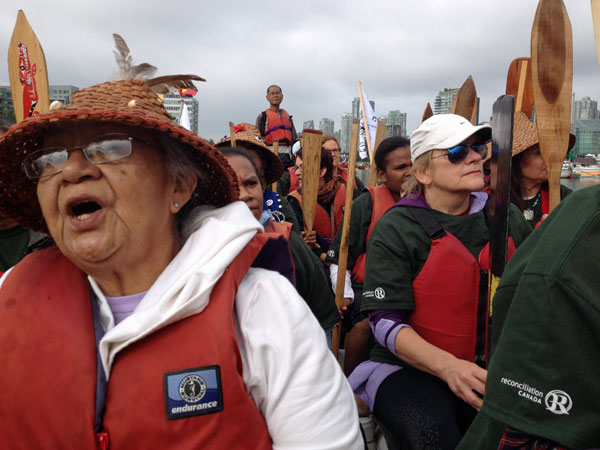 The Squamish, Musqueam, Tsleil-Waututh, and Circle of Eagles Canoes arrived first. International canoes carrying Aboriginal guests from as far away as Australia and Papua New Guinea arrived next. Ornately-decorated canoes from Semiahmoo, Sechelt, Sliammon, and other North American nations arrived, followed finally by canoes representing churches, non-profits, and civic groups. A low-key David Suzuki could be spotted paddling, too.
The canoes were cheered on by students from Elsie Roy Elementary, Charles Dickens Elementary, and False Creek Elementary, plus administration from the BC Teachers' Federation. Many teachers have brought reconciliation into their classrooms, and education resources are also available online.
At the gathering, five-year-old Kaylana Charlie, of the Lummi Nation near Bellingham, bravely sang a traditional song into a microphone to the thousands gathered around Science World. The crowd whooped and hollered.
The image of her singing, a beacon of the promise of reconciliation, stood in stark contrast to an announcement earlier Tuesday by B.C.'s Representative for Children and Youth. In her latest report, representative Mary Ellen Turpel-Lafond found that governments in B.C. and Saskatchewan had once again failed to protect a young Aboriginal girl in the child welfare system.