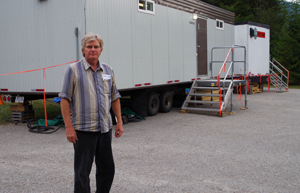 In the aftermath of a jet fuel spill in interior B.C., some residents of the Slocan Valley feel that they're being abandoned -- both by the government and the company responsible for the spill.
On July 26, a tanker truck veered off the road into Lemon Creek, a small tributary that feeds the Slocan River, north of Nelson. Executive Flight Centre, the company operating the truck, dispatched a response team and set up potable water stations and a "resiliency centre" at a local school, where residents could get information on the situation, and deliver information themselves.
A "do-not-use" order was placed on Lemon Creek and many of the rivers it feeds. Although these have since been lifted, the Interior Health Authority is still advising residents to be cautious when using water from the river.
The cleanup is far from over. Many valley-dwellers have shallow wells along the Slocan River, or take water directly from the river to irrigate their crops. Though the general do-not-use orders have been lifted, some residents still complain of fuel residue in logjams and on beaches, and tap water that smells of kerosene.
Jonathan Lok, a spokesperson for Executive Flight Centre, said the company plans to hold a press conference and release the results and methodology of its testing early next week. But that can't happen quickly enough for the residents still dealing with the spill's aftermath. They feel the information is long overdue.
The Tyee spoke to John Wittmayer, who was the volunteer coordinater at the resiliency centre until recently, to get a sense of what's happening on the ground now, and what's expected in coming weeks. Wittmayer was reached in Winlaw, a municipality along the Slocan River.
On the general mood of valley residents after the spill:
"[People are feeling] very, very angry. I mean, if you were a parent and you had a young child who had ingested this product and spent all night vomiting, I think you'd be angry too. And when they lifted the do-not-use ban on the entire river system, and we're still finding the observable and detectable product in public areas, on public beaches, in places where young children are swimming and playing in the sand where this product has now sunk and saturated into it, I think you'd be quite upset too.
"There's a lot of contradictions here. On the one hand, we're being told that [Executive Flight Centre is] committed to cleaning the river, and to monitoring and restoring the riparian zones and getting rid of this product for as long as it takes, and on the other hand, [it looks to us like] they're trying to minimize as much as they can in terms of what the cost is for having a continued presence here, and this is really upsetting and disappointing to our community."
On how some residents are shouldering the costs:
"This community is getting shafted every which way. It's getting shafted on health concerns [and] it's getting shafted on economic concerns.
"The onus is now on the public to pay for their own [water and food] testing, and just to test your well is about $90. So if you've got 10 people coming down and all of them want to test their well, you've got $1,000. And you multiply that times 2,500 people -- it starts to add up.
"It's extremely difficult for the organic growers in the valley, because they have some very stringent guidelines to maintain their certification. So now when some of those growers go to Nelson to sell their crops, if people think that the crops may have been affected, even if that's only a perception, then it's an economic impact. People will likely go elsewhere to buy their produce. And that's not to even mention what the concerns are for families who rely on their gardens to augment their income and provide food for their families."
On governments' efforts post-spill:
"It has been slow and unresponsive, and it has taken a great deal of our time and effort to get [the Interior Health Authority and the Ministry of the Environment] to respond to concerns of the public.
"The Ministry of Agriculture is almost invisible. They had one rep come down here to a town hall meeting and kind of say some things that led us to believe that they have no real mandate to step in and to help the farmers and the gardeners of the community, many of whom support their families by market produce.
"We would like all levels of government involved in this process to be transparent, and to publish the results of the testing, and to apply pressure to Executive Flight Centre to keep on monitoring, to put into place long-term plans -- which they say they have done, but we haven't heard anything about that. We want to know what their [testing] methodologies are going to be for the future, and how they're going to return Lemon Creek and Slocan River back into a pristine watershed, which is what it began as before 33,000 litres of jet fuel spilled down the creek."
On how the spill has disrupted wildlife:
"People are bringing in examples of fish that have died as a result of the spill. We know that there are trumpeter swans up in some sensitive bird sanctuary areas just immediately north of Lemon Creek. We know that their migration pattern is that they'll be coming in the fall and wintering. We know that they'll be eating the contaminated fish. We've heard of at least one or two heron mortalities. We know that there have been accounts of animals in distress -- people have sighted beavers impacted by this. People have taken photos of a dead deer, which we believe had come into contact with the jet fuel in and around the shore areas.
"We do hear occasionally of people catching fish north of Lemon Creek [upstream of the spill], so we know that fish are going up into these sensitive habitats, which are considered bird sanctuaries, and we know that some of these people have reported catching a fish that, when they open it, smells like kerosene. We clearly know it's in the food chain. We don't [yet] know what the implications of that are.
"Of course, when the winter months do come, we have five or six feet of snow. So I am assuming that probably operations will shut down, but then further remediation needs to be done in the spring when the snowpack melts and the volumes in the creeks and the rivers rise substantially. And then what's going to happen is any product that has not washed out of the river or been flushed down will start this whole pernicious cycle over again, because that product will be up high on the banks."
On the continuing need for a centre, and the weeks ahead:
"I have kind of come up with my own philosophy here, which is that cynicism is a sign of victimhood. And it's hard not to be cynical about the government and their response, or lack of response, to our issues.
"I try to remain positive, and I try to help people where we feel the help is needed. And that is to have a potable water station, that is ... to continue to provide information, [for] people who are coming to us [because] they've been impacted by the spill. We can help them to the best of our ability, and that's what's required for the short term.
"For the long term, as long as this product is detectable and observable in these habitats and in places where people live and recreate, there is a need for this centre.
"The resiliency centre could potentially be here [another] week at [Winlaw Elementary]. But obviously the school will be getting ready to be in session, so we can't be here longer than a week. We're trying to find another place to go to, and we're starting to look at some alternatives to here, so we can keep some kind of a profile in the community and have some kind of a centre for folks who still require it, and potable water for people who still require it -- just have a place where folks know they can come and get help.
"It's still a mess, and we're just kind of going day by day."