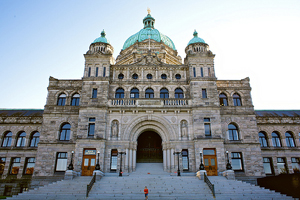 The BC Liberal pollster who claims his research predicted May's election upset win over the NDP registered to lobby the government for a garbage-hauling company less than two months after he quit his assistant deputy minister job.
But Dimitri Pantazopoulos and the B.C. Public Service Agency both deny any rules were broken.
The July edition of the Office of the Registrar of Lobbyists' "Who's Lobbying Who" noted Pantazopoulos was "setting up meetings with several MLAs on behalf of BFI Canada Inc. regarding a decision related to the establishment of an incinerator facility."
Pantazopoulos's July 12 registration listed 10 target contacts, including deputy premier Rich Coleman, Environment Minister Mary Polak, Finance Minister Mike de Jong and Transport Minister Todd Stone. The registration does not mention what, if any, meetings or communication have taken place.
The Post Employment Restrictions for Senior Management in the B.C. Public Service policy states: "Until one year after your employment ends, you must not lobby or otherwise make representations for any outside entity to any ministry or organization of the government in which you were employed at any time during the year immediately preceding the termination of your employment."
Conservative strategist Pantazopoulos worked for Stephen Harper, Stockwell Day and Rob Ford before Premier Christy Clark hired him as her principal secretary on April 4, 2011. He became assistant deputy minister of Intergovernmental Relations and Trade on Feb. 15, 2012 and quit May 22, 2013, eight days after the election. His duties included federal-provincial and interprovincial relations and coordination of trade missions.
He began an unpaid leave-of-absence from his government job on Aug. 24, 2012. A bio on the Maple Leaf Strategies website claims Pantazopoulos's "extensive research into public attitudes guided the formulation of the strategy and messaging that contributed to the successful election of Premier Christy Clark."
"It is compliant with the law," Pantazopoulos told The Tyee. "I'm not lobbying any organization to which I was employed -- I was an employee of the Intergovernmental Relations Secretariat, I'm not lobbying the Intergovernmental Relations Secretariat. That is not involved in any files related to any of the matters for which BFI has engaged my services, so I am in compliance with the law."
A statement to The Tyee from the Ministry of Finance, which includes the Public Service Agency, supported Pantazopoulos. The statement said the agency reviewed Pantazopoulos's declared contacts and, "given his stated intentions, has determined that it does not appear that his actions would be in conflict" with the restrictions.
"Mr. Pantazopoulos has not indicated any intentions to lobby or otherwise make representations for any outside entity to any ministry or organization of the government in which he was previously employed," said the ministry's statement.
"All employees, including Mr. Pantazopoulos, who are covered by the Post Employment Restrictions are made aware of the restrictions at the commencement of their employment and are reminded of their obligations upon leaving the public service," said the statement. "These employees have an obligation to report to the Head of the Public Service Agency if there is a potential that they might come into conflict. Appropriate action would be taken at that time."
No teeth to rules, says critic
IntegrityBC executive director Dermod Travis said rules and regulations for lobbyists in B.C. "have as much teeth as a newborn baby." The Lobbyists Registration Act does not include any provisions that restrict former public office holders from lobbying.
"It's a bit rich (for Pantazopoulos) to register as a lobbyist less than two months after the previous election, in which he played a major role, and also where he sat in two offices in the government," Travis said. "You're talking about major cabinet ministers he would know extremely well. I would imagine that close working relationship for such a long period of time would be beneficial to the private sector at this point in time."
In her January eport called "Lobbying in B.C. -- The Way Forward," Lobbyists' Registrar Elizabeth Denham recommended former public office holders be banned from lobbying for 24 months after leaving office, but be given the ability to apply for an exemption.
"Both the lobbyists and public office holders with whom we spoke recognize that lobbyists who are former high ranking public office holders can have influence that is, or is perceived to be, more amplified than is appropriate," Denham wrote.
"There was general recognition that high ranking public office holders who become lobbyists immediately after leaving public office may be able to better employ ongoing relationships with former colleagues that are much closer than any relationship an 'outsider' might hope to develop. Many comments were made that some form of uniform cooling off period should be considered."
Waste-to-energy development
The best-known former public office holder in the B.C. Lobbyist Registry is Patrick Kinsella, the BC Liberal backroom guru credited with Gordon Campbell and Christy Clark's rise to power. Kinsella came to B.C. from Ontario and served as a deputy minister in the Office of the Premier from August 1981 to December 1984 for Social Credit premier Bill Bennett.
Kinsella's only active lobbying registration is MWH Business Solutions. His registrations for Pacific Western Brewing, Sylvan Resources, Corinex Communications, Exel Logistics, Mark Anthony Group, New Car Dealers of B.C. and Great Canadian Gaming are listed as terminated.
Pantazopoulos wouldn't comment on his activities for BFI: "I'm not at liberty to discuss some things that pertain to a client matter," he said.
Travis noted that six of Pantazopoulos's 10 target contacts are Liberal MLAs representing Fraser Valley ridings. "That suggests there may be an effort to create some type of division between the Fraser Valley and Vancouver."
Metro Vancouver is developing a plan for a $500 million "waste-to-energy" facility in the region. It hopes to begin construction in 2015 and open by 2018, subject to regulatory and environmental approval. Fraser Valley Regional District is opposed, for fear of increased air pollution.
BFI is a subsidiary of Progressive Waste Solutions, which trades on the NYSE and TSX under the symbol BIN. Elections BC records show BFI Canada Inc. made three donations in 2012 to the BC Liberals, totalling $20,000. Progressive is the private recycling and garbage hauler for the City of Surrey. Surrey is planning to build an organic waste biofuel processing facility in Port Kells under a public-private partnership.