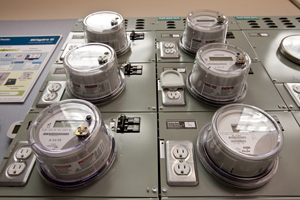 "My name's Cam... my full name is Cam Davis," said the man in the cream blazer with a white shirt and brown horn-rimmed glasses. "In case you're wondering, I'm a real person, in real time. My job is basically to conduct focus groups with people like you."
Eight people surrounded "real-time Cam" at a table in the Whistler Room at the Vancouver office of SmartPoint Research, including a geoscientist, teacher, social worker, fashion designer and retiree. Each was paid $85 cash for showing up before 5:30 p.m. and staying for the two-hour session on July 9.
All were opponents of BC Hydro's smart meter program; several wondered aloud how they were chosen. (One of them recorded the meeting and leaked it to a reporter.)
"The list of names was given to me and I'm just emphasizing to you that I'm not an employee of our client," Davis said, holding a pencil in his right hand. "You probably know who our client is."
Davis didn't tell them that he was among Canada's top focus group moderators, with a doctorate in sociology from McMaster University. His Parksville-based company, SDR Survey, was paid $195,000 for the 12 months ending March 31, 2012 by BC Hydro, according to the Crown corporation's financial statements.
The aim of the focus group, a Hydro spokesperson later explained, was to better understand the concerns and questions of the 60,000 remaining customers who refused the installation of smart meters in their homes, "and find out how to best communicate with them."
"I'm not here to sell anything to you. I'm an independent contractor and we do have clients in the back. They are watching this," the focus group leader said, referring to an adjacent room behind a one-way mirror. Davis warned the panel to use first names only. The proceedings were being recorded, he said, for his own purposes to write a report.
"I'm not writing a report for them to submit to you; it's the other way around. I'm your advocate. I'm listening. There's no right or wrong answers; I don't want you to please me," he said. "You may not have an opinion, that's fine. No opinion is an opinion to me."
Two days after this session, Energy Minister Bill Bennett said Hydro would probably allow opt-outs for the 60,000 holdouts. On July 18, he confirmed the strategy, but the proposed costs for manual readings were not made public. That would come later in an application to the B.C. Utilities Commission -- the same regulatory body the government deliberately bypassed when it launched the $930-million smart grid project.  
In hindsight, the July aboutface was not a shock. The election-conscious Liberals seemed to soften their stance in January when Bennett's predecessor, Rich Coleman, said customers wouldn't be forced to accept smart meters. Hydro contractors were, however, going to visit opponents in an effort to "re-educate" them about the devices.
Opponents grilled
Davis warmed up the panelists by asking what the top three issues were that affected their households. He mentioned controversial public policy debates of the last few decades, ranging from photo radar to separated bike lanes to bridge tolls. One participant cited the Harmonized Sales Tax.
"When you're not communicating to the people that it's impacting, directly or indirectly, you're failing," said another.
A lot of the answers came back to politics and economics. Some didn't believe Hydro or public health experts who say smart meters won't cause illness. They scoffed at BC Hydro's claim that smart meters would curtail power theft by small-scale marijuana farmers.
"I want you to write down the -- I hate to say this -- the best reason, the strongest reason why people in general, not necessarily you, but people in general oppose the installation of smart meters," Davis said. "The strongest reason they should not install smart meters or they should have done it differently."
The answers were unsurprising: lack of consultation, lack of choice, erosion of privacy and risks to health. "They spent a billion dollars without properly consulting the people of B.C.," said one.
How did the opponents form their opinions on smart meters? "What was the trigger point?" Davis wondered.
Mainstream media and alternative press were predictable answers. A woman said her trigger point was when a neighbour showed a Hydro bill that jumped from $30 to $50 a month after a smart meter installation.
Did they write letters to the editor, sign petitions or attend a protest? "Could you call yourself an activist? Running for office or being active? None of that? Anyone tweet anything about this? Anyone put stuff on Facebook?" Davis wondered. One of the women said her spouse physically blocked a smart meter installer from their property.
No apparent converts
Then, as the clock ticked toward the end of the session, the mood changed. Davis asked what would it take to make them accept a smart meter? Would they be willing to pay to keep their old meter?
"We were all facts, figures and documents; no amount of spin was going to work on us," one of the panelists told a reporter after the meeting. "It was just about getting us to agree at the end to take a smart meter."
Finally, after almost two hours, Davis invited them to tell BC Hydro how to do things better. Write it down, don't speak it. Another group was waiting for the 7:30 p.m. session.
Only BC Hydro, SmartPoint and Davis himself know what each of them wrote. The source on the panel said none of the smart meter foes left SmartPoint as a smart meter friend.
Davis did not respond to an interview request. Nor did SmartPoint president Daniela Hassman.
"We see great value in listening to our customers and trying to understand their concerns and getting their feedback on this topic or any other BC Hydro-related topic," BC Hydro spokesman Greg Alexis said via email.
"As you know we still have about 60,000 customers who have a refused a smart meter and we're doing everything we can to better understand their concerns, answer their questions and find out how to best communicate with them.
"Focus groups are common practice in business and are known as an effective way to help inform decision making for programs and services. The smart meter program is no different."