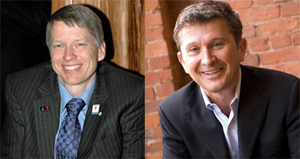 In the year before they began their campaigns for today's B.C. Liberal nomination contest in the downtown riding of Vancouver-False Creek, candidates Lorne Mayencourt and Sam Sullivan burnished their brands in very different worlds.
Former MLA Mayencourt became a key insider in the B.C. Liberal Party as director of outreach for the party's legislative caucus under Premier Christy Clark whose successful leadership campaign he helped spearhead. His work with the premier, B.C. Liberal MLAs and party activists placed him at the heart of the party machine.
Sullivan, in contrast, pursued projects that had nothing to do with the party and were -- partly because of their quirky nature -- decidedly Sam-centric. He researched early Vancouver history, advocated for urban density, held more of his salons with guest speakers, and launched his "Greeting Fluency" initiative, designed to help Vancouverites learn basic greetings in many languages.
Many B.C. Liberal party observers say Mayencourt's close ties to the party apparatus could give the former MLA an edge in the race, despite Sullivan's former prominence as Vancouver's mayor and his Non-Partisan Association Rolodex. "Sam is not of that world," said one veteran B.C. Liberal activist about Sullivan's history with the party.
George Higgins, former president of the B.C. Liberal riding association, said Mayencourt and Sullivan both bring experience and name recognition to the contest. But the two candidates (there is a third: young lawyer Brian Fixter), he added, have probably targeted different types of members.
"Lorne's group would include more of the long-term party faithful, the we've-been-there, done-that-together, sort of people. And Sam would be reaching out to people he knew in civic politics or to neighbours or people he has come to know in the neighbourhood."
Sullivan needs to tap into the new and younger residents in the downtown, he added, to counter Mayencourt's hold on the party's base. "I don't think Sam has ever been an activist in the party, while Lorne has definitely been part of the inside crowd -- that one per cent of members who actually apply themselves to politics."
Divergent paths
While Mayencourt spent last year as a liaison between the premier's office and various stakeholder and ethnic groups, Sullivan, an early B.C. history buff, spent plenty of time holed up this summer in the Vancouver Archives, poring over the original handwritten minutes of the city's earliest council meetings. Sullivan became so passionate about the subject, he secured financing to have the written minutes digitally-transcribed.
(In a recent interview, the former mayor was far more animated discussing mid-19th-century Vancouver politics than he was when asked about the dynamics in the nomination race. Asked whether Mayencourt has an advantage because of his close relationship with Clark, Sullivan said: "It's your job to find out... I'm sure it can't hurt, you know.")
While Mayencourt was helping B.C. Liberal MLAs create goals and legislation over the past year, Sullivan kept his name in the news with his new "Greeting Fluency" enterprise which came with a special app that he helped develop for smart phones. (During the interview, Sullivan used a Gujarati phrase to say goodbye to a South Asian campaign volunteer in his Downtown South condo.)
And while Mayencourt was helping the B.C. Liberal candidate in the 2012 Port Moody byelection (they lost) and working with influential party groups like the B.C. Young Liberals, Sullivan focused on urbanism. His Global Civic Policy Society (partly funded by the Annenberg Foundation) staged the Vancouver Urban Forum, which brought in big-name thinkers to promote the glories of densification.
Sullivan, whose whole career has been based on networking with influential, and often rich, people, also continued staging public policy salons, with speakers from different walks of life.
The former mayor has never had a strong connection to the B.C. Liberals. And he was disliked by many federal Liberals, especially after his bruising upset win over Clark in the 2005 NPA mayoral election, during which he railed against the influence of the "big Liberal machine."
Mayencourt supported Clark in that nomination. Many of these federal Liberals became active in Vision Vancouver and Mayencourt attended a Vision Vancouver fundraiser last fall.
Mayencourt said Tuesday that "it looks like we've got the numbers" to win today's nomination, but declined to say how many new members his team has signed. He said his close ties to Clark and her caucus are not a factor. The former MLA added that the premier has had to be "squeaky-clean" about staying out of the nomination battle, especially because of her losing battle with Sullivan in the NPA mayoral contest.
But Mayencourt said that his long history with the B.C. Liberals has benefits. "I'm well known on the downtown peninsula because of my work as MLA and also having been involved in many community initiatives outside of government.
"And some of the people on our campaign have deep roots in the B.C. Liberal Party as well and have lots of friends in the neighbourhood, so that is beneficial."
A tip from Quilchena?
But despite his threadbare connection to the party, Sullivan can't be counted out.
It's uncertain how many of the riding's approximately 1,500 members will vote. Many were signed up during the 2011 leadership race and aren't expected to participate in the nomination contest. Sullivan claims to have signed up close to 300 new members but acknowledged only about half of those will probably turn out. Mayencourt supporters believe Sullivan's sign-up of new members is much smaller than the former mayor has claimed.
They are also buoyed by how former B.C. Liberal president Andrew Wilkinson defeated former NPA mayoral candidate Suzanne Anton in Vancouver-Quilchena, the theory being that longstanding B.C. Liberal ties and hard work defeated Anton's NPA connections.
Former riding association president Higgins cautioned against reading too much into the Quilchena result, saying that False Creek is a riding with a much younger and more fluid population.
And Sullivan has pulled off upsets before. In 2005, Clark was expected to win the NPA mayoral nomination, having signed up far more members than Sullivan. But the then-NPA councillor beat Clark -- an achievement that could bring some blowback for him in today's vote.
Sullivan angered many Clark supporters by accusing members of her team of trying to bend the rules. It's hard not to believe that most Clark loyalists will be backing Mayencourt. No surprise that Clark's ex-husband, Mark Marissen, a veteran political organizer, performed as a DJ at a recent Mayencourt party, hosted by Mary Zilba, one of the cast members of The Real Housewives of Vancouver.
Sullivan said that his relations with the premier are good and that she was encouraging when he told her about his candidacy. "I think there is certain goodwill there. But I don't know about some of her people," said Sullivan, in reference to their past battles. "Once you get the teams and adversarial thing going on, people begin to believe their own press releases."
No one in Sullivan's camp has accused Clark of helping Mayencourt. But there was frustration in Sullivan's team when party officials agreed to a request from Mayencourt's team to move the vote from a site on Kits Point to a hotel on Burrard Street.
'Everybody has to have baggage'
Sullivan said that most of the new people he has drawn to his campaign are not from the old NPA days. "The reality is that most people on my list are people I didn't know before." The ex-mayor has hosted events in downtown bars and restaurants, seeking support from a younger business crowd.
The former mayor has always been an unconventional politician. And not just because of his quadriplegia and inspiring against-all-odds life story. His unusual passions (learning Cantonese, studying philosophy and staging salons), his controversial style (buying crack cocaine for a drug addict and giving money to a prostitute to keep her off the street), and the poorly-conceived big policies he pushed as mayor (Eco-Density and the Chronic Addiction Substitution Treatment) set him apart.
"Everybody has to have baggage," said Sullivan, who has no regrets about giving money to a drug user in the Downtown Eastside so he could buy a fix.
"It was a political statement, it wasn't just some random thing," said the long-time advocate of the harm-reduction approach to drug addiction. "I was frustrated with the system, with the inability of government to do the rational, decent thing. So I am very happy to have such baggage."
Just as Sullivan entered the nomination race with achievements and failures, Mayencourt similarly brought with him an impressive curriculum vitae and some controversy. Mayencourt was MLA for Vancouver-Burrard from 2001 to 2008. (Prior to entering politics, he declared bankruptcy twice.) The riding was subsequently divided into Vancouver-West End and Vancouver-False Creek. Mayencourt, who was early on an openly gay politician, was founder and first executive director of the Vancouver Friends for Life Society, which helped people with AIDS and other illnesses.
He filed a private member bill which led to the Safe Streets Act, anti-aggressive panhandling legislation which was opposed by Vancouver city council. He became so zealous about the issue that he stopped a panhandler who he believed was harassing a woman on a downtown corner. A special prosecutor was appointed to see whether Mayencourt should have been charged, but he wasn't. He also filed another another private member bill that led to the Safe Schools Act, a measure to curb school bullying.
In 2008 he ran as a federal Conservative in Vancouver Centre, losing to Liberal MP Hedy Fry -- a result he doesn't expect to repeat tonight or in the May provincial election.