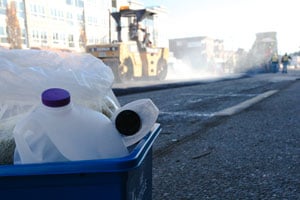 The huddle of reporters held their breath from acrid asphalt fumes as steamrollers rumbled by on Kingsway, clutching demonstration blue bins of milk jugs and cartons they'd brought as props for the day's newscasts.
After months of side-street testing, the City of Vancouver was finally rolling out an idea to mix recycled plastics into paving asphalt, by using a plastic-derived wax -- for now, at least, imported from Ontario. 
"We'd been casting around for over a year to find ways we could use recycled plastic in the asphalt," the city's engineering manager, Peter Judd, told The Tyee at the construction site Nov. 15. "Because of course, they're both hydrocarbons, so there should be a way to do it. We started doing tests with this in it in July, but this is the first large area we've tried."
Vancouver is the first known city to have tried this technique, which involves refining discarded plastics into a wax that can be used in a lower-heat asphalt mix. The benefits seem apparent: paving can occur in colder weather, it makes use of waste plastics, and dramatically reduces pollution and greenhouse gas emissions. Judd estimated that paving roads with the warm mix asphalt would lower the city's carbon footprint by 300 tonnes by using less heat, plus the 30 per cent less volatile organic compound (VOC) emissions from traditional road-building.
"To me, it seems like a bit of a no-brainer," the chief engineer told The Tyee proudly. "It's not a huge increase on the cost of the work, but it is a small increase, balanced by very large savings on the greenhouse gas side."
Judd credits an innovative approach in the city's engineering department and its own asphalt plant, where various mixes -- even of roof shingles -- have been tested in the city's quest for greenness.
But the announcement immediately raised the hackles of another asphalt enthusiast.
Shane Stothert has been working in the road recycling field for nearly 25 years. When roads inevitably break down from wear-and-tear, his company -- Fernie-based Green Roads Recycling -- uses an on-the-spot technique to recycle road asphalt where it lies. No transportation to an asphalt plant. No need for huge inputs of new materials. Two other firms do similar work in the province.
It's a technique used by municipalities across the U.S., and Green Roads has worked on B.C.'s major highways, airports in several Interior cities, and Kamloops. But not Vancouver.
So when Vancouver trumpeted its plastic-derived wax innovation, to Stothert something just didn't seem quite right.
"I do think we should recycle plastic," he told The Tyee. "But I think this is a bad way to do it. It's not green what they're doing -- it's green-washed. They're touting the short-term benefits while ignoring the long-term environmental consequences."
Toxic roads?
Those consequences, Stothert suggests, include potential toxic gas emissions from the plastic-derived wax within our roads, throughout the product's life -- from factory to road to later recycling into new roads. 
With heightened public concern about the documented health dangers of some plastics, including the compounds Bisphenol A (BPA), Polychlorinated biphenyl (PCB) and dioxins, a growing number of people are either ditching plastic from their lives or seeking toys, water bottles and kitchenware made of safer materials.
For Stothert, who told The Tyee he has spent a decade and many resources attempting to minimize and capture his company's emissions, even though the recycled plastics are refined into a wax, questions remain about the safety of any gases released. And he insists he would not risk his employees' -- or neighbourhoods -- health to heat it up for recycling down the road.
"To me, it's the equivalent of taking nuclear waste out to sea and thinking, 'We'll just dump it off the ship,'" he said. "Why put an extra toxin in the road, when asphalt and oil is already working great? [...]. It's already the most recycled and recyclable product."
In response, city engineer Judd said that some of the road recycler's concerns -- such as fears of chemical leeching or making our roads un-recyclable -- are unsupported in the so-called "warm mix" process of mixing asphalt with an additive at lower temperatures than normal.
"First of all," he explained, "it's not just plastic thrown into the mix: it's plastic that's been refined into a wax. Wax used in warm mix is a common process."
But the question of potential toxic emissions did give the engineer pause, and he said that measuring emissions is one of the key areas needing careful monitoring.
"That's one of the things that we should make absolutely sure is the case: to compare any emissions that come off this wax to the emissions that come off the regular wax," he said. 
As for the risk of chemicals leeching into the ground or water from plastic-containing roads around the city, Judd said that the refined wax isn't that much different from the petroleum products already in traditional asphalt.
"I don't think there's any more risk of leeching from the asphalt than the asphalt itself," he said. "Remember, what we're putting down is a hydrocarbon -- it's oil. That's what roads are: oil mixed with gravel. There isn't a lot of leeching that occurs from that."
The recycling afterlife
Another expert consulted by The Tyee also raised environmental concerns about the approach -- saying that more study would need to be done before slapping a "green" title on the plastic road technique.
Haifang Wen is director of the Washington Center for Asphalt Technology, and an engineering researcher at Washington State University. His mission is to pioneer greener asphalt technologies, reducing emissions and costs. 
Wen said that the City of Vancouver's plastic-derived warm mix is heading in a good direction, explaining that so-called "warm mix" asphalt (the lower-temperature process requiring an additive such as wax) is among a handful of green technologies out there today.
But for Wen, the missing piece is the complete ecological impact of Vancouver's plan. That approach, he said, requires a full analysis of the life-cycle of the asphalt and plastics, from cradle to grave and beyond -- its recycling afterlife.
"Is the plan greener?" he ponders. "That's the first impression, because you're using recycled materials instead of using recycled plastic in other areas.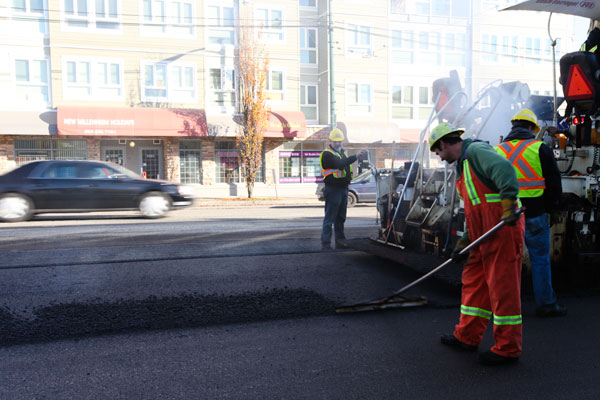 "But you have to look at both the energy consumption and greenhouse gas emissions. In our industry, before you claim a really green technology, you have to do a life-cycle analysis. You have to look at the life-cycle to build a road -- instead of just looking at the initial construction. I can look at a 50 year life-cycle: within 50 years, how much maintenance will you have to do? I don't know how this technology would perform [...]. Without a detailed evaluation, we don't want to jump to the conclusion that this is greener than other technologies."
One emissions-heavy aspect of this process is the shipping of large quantities of wax from Green Mantra company's Toronto factory to B.C. However, the City of Vancouver hopes to begin producing the wax on the West Coast in the future. But that too would create emissions -- constructing or altering a factory, for instance, as well as the refining process.
Without any "defined" testing period before Vancouver begins rolling out the new warm mix asphalt on its roads -- according to Judd -- only laboratory samples are an indication of how well the new streets perform under pressure. Down the road, Wen said, that could lead to further emissions to fix any problems.
"When we use a lot of new methods and technologies, if they don't hold up well, then we end up having to do a lot of rehabilitation or maintenance," he said. "We're spending more money and using more energy, and there are more greenhouse gas emissions."
Judd said the City has been doing rigorous research, as well as testing the new mix on less-used side-streets to see how it holds up since the summer.
"We've seen enough so far, from all the testing we've done, that it works," he said, when asked how long the on-street testing would be conducted. 
Asphalt 2.0
In-place road recyclers like Green Roads and the other two B.C. firms pioneering the technique hope that Vancouver will follow Kamloops' example, and use their process to cut emissions from shipping asphalt to the factory for recycling and back out onto the streets, at what they say is lower quality.
"The technology is sitting right here in the province," Stothert said. "And yet they're so busy trying to truck some other province's waste across the country so they can turn our roads into dumps -- jamming it down the taxpayers' throats."
Judd, in short, disagrees. He said that the wax-based warm mix will be fully recyclable -- perhaps even more so, because of the way the wax affects the other ingredients.
"The performance is pretty well-known," he insisted. "But we want to do our due diligence and make sure it lasts over the long-term as well."
South of the border, other approaches to greening asphalt are underway -- both in Wen's lab, and in tests he's doing for government departments and industry. While wax-based warm mixes have benefits, the engineer also praised in-place recycling techniques -- but there are even more approaches to consider.
"Actually, the most promising one is [...] foaming or bubbling," he said. "You inject colder water with hot asphalt and the asphalt will bubble, and it acts like a lubricant. 
"With wax, you have to buy the wax and it's expensive. Foaming uses only water and a simple device; it's inexpensive. In the States, foaming is the most promising method for warm mix asphalt technology. We also try to include a higher percentage of old asphalt -- up to 40 or 50 per cent -- combined with the warm mix technology. This is the greenest technology I can see."
Whether it's concocting new warm mixes, foaming, bubbling, throwing in roofing shingles or metal slabs, or simply re-processing the millenia-old asphalt recipe into new materials, all of these are what Wen calls "incremental research into green technology."
"You can change a little here or there," he said. "But what we're trying to do is find completely new material to replace asphalt."
Like turning discarded fast-food cooking oil into "bio-asphalt," he offers. Similar to bio-diesel derived from waste vegetable oil (WVO) for vehicles, the ex-deep fry elixir can be chemically converted into an asphalt-like substance.
Although controversy simmers around Vancouver's greener roads initiative, most would likely agree that the public tends not to pay enough attention to the roads we drive on -- that is, unless we're hitting potholes or inching through construction. 
"Moses lined his basket with asphalt and floated it down the river," Stothert reflects. "[Asphalt] has been working for more than 5,000 years."
For Judd, most important is everybody doing their part to reduce waste and its footprint on the Earth: "We're all looking for ways to deconstruct and recycle so these things aren't going into landfills and waste facilities."