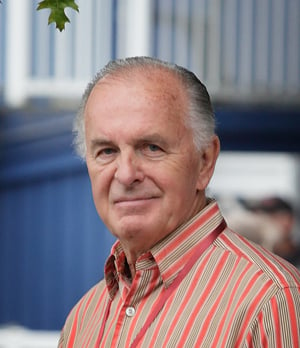 British Columbia's man of political intrigue is reaping the rewards at the racetrack, but not so much in the luxury housing market.
Patrick Kinsella was the leading co-owner at Hastings Racecourse for the 2012 meet that ended Sunday. The political strategist and lobbyist behind Gordon Campbell and Christy Clark's rise to the premiership has slashed the price of his Shaughnessy mansion by $1.082 million.
The 100-year-old, four-storey, 6,441 square-foot house at 3839 Selkirk was listed in July 2011 by Rennie and Associates Realty for $7.28 million. There were no takers. Kinsella and his wife Brenda switched agents to Macdonald Realty BGW, which is now asking $6.198 million. The price has fallen 14.8 per cent since July 2011.
Kinsella is not alone. Real Estate Board of Greater Vancouver figures show there were 32.5 per cent fewer sales in September 2012 than a year earlier. The Vancouver West benchmark price fell 6.5 per cent to $2.09 million. It was the worst September in a decade.
University of B.C. associate professor Tsur Somerville said west side, West Vancouver and Richmond properties are under pressure. Immigrants and investors who were snapping up properties in 2010 and 2011 have "moved from getting a unit at any price to -- if they are buying -- buying for the best price they can," he said.
"In any downturn, luxury homes tend to be more cyclical than starter homes. In the slowing market the luxury homes tend to get hit harder," Somerville said.
The Kinsella house was assessed at $4,129,667 and its property tax bill was $17,808.33, according to the City of Vancouver.
'To see is to fall in love'
"Deluxe master bedroom with beautiful living room and fireplace offering ultimate privacy and comfort," gushed the Rennie description. "Most bedrooms ensuited, including the nanny suite below. Extravagant chef's kitchen with solid wood cabinetry and timeless stone countertops. Set the ambience with built-in speaker system in and out. Securely gated professionally manicured grounds where you can enjoy lounging on your deck or take a dip in your private pool and hot tub. To see is to fall in love."
"A truly exceptional Shaughnessy 1 classic craftsman has been completely renovated by John Hollifield," explains the new Macdonald Realty description. A slide show tour of the house is here.
"The fine workmanship and exceptional attention to detail is evident throughout this stunning four level home. There are six bedrooms, seven bathrooms; four with ensuite bathrooms including the deluxe master bedroom with fireplace and walk in closet, a fabulous chef's kitchen, spacious principle rooms, a fully finished lower level with nanny's suite and media room and beautifully landscaped gardens. Private patios, pool and hot tub complete this extraordinary package."
A collection of interior photographs on Realtor.ca shows the Kinsellas enjoy ornate chandeliers and Persian rugs. There are even rugs in the kitchen.
Monique Badun, the lead agent on the listing for Macdonald, would not comment on the listing, beyond what is published by the Multiple Listing Service. She said she doubted Kinsella would welcome a tour by a reporter.
Phone and email messages to Kinsella at his company, Progressive Strategies, were not returned.
Winning at the track and elsewhere
Kinsella and horse racing partner Glen Todd operate the North American Thoroughbred Horse Co. stable that dominated Hastings Racecourse's 2012 season with 31 wins in 82 starts and more than $500,000 of purse winnings.
Their four-year-old, Commander, won the $100,000 B.C. Premier's Stakes on Thanksgiving Day, with Kentucky Derby-winner Mario Gutierrez aboard. Premier Christy Clark was a no-show. Same for Deputy Premier Rich Coleman, a friend of Kinsella's and the minister responsible for gambling. Commander is expected to challenge for the Breeders' Cup Marathon on Nov. 3 at California's Santa Anita track.
Kinsella, an invitee to Clark's March 14, 2011 swearing-in, joined Clark on Sept. 30, 2011 in B.C. Place Stadium's biggest luxury suite to watch the B.C. Lions beat the Edmonton Eskimos on the renovated stadium's reopening night.
The ex-insurance agent from Ontario turned 71 on May 26. He co-chaired Clark's B.C. Liberal leadership campaign and was behind Campbell's majority wins in 2001 and 2005. Elections BC records show Kinsella donated $113,654 to the BC Liberals since 2005.
Kinsella's Progressive Strategies lobbying clients include Corinex Communications, Great Canadian Gaming, MWH Business Solutions, Mark Anthony Group, Pacific Western Brewing Co., Sylvan Resources and the New Car Dealers of B.C. In May, Kinsella was appointed a director of Bralorne Gold.
Political connections, high profile clients
Kinsella terminated his lobbying registration for Exel Logistics on March 30, a month before the Liquor Distribution Branch privatization tendering opened. Four companies, including Exel, were shortlisted in July, but tendering was shut down more than two weeks prematurely when the B.C. Government and Service Employees' Union inked a tentative agreement on Sept. 27 that included a no-privatization clause.
Kinsella was paid $297,000 to advise BC Rail between 2002 and 2005. The railway's operations were sold to CN, headed by prominent BC Liberal donor David McLean, in late 2003. The controversial privatization spawned a police raid on the Legislature in December 2003. Ministerial aides Dave Basi and Bob Virk made a surprise guilty plea on Oct. 18, 2010 to bribery charges after maintaining their innocence. Their $6 million legal bill was paid by taxpayers and B.C. Auditor General John Doyle is battling in court to find out why.
Kinsella's client list, obtained from the State of Washington by Sean Holman in 2008, included Accenture Business Services and boasted of helping the company achieve a 10-year, $1.45 billion agreement to handle BC Hydro's back office services. Progressive Group was contracted by Washington to lobby the B.C. government and VANOC for Olympic business opportunities. Progressive's company description said it was "located in the heart of downtown Vancouver, while at the same time has a presence in the provincial capital of Victoria and a foot into the Vancouver 2010 Organizing Committee."