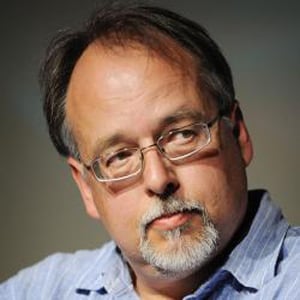 [Editor's note: This Wednesday, Oct. 3, the Tyee is proud to present an evening with Canada's preeminent investigative reporter on energy issues, Andrew Nikiforuk. Details are here. The price of admission is free. The opportunity for you to come, listen and participate is invaluable, for Nikiforuk has spent the past two years researching the key question of our age:
If we can't live with oil, how can we survive giving it up?
Nikiforuk's acclaimed new book The Energy of Slaves: Oil and the New Servitude argues the petro-economy is a false one allowing us to delude ourselves (until it's too late?) about what really matters in life.
His soon to appear series on The Tyee, "Big Shift: Leaving Oil Behind," extends that inquiry by exploring what it will really take -- politically, economically and culturally -- to survive peak oil and stave off climate change.
Expect an evening of hard nosed realism about oil, society and whether we can get to a better place without setting civilization on fire. Hosted by Tyee editor David Beers.
To give you a taste of what to expect on Wednesday, we asked Nikiforuk how his new book can make the claim that humanity's ingenious harnessing of fossil fuel energy offers dark parallels to a previous era during which humans enslaved others. He laid out his thoughts in a dozen points.]
1. Slavery was first and foremost an energy institution that deployed captured muscle to get work done. We have largely imposed its values and attitudes on mechanized slaves fueled by hydrocarbons. In the process we have created unique plantation economies based on the use and proliferation of energy slaves. And like the slaveholders of old, we, too, have become fat, incompetent and lazy. What we have gained in comfort, we have lost in vitality.
2. High flows of energy through a society generally encourage if not enable the growth of big corporations and big government. As unconventional hydrocarbons get more expensive, we'll see a contraction of both the economy and government. The social consequences will be unpredictable.  Descending an energy ladder is generally more dramatic than the climb up.
3. Energy, not capital, makes the world go around. In the 1780s the invention of the steam engine made it possible for machines to do the work of millions. Shortly afterwards the poet Samuel Coleridge described the abolitionist Thomas Clarkson as a "moral steam engine." It took a faith-based movement nearly 50 years to abolish human slavery. But the multiplication of energy slaves fed by coal guaranteed its economic and political success. But one form of slavery replaced another. The new industrial servitude shackled men to machines and mechanical thinking.
4. In the 1950s a massive number of electrical slaves invaded the typical North American home in the form of fridges, vacuum cleaners, dryers, dish washers, blenders, fryers, waffle makers... A decade later the women's liberation movement exploded on the social scene. Changes in energy flow can expand and contract social movements.
5. The first industrial revolution mechanized human muscle with coal-fired energy followed by cheap oil. The second industrial revolution (the digital revolution) has carried on the process by mechanizing mental activity. Digital slaves powered by electricity are also impregnated with oil. The production of computer chips is such a high energy activity that it may be one of the world's largest unrecorded oil spills. The digital revolution is simply a product of high energy spending.
6. Frederick Soddy, the American sociologist, once defined capitalism as a system of economics that designs new high energy technologies or energy slaves that consume more cheap energy. It remains one of the best definitions.
7. The proliferation of energy slaves in every aspect of our lives has created a level of complexity and chaos that we now manage by deploying more slaves. The anthropologist Joseph Tainter doesn't think this approach is sustainable.
8. Economics is not about money but about the quality and quantity of energy flows. Until the advent of fossil fuels no one regarded the philosophy as simply money doings. let alone a science.  National economies expand when they enlarge the flow of energy (British Empire grew on coal and the American Empire flourished on oil). These same economies contract when energy supplies diminish or become too expensive. The continent's last 10 recessions all followed oil price shocks.
9. Societies that consume high levels of energy in the form of fossil fuels tend to be much unhappier and materialistic than low-energy cultures. The energy of machines, as Leo Tolstoy noted, cannot replace the energetic love of a family.
10. The real political divisions in life are not left and right but low energy and high energy. Low energy cultures tend to geographically placed, fatalistic, family-orientated and religious. High energy societies tend to be materialistic, mobile, and self-centred. They also believe in unlimited progress based on the multiplication of energy slaves. One of the great ironies of North American life is that so-called progressives support the ambitions and values of low energy cultures while so-called conservatives uphold the values of materialistic slaveholders.
11. Oil servitude is so prevalent that it is no more visible to us than the abuses of human slaves were to Roman slaveholders. Most North Americans are slaves to their machines and frequently incur great debts to expand their McMansions with stuff and labour saving gadgets. But we have become slaves to our machines and the cheap stuff they make. Oil importing states are slaves to petro states and petro states have become obsequious servants to oil money. And we have used oil to become "masters of the universe" and change the very energy balance of the atmosphere.
12. The master slave dynamic is a powerful one. Ralph Waldo Emerson once said that when "if you put a chain around the neck of a slave, you fasten one around your own neck."