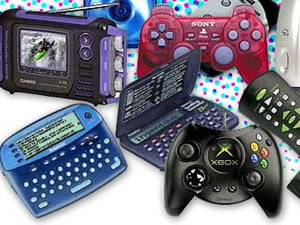 Christmas has arrived and 'tis the season for gadgets.
Cell phones, iPods, Kindles, laptops, and other digital paraphernalia of every conceivable wattage will soon appear like a carpet of glowing mushrooms under many a tree.
But these inanimate slaves are Trojan horses of the worse kind. For starters these electronic distractions bring more petroleum into every home due to the hellish energy intensity of digital manufacturing.
Second, the irresponsible deployment of mostly useless and infantile devices obviously increases energy demand. And that means only one thing: the destruction of more rural communities with big hydraulic fracturing shale gas plays, mountain top coal removal, transmission lines, nuclear power and industrial wind farms. And the list goes on.
Mythical efficiency
Now, these simple declarations might shock many urban screen addicts or digital gadget hoarders. For years now experts have told geeks, otaku and nerds alike that computers or digital gadgets save energy. Why, they even perform a miraculous number of services on a minuscule amount of electricity.
Technocrats have also convinced many iPod fanciers that the world runs on useless tweets, talking toilets and an endless flow of information as opposed to energy. (The Information Age has definitely made us dumber.)
But the Gadget Era is a high carbon phenomenon all built on the illusion of cheap energy. A proliferation of digital slaves now drives cancerous growth in residential electricity consumption by an average of 3.4 per cent a year.
Incredibly, 15 per cent of all household electricity consumption now goes to TVs, computers, set-top boxes (the gadgets for pay TV industry), X-Boxes and other devices.
According to the International Energy Agency (and its sobering 2009 report "Gadgets and Gigawatts"), the average household now spends more of their electrical budget on TV screens (eight per cent)and computers (four per cent) than they do on clothes washers (one per cent) or dryers (five per cent).
Useless emissions
All of these gadgets from Wiis to digital air fresheners now require 360 medium-sized power plants to perform mostly useless tasks. In turn this power demand generates about 600 megatons of climate changing gases or approximately 30 tar sands projects every year. But it's now possible to play an awesome war game while unwittingly destroying both the ocean and the atmosphere in watt-like increments.
These newfangled digital slaves are also fond of stupendous electrical waste. U.S. consumers alone spend $2-billion a year to maintain power for set-top boxes that are not even being used. That's six power plants just to keep a frigging box blinking just in case a consumer decides to order some moral dreck for his living room.
Nor is energy efficiency the answer, because everyone wants to be cool and buy the most efficient gadget. More than a century ago Stanley Jevons, a rather smart coal economist, warned that the more efficient industrialists made coal-fueled gadgets, the cheaper they would become which, in turn, would ramp up coal consumption.
"It is wholly a confusion of ideas to suppose that the economical use of fuel is equivalent to a diminished consumption. The very contrary is the truth."
Jevons, of course, was right. Even the IEA report found "Jevons's Paradox" at play with electrical gadgets: "While efficiency improvements have been made, savings have been cancelled out by the demand for equipment which provides more functionality, or is larger or more powerful, and therefore uses more electricity."
Gadgetry to triple
But the news gets darker. The IEA expects gadget electrical use to increase three-fold by 2030 and to require an extra 280 gigawatts of generating capacity. That means armies of electronic slaves all made with oil could command the same volume of energy now consumed by all the households in Japan and the United States.
But that's only a small fraction of the "monster energy footprint" of gadgets as Low-Tech Magazine recently described this modern madness. The majority of the energy spending actually occurs during the obscenely high energy processing of these allegedly time-saving inventions.
Take the computer for example. It's not even faintly green. An average manufacturing process uses two kilograms of oil to make one kilogram of widgets. But that's not the ratio for computers. They require 12 kilograms of fuel for every kilogram of computer.
About 80 per cent of the energy a computer gobbles up during its pathetically short lifetime occurs during its construction. Given that these machines don't last longer than three years, the world's 1 billion personal computers might represent one of the world's largest unreported oil spills.
Microchips to run computers make an even wilder energy story. MIT researcher Timothy Gutowski recently compared standard manufacturing methods (molding and casting) with microchips only to find that semiconductor industry requires up to six orders of magnitude more energy than traditional manufacturing. This finicky industry, for example, requires more fans, pumps, water purifiers, chillers, compressors and other energy-vampires than normal manufacturing.
As a result it takes about 800 kilograms of fuel to make one kilogram of microchips. "In other words, there is a disconnect between the scale of the energy and material inputs and the scale of the output; 'macro' amounts of energy are being used to effect micro- and nanoscale processes," wrote Gutowski, a mechanical engineer in a 2010 paper.
In a related 2009 study Gutowski issued a blunt warning: "The seemingly extravagant use of materials and energy resources by many newer manufacturing processes is alarming and needs to be addressed alongside claims of improved sustainability from products manufactured by these means." Amen.
A waste of oil
What this all means is that energy needed to make a small chip to run computer, ebook or camera will likely exceed the energy consumption of the short-lived slave itself. Given the built-in obsolescence of these things, their purchase transforms an average household into the electrical equivalent of a gas guzzling SUV or Hummer. Ray Bradbury, the great sci-fi author, wasn't wrong when he said that e-books had a "smell of burned fuel."
Once upon a time, before the oil age, societies responsibly sent stuff back to be remanufactured and repaired to conserve energy and materials. But the digital revolution has made a mockery of prudence too. Now that rakes, shovels and hammers have been replaced by leaf-blowing slaves, snow-blowing slaves and power tool slaves, their makers encourage consumers to burn them out and send them to the waste heap. (Most 19th century plantation owners, by the way, didn't treat their human slaves much differently either.)
Citizens don't have to be part of this irresponsible network, yet as consumers we often feel obliged to support the technological machine. Fortunately, the movement to purchase goods made by people that are durable, repairable and sharable is alive and growing. In addition many citizens are embracing true emancipation by banishing non-essential digital slaves from the household. Occupying your own home with human values just makes life simpler, cleaner and more beautiful.
Thank you for surrendering
Perhaps every new electronic gadget should come with a basic energy warning: "You have just purchased a throw-away device that will enslave your time, multiply waste, sacrifice beauty and escalate unsustainable energy demand. Thank you for supporting the destruction of rural communities and watersheds so the market can bring you more useless gadgets. The surrender of your autonomy and integrity is greatly appreciated."
Jevons thought the careless consumption of energy and things was a grand moral question, and his 19th century wisdom deserves, perhaps, a place on the fridge or at least a passing thought before the purchase of another gadget:
"To allow commerce to expand until the source of civilization and wealth is exhausted is like killing the goose to get the golden egg. Is the immediate creation of the greatest possible quantity of material wealth to be our only purpose? Have we not hereditary possessions in our just laws, our free and nobly developed constitutions, our rich literature and philosophy, incomparably above material wealth, and which we are beyond all things bound to maintain, improve, and hand down in safety to posterity? And do we accomplish this duty in encouraging a growth of industry which must prove unstable, and perhaps involve all things in its fall?"
Jevons knew the answer to that question. Do gadget buyers?