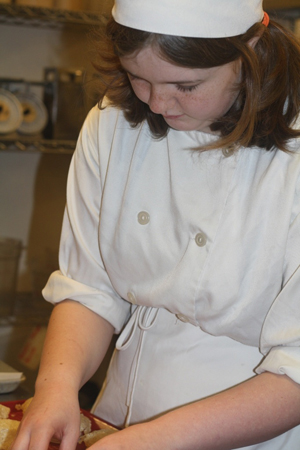 Figuring out what you want to be "when you grow up" is a difficult decision. Some people never figure it out, bouncing from career to career hoping one will stick. But Tala Small Wolf has had her career mapped out since she started her culinary apprenticeship in Grade 10.
"My dad has always owned restaurants around the island, so I've kind of grown up around the whole atmosphere," Small Wolf told The Tyee Solutions Society over the phone from her home on Salt Spring Island.
"I never thought about it until I was in high school and it was like boom! Pick a career. [I thought,] 'Oh hey, this has been here all along. I'm good at it, I enjoy it, why not go for it?'"
Now in Grade 11, at the ripe old age of 17, Small Wolf works part-time at Bruce's Kitchen, a locavore restaurant on the island. Employed for a year and a half already, it's clear she's made a mark: one of the menu options is "A plate of Tala's cookies."
At school she's working towards completing her Professional Cook Level 1, spending four hours every weekday morning working in her high school cafeteria. In the afternoons she studies for her high school and apprenticeship exams. By the time she graduates next year, she'll have her level one apprenticeship completed, the $2,800 tuition paid for by her school.
Last year there were 3,379 in-school youth apprentices registered with the Industry Training Authority (ITA), the province's Crown Corporation responsible for the funding and monitoring of trades training in British Columbia. That's significant in a province where the youth unemployment is almost three times the rate of other working-age groups.
But slightly fewer than half of the province's apprentices are under 25. With baby boomers aging out at a faster rate than apprentices are coming in, a lot is riding on the ITA's ability to attract anybody, young or old, into the trades.
The ITA is facing a lot of criticism regarding its ability to do just that. Politicians, labourers, unions and industry are worried about the training authority's 40 per cent apprenticeship completion rate, the unclear role industry is expected to play, and the lack of employers willing to take on apprentices, who must complete 80 per cent of their training on the job.
Despite facing a skilled worker shortage in the tens to hundreds of thousands over the next decade, all is not lost according to Kevin Evans, CEO of the ITA.
"I don't think it's the time to be saying that we've missed the boat," Evans says. Then, adding another metaphor for good measure, "The train is certainly leaving the station, but it's going to require an attitudinal shift, a cultural shift in British Columbia, and it's going to require a real focus on training."
Instead of focusing on the negative, we at The Tyee Solutions Society choose to focus on possible resolutions to these issues. We invited the critics, as well as the allies, of the ITA to tell us what needs to change. With the growth in trades-related jobs, B.C. has a chance to turn its economy around. But everyone agrees the ITA needs change and it has to start now.
Why can't you be more like Alberta?
It's rare the political left has something nice to say about Alberta. But when it comes to an ideal trades training system, unions, industry, labourers and politicians all agree the Alberta Apprenticeship and Industry Training System has the formula.
Alberta boasts one of the highest apprenticeship completion rates in the country: 78 per cent of apprentices compared to B.C.'s 40 per cent. According to a spokesperson for the Alberta government's department of enterprise and advanced education, Alberta is home to 11 per cent of the country's journeymen. But 20 per cent of Canada's skilled trades people are trained there.
The BC and Yukon Building and Construction Trades Council is so sure of the superiority of Alberta's trades training system they wrote a paper on it. "Overview of the Alberta Apprenticeship System," a collaboration with the BC Construction Association, lists nine of Alberta's best practices. They range from being industry driven, to increased Aboriginal participation in trades, to expanded client services through a network of field officers -- including apprenticeship counsellors.
Evans says it's unfair to compare B.C.'s completion rates to Alberta's because unlike B.C., Alberta doesn't count apprentices until they make it past their first year of training. He points out that the first year is when most apprentices drop out.
Jobs Minister Pat Bell told The Tyee Solutions Society that the completion rate was similar under ITAC, although both the BC Federation of Labour and the Federation of Post-Secondary Educators dispute this.
According to a report released by the Canadian Labour Market and Skills Researcher Network, B.C. is below the national average for apprenticeship completion, which was close to 50 per cent in 2008. But B.C.'s rate measures apprentices who are certified journeypersons within six years, whereas the national measurement allows apprentices to take up to 11 years for certification.
Minister Bell agrees the province could learn something from its neighbour.
"There are things that appear to be working well in Alberta and elsewhere. So I have never been one to reinvent the wheel if the wheel already exists, and I think there's a couple of pretty good wheels: Australia is one and Alberta is another," Bell said.
"[Apprenticeship] counsellors is certainly one of the elements that could help support greater retention in the industry in the various trades."
Bring back counsellors
NDP advanced education critic Michelle Mungall says the discrepancy in completion rates between the two provinces comes down to the removal of apprenticeship counsellors in B.C.
Under ITAC, apprentices were assigned counsellors. Similar to other post-secondary institutions, a counsellor's job was to advise apprentices on their requirements for school and work. But they also acted as liaisons for the students during disagreements between the student and the employer or the student and the school.
"The colleges have been picking up the slack since the Liberals cut all apprenticeship counsellors. But they're just not able to do the job that those people did in the past, and employers, employees, apprentices, and colleges are all complaining about this," says Mungall.
Instead of counsellors, the ITA has a service centre in Richmond that students can visit in person, online or call. Evans says the service centre provides a self-service approach and cuts down on administrative backlog.
"At this point, the key question on a potential return to counselors is whether the considerable investment required will be justified by the benefits," Evans said.
In contrast to the ITA's 40 per cent completion rate, 90 per cent of the apprentices who belong to construction unions under the Building and Construction Trades Council complete their apprenticeship within six years. The apprentices are still funded by the ITA, but their success, Sigurdson explains, comes from union-funded apprenticeship counsellors.
"You have someone who is not only there to mentor you, but to guide you in other ways. So the counselling program is the key to success," he says.
Industry must play its part
Only 20 per cent of an apprenticeship takes place within the confines of a classroom. The other 80 per cent is hands-on work experience, and for apprentices that can be hard to come by.
Dietrich Pajonk hasn't even finished his level two plumbing apprenticeship yet and already he's been laid off from his first job.
"It's a very brutal industry, and as soon as things start slowing down, and as soon as you get close to the three-month period where they need to start paying benefits, they punt ya," he told The Tyee Solutions Society.
Between looking for his first job and now his second, Pajonk estimates that he's contacted 170 different businesses. Evans sympathizes, saying employers need to train more.
"I think the question is do you use a carrot or do you use a stick to get them involved, and currently we're trying to use the carrot by showing them what the incentives are, what the rewards are, what the business case is," he says.
Mungall would rather reward those who participate and use the stick for the rest. She says B.C. should consider introducing training levies and rebates similar to those used in Quebec, France, Singapore and Malaysia.
"If you as an employer are meeting the training needs of your employees and filling apprenticeship spaces, you get a rebate back. If you're doing only half, you get a rebate back in conjunction with what you're actually doing," she says, adding it's shown to increase apprenticeship completion rates in other places when used in tandem with services like counsellors.
Bell says the ministry has already begun something similar, offering a $5,250 refundable tax credit per apprentice hired in the ship building industry. In October the province was awarded an $8-billion federal shipbuilding contract, anticipated to bring thousands of new jobs to British Columbia.
But with shipbuilding apprenticeships taking four years to complete, the question is where are we going to get enough skilled technicians to fill the void until then.
Hire outsiders to temporarily fill the void
Philip Hochstein, president of the Independent Contractors and Businesses Association of BC, believes the answer is temporary foreign workers.
"The problem is not finding people to get into the system, the problem is finding skilled labour to continue to mentor them, and it takes four years to do that, so we're always a bit of a lag," he says.
"Part of the solution is to ensure that we can find the skilled workers wherever they are in the world and allow them to come in and train and mentor all the young people who continue to want to get into apprenticeship."
Evans half agrees with Hochstein, saying even if you trained everyone who wanted to be a journeyman in B.C., it still wouldn't fill the void.
"Even if we do everything we can through immigration, even if we do everything we can through integrating segments of the work force that have been underrepresented, such as immigrants, Aboriginals, and women in skilled trades, we're still not going to have enough people," he says.
Instead, Evans wants to train apprentices in a core set of skills, allowing them to work in more than one trade.
One example he cites is mechanical maintenance trades, which can include heavy-duty mechanic, commercial transport vehicle mechanic, and automotive technician. While each trade is different, the core skills are similar. Evans suggests making level one and level two a common core of training for all mechanical trades.
"That would provide more opportunity for the apprentice to move around, and to choose which specific trade they want to get their journeyperson's in, or after they've got their ticket for one [apprenticeship] and they want to go back a few years later and get two, they've already got a couple of years training under their belt," he says.
He says core training has the opportunity to make training a more efficient process. This is especially true in rural areas where there may not be enough apprentices to merit a transport vehicle mechanic class and a heavy equipment mechanic class. But when combined there are enough students to make one core class.
Russ Robertson, CEO of the Transportation Career Development Association, the Industry Training Organization that represents the transportation trades within the ITA, says his organization has been pushing for core training. But the ITA's response has been slow.
"[ITA] will take it through a very slow, bureaucratic process, which becomes very frustrating for industry. I think sometimes there is a break down in trust between the two," says Robertson.
But as Evans points out, the ITA has a large responsibility. It requires juggling a lot of balls, but it's not an impossible task.
"We're the glue that holds our province's massive skilled trades training system together. Working with educators, employers, industry, labour, and -- of course -- learners, we make sure the thousands of tasks that go into keeping a big machine moving are taken care of," he says.
"When we do our job perfectly, things run smoothly."
Growing pains
Six months after high school apprentices like Small Wolf graduate from high school, they're left to navigate the apprentice system on their own. Although she's taken on one of the more popular trades in the province, that's no guarantee her journey to Red Seal certification will be easy.
Nevertheless, despite the growing pains the provincial training authority is experiencing right now, Small Wolf is looking forward to traversing the apprenticeship system on her own.
"I'm pretty excited, actually. Once I get out of here I'll be paying for my own education and it feels like I can actually take charge of my life more fully than I am right now," she says.
Whether a skilled trade is your first career choice or your fifth, starting out on a career path is an exciting time in anyone's life. But a solid education delivery is key to the success of apprentices. With a growing need for skilled trades people in British Columbia, industry, government, and workers must put their solutions forward and agree to work together if the province is going to take full advantage of this long-awaited jobs boom.