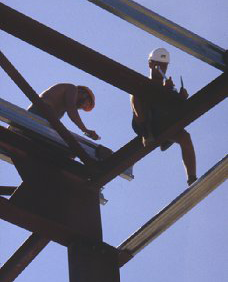 Doug Gillis, owner of North Shore Electric, struts into the Mosquito Creek Bar & Grill in North Vancouver. He looks tired as greets two friends he's meeting for a drink. A shortage of skilled labour is predicted to hit B.C. within the next decade, but Gillis is feeling it already.
"I'm already overbooked and I could work literally 24 hours a day, seven days a week," he says.
Reports by the Canada West Foundation, the B.C. Federation of Labour and the B.C. Business Council have all warned of the skilled labour crisis. It would drive up costs and bust budget estimates on big projects. With the 2010 Olympics fast approaching and construction a bright spot in BC's economy, that's the making of a big election issue.
What's causing the shortage and how to fix it is hugely controversial, however.
A hot button is B.C.'s new apprenticeship system. Ushered in by the BC Liberals, no one can agree on whether it's part of the problem or the solution. They can't even agree on how to calculate whether the number of apprentices is growing or shrinking.
'Shot in the arm' needed
"There's so much work there and I just hope our B.C. government will realize that they have to put some more money into the trades and the apprenticeship programs and give it the shot in the arm it needs," says Gillis, an electrician for over 25 years.
That shot in the arm is what the BCFed has been talking about for months. In November last year the BCFed released a discussion paper lambasting the government for not taking proper action. The BCFed says the provincial government has radically changed B.C.'s apprenticeship system for the worse.
"The changes make it more difficult, more expensive and more frustrating for workers to access and achieve full trade qualifications," the BCFed says. "At exactly the time we need to find new ways and more people to enter trades training, the provincial government's changes are moving B.C. down the wrong track."
Those changes came in the form of the Industry Training Authority Act of 2003. The act dissolved the Industry Training and Apprenticeship Commission brought in by the NDP in the mid 90s. Under ITAC, counsellors province wide tracked and registered apprentices, and scheduled technical training and exams. Under the new Industry Training Authority, those counsellors don't exist, and it's up to the individual apprentice to check in and log their hours and training.
The counsellors were important, the BCFED says, especially for non-union apprentices because they ensured apprentices received their proper wage.
The province now spends over $70 million on apprenticeship training, but the BCFed says that's still not enough.
"Over the next four years, B.C. needs to double its training effort if we are going to solve the looming skills shortage," the BCFed says. "That means training 30,000 apprentices and increasing the budget for trades training to $150 million."
The changes frustrate Irma Mohammed, director of education, apprenticeship and youth issues with the BCFed.
"Prior to the change, [ITAC] had offices and had counsellors and had staff where you could register as an apprentice," says Mohammed. "There was somebody there who could advise you and get you the information you need to go through. Now all they have is a 1-800 number, they have no staff."
'Left in the lurch'
However, Lisa Dooling, marketing and communications director with the Industry Training Authority dismisses the BCFed's misgivings as pre-election haranguing. Dooling boasts that the ITA has upped the number of apprentices, but does acknowledge that the new system no longer has counsellors to help would-be apprentices.
"We've only been around up and running fully for about 10 or 11 months," Dooling says. "Between the time when ITAC was disbanded and the ITA was legislated there was a gap where a lot of people I think felt they were left in the lurch. There was no system in place, and we're still feeling the carry over effect of that."
Dooling cites numbers to bolster her case, claiming that in January there were 18,985 registered apprentices, up from 14,676 in March of last year. But the BCFed argues that those numbers compare apples to oranges by lumping in apprentices who aren't getting full training as well as a growing number of apprentices who haven't been involved in active training for 18 months. Dooling insists the new system is more effective and responsive to industry needs. ITAC was too slow, Dooling says, partly because it was operated within a ministry and not at arms length like the new system.
"[The old system] was a very consultative system, so industry was at sort of an advisory capacity, but there was this big bureaucracy trying to interpret what industry required rather than sort of putting them in the driver's seat, and that's been the most fundamental shift."
Furthermore, Dooling doesn't fully understand the BCFed's problems with the ITA.
"I'm not sure why they're saying it makes it difficult for people to complete [their training]. We're trying to create more unique ways that encourage people to complete," Dooling says. "There's also all kinds of policies in place now where apprentices can challenge exams. If they can prove competency and pass assessments they may never even take the technical training. So all those things actually facilitate greater completion rates."
But one needs to know their stuff if they're going to challenge an exam, says North Shore Electric's Doug Gillis.
"I had an apprentice who decided to challenge first year and he failed miserably. He got 34 per cent or 36 per cent… [you need] 70 per cent to pass," Gillis says.
How full the training?
Labour groups complain that the new system allows for fragmented or modularized training. Apprentices learn one aspect of a trade, for example house framing, and receive credentials after a few months instead of after the usual four years of training. Unions contend that this waters down qualifications, and in turn lowers wages.
"Those [programs] were approved because different industry bodies came to us and said 'we need framers now, we don't need people who have completed a four year carpentry apprenticeship, we have a demand for these people now,'" Dooling says. "They wouldn't have been approved if they couldn't lead to that full carpentry apprenticeship."
Apprenticeship credentials for most trades fall under the Red Seal Program. Having Red Seal certification is known as having a ticket, and allows one to work anywhere in Canada, excluding Quebec. But if an apprentice only has credentials for one module of training in a certain trade, the mobility that a Red Seal journeyman enjoys doesn't apply, according to the BCFED.
But while unions and labour groups criticize the new apprenticeship system, plenty of businesses and organizations are praising it as just what the doctor ordered. Gord Stewart, assistant vice president of the Independent Contractors and Businesses Association and ITA board member, says the old system was inflexible.
"The ways the training was being done didn't really reflect the way that our guys organized their businesses," he says.
'More less qualified people'
But the ICBA's membership is divided.
Frank Siegmann owns Coldwave Refrigeration in North Vancouver and is an ICBA member. He says the new training model will do more harm than good, and if given a choice between hiring a Red Seal certified person versus someone trained in a new specialized program, it would be no contest.
"Anybody down in the States, if you go down there with a Red Seal they snap you up. They think we're gods down there because they have [fragmented] training I believe, like in California," Siegmann says, adding that the new training model in B.C. was likely a ploy to circumvent union bureaucracy. "There's going to be more less qualified people, and I don't think that's what you need, especially in this trade. I think you need more qualified people, people who know everything so to speak."
But Axel Gringmuth of ETS Electric, also an ICBA member in North Vancouver, thinks the new system is a step in the right direction.
"They make it simpler and faster and they can react to necessary changes in the industry quicker-that's the theory of it," Gringmuth says.
Furthermore, Gringmuth says a Red Seal ticket is great, but if hiring someone to do a specific task, a full-scope electrician is not necessary. For someone who only wires houses, say, "why do I need a guy who knows how to hook up high tension wires?" asks Gringmuth. "That's sort of like saying you've got to be a brain surgeon before you can stitch up someone's cut on the hand."
Coordinated effort needed
With an estimated $16 billion in construction projects over the next five years, the demand for skilled construction trades is bound to grow say analysts.
The federal government established the Skilled Trades Promotion Project because the skills shortage is Canada wide. Nearly one million positions will open up nationwide due to retirements by 2020, according to the Conference Board of Canada.
The Canada West Foundation in January this year released Toward a Bright Future: Recommendations for Addressing Skills Shortages in Western Canada. Todd Hirsch, chief economist with the CWF and author of the report, says it's up to industry, government, and educators at all levels to solve the problem.
The report echoes many of the BCFED's recommendations, including increased funding for apprenticeship programs.
"The first recommendation I make is governments and industry are going to have to be putting more [money] into the post secondary system," Hirsch said in a phone interview.
Hirsch also recommends more cooperation between trade schools to make it easier for students to transfer between institutions.
Olympics bottom line at risk?
If the shortage isn't staved off, Hirsch fears the consequence will be economic turmoil as wages escalate.
For example, when the government attempts to budget for a venue for the 2010 Olympics, "by 2008 when we actually get around to building it, the cost may now be much higher because there aren't enough workers and wages have escalated," he says.
One solution may be bringing in skilled immigrants to fill the void, Hirsch says.
Tom Kozar, a retired 27-year trade instructor with BCIT and active member of the B.C. Government Employees Union, says the problem lies with the ministry of education.
"People have turned their eyes away from the need for plumbers, and pipe fitters, and boilermakers, and heavy duty mechanics, and all of that stuff, and society has focused on university," Kozar says. "Now everybody talks about trades and they think that somehow you've got to have a size two hat and a 19 inch neck to be a tradesman-that's not true."
An Ipsos-Reid poll last year found that while six out of 10 parents said they would recommend a career in the trades to their kids, 59 per cent of youth said their parents have not pushed them towards the trades. In addition, nearly half of parents and 41 per cent of youth polled thought trades involve hard, physical labour. Finally, over seven out of 10 youth polled said their school counsellors have not encouraged them to enter the trades.
Back at the bar, Doug and his two buddies raise a shot of Jack Daniels. Doug's confident he'll be riding high throughout the skills shortage, but for regular people he's not so sure.
"If the government doesn't do anything about this problem -- be forewarned -- they're going to pay dearly for it," Doug says. "I can see what's happening and it's scaring the hell out me.
"I pity the homeowner who's got to find a trade. We're going to have to open our doors to people from Alberta or in the states. I don't have the answer to it, but the government better come up with something."
Darryl Greer is a journalist in North Vancouver.