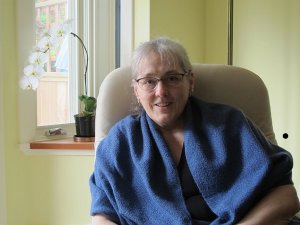 On an empty stomach it's easy to find fault with my fellow transit passengers, even the littlest ones. I'm sitting on the 99 B-line trying not to openly scowl at a toddler who is planted on his mother's lap gnawing at a cracker. His chin is shiny with saliva, and soggy crumbs stick to his fat cheeks. Gross. I look away in disgust as his mom lovingly strokes his hair.
By the time I arrive at my destination -- a café in Kitsilano -- and wolf down a croissant, I'm feeling much better about the world. It's an appropriate start to my interview with Karen Cooper, who can relate to the anecdote.
Cooper, a professor at Corpus Christi (a small Catholic college on the grounds of UBC) understands well what happens to most people's thought patterns when they are deprived of glucose. For the past five years, she has been poring over scientific literature on the relationship between nutrition and mental health and conducting her own original field research in Vancouver's Downtown Eastside.
Cooper is trying to quantify what most working and living in the neighbourhood already know: food, or lack thereof, has a big impact on people's moods and behaviour.
And she's found a novel way to measure this: by looking at the number of 911 calls to the neighbourhood's single-resident occupancy (SRO) buildings, before and after the introduction of meal programs.
Her research so far, she says, indicates that "Basically, anytime anyone introduces food, you get this enormous decrease in 911 calls, police fire and ambulance."
How much of a decrease? Although Cooper says she hasn't completely finished crunching and analyzing her data, conservatively, she says, the average drop in the total number of critical incidents involving all services (police, fire and ambulance) fell between 25 and 33 per cent across the residences she looked at. That's between a period several months before the introduction of meals on site, and a period 18 months to two years later. Police calls alone saw a drop of between 40 and 50 per cent, says Cooper.
Cooper looked at seven residences in total, and warns me that she needs to collect data from more in order to make her findings statistically relevant in an academic context.
"Having said that, I feel all the time like I'm trying to prove the obvious," she says. "Which is, if you don't feed people, bad things happen. If you don't feed mentally-unwell, addicted and often physically-unwell people, even worse things happen."
The hot meal factor
Cooper's foray into this type of research was accidental. The subject of her PhD was originally "nothing to do with nutrition or food," she says, but rather, empathy. Her focus was on the Sisters of Mercy, a group of nuns who did outreach on the Downtown Eastside.
As she became familiar with the Sisters' work, she realized that food was a major part of their outreach. It wasn't just the food, she adds, it was also the respect that people received there -- but it was her first inkling that food was a research topic worthy of a closer look.
Then, in 2007, at a birthday party, Cooper happened to strike up a conversation with Liz Evans, executive director of the Portland Hotel Society (PHS).
When Cooper mentioned her work with the Sisters, and her growing interest in their meal program, Evans -- who recalls the encounter -- said that PHS had been thinking about doing the same kind of research. Over the past year, the society had begun to deliver hot meals, one per resident, per day, to several of its projects.
Staff had expected to see health improvements -- they even recorded the weights of residents before and after, and noticed body mass increases of between 22 and 32 per cent in some cases -- but what they also noticed was a palpable improvement in the mood of residents, and an apparent decrease in the number of violent and disruptive incidents in the buildings.
When Evans mentioned that they were able to compare this anecdotal evidence with log records of critical incidents that staff are required to keep, "The mathematical part of my brain," exclaims Cooper, "said statistics!"
Brain food
There is already plenty of clinical research on the impact that nutrition has on brain function and behaviour.
There are lab experiments, for example, that indicate people do more negative stereotyping if they are deprived of glucose. A groundbreaking 2001 clinical trial at Aylesbury jail in Britain showed that when inmates were given multivitamins, mineral and essential fatty acid supplements, the number of violent incidents decreased by 37 per cent compared to those on a placebo pill.
Other researchers in the field say the same type of quantitative analysis is important now -- at a time when the issue of food security is gaining more attention in the social service sector -- more than ever.
Christiana Miewald, an adjunct professor with SFU's Centre for Sustainable Community Development, documented the food security needs of people in the Downtown Eastside in 2009. She found "an increasing amount of activity" in terms of food programming in that neighbourhood, but little in the way of research or policy.
"Anecdotal evidence from program and housing staff in the DTES suggests that when healthy meals are provided, there are a number of benefits," she noted in the report. For example, when the food provided at the Lifeskills Centre was improved from pastries to full meals (breakfast and lunch), staff reported that residents were more attentive and less aggressive, which reduced the amount of time they had to devote to intervening in conflicts.
Bill Briscall, communications manager for Raincity Housing, told The Tyee that one of the supportive housing projects that they manage, Princess Rooms, introduced a community kitchen program, where residents can come for a shared meal, several years ago.
When the program started, Briscall -- who says he used to manage Princess Rooms before taking his current position -- thought the idea of putting 40 residents in a room together was crazy. "When I was there, we would try to minimize interactions between residents that could escalate," says Briscall. "These are people in survival mode... they could be very angry, very protective."
Instead, he says, the meals have had the opposite effect. "Having food is making it healthier," he says. "It's actually improved the atmosphere in the building."
"We've heard that time and time again," Miewald told The Tyee in a phone interview. Miewald says she and colleague Dr. Aleck Ostry, an associate professor at the University of Victoria, have applied for a Canadian Institute of Health Research grant to try to quantify and compare the benefits of various meal programs -- like community kitchens or meal delivery services -- in supportive housing. For now, she says, aside from what Cooper is doing, "there's very little data."
"She's probably the only one doing the quantitative research," says Miewald.
Tallying emergency calls
Cooper has focused on seven SROs that are home to "hard to house" populations (people with mental health and addiction issues, who often fall in and out of homelessness) with the cooperation of four supportive housing providers in Vancouver: the Portland Hotel Society, Raincity Housing, Atira and MPA (Motivation, Power and Achievment).
According to a 2008 demographic study commissioned by the City of Vancouver and BC Housing, a significant number of people in all SROs are dealing with these very problems. Of the 628 people surveyed, 32 per cent reported having a drug addiction, 20 per cent reported having an alcohol addiction, 22 per cent reported having tuberculosis, hepatitis C, HIV or AIDS, and 30 per cent said they had a mental illness.
Cooper worked directly with SRO staff who provided incident log data with names omitted to protect privacy. She analyzed the type of emergency calls that were going out -- police, fire or ambulance -- and cross-referenced these with 911 dispatcher records.
"The fire calls -- and that's not a big number -- are mostly what we would think of as negligent. Cigarettes, matches," says Cooper. "Ambulance, it's everything from drug trips to knife fights. Fights, of one kind or another would easily be the biggest chunk. Knife fights and fist fights and assaults. A fair number of mental health calls. When threats are uttered then the police get called."
According to a 2005 analysis that looked at emergency calls to a sample of 54 SROs in the Downtown Eastside, there were 11,269 calls for police, fire and ambulance during that time period. Slightly more than half of those -- 6,947 -- were for police. Another 1,754 were fire and rescue calls, and 2,618 were for ambulance.
There hasn't been a similar analysis since then (at least, not that this reporter could find), and it's only been in the past five or six years, roughly, that the PHS and other housing agencies have begun to introduce meal programs in a more comprehensive way.
Constable Brian Montague, a media relations officer for the Vancouver police, said in an email, "It would be difficult for us to make the connection between police response and the meal programs."
The police did provide more recent data, for VPD calls only, for six SROs that were part of the 2005 analysis. They include four PHS-run projects (Stanley, Washington, Roosevelt and New Portland hotels) as well as The Savoy and The Balmoral.
The red markers indicate SROs for which 2005 police call data and 2011 police call data are available. The blue markers indicate SROs for which 2005 call data only is available. (If you're reading this story on The Tyee's mobile site, visit our regular site to see the graphic.)
Some, like the Washington, had a significant drop in police calls. In 2005, there were 281 police calls and in 2011 there were 179 (a decrease of 36 per cent). Police calls to the Roosevelt decreased by 72 per cent, from 487 in 2005 to 135 in 2011.
The Stanley saw a modest (about three per cent) drop in police calls between 2005 and 2011.
Police calls nearly doubled at The Savoy, an MPA-run residence. In 2005, there were 53 police calls. Six years later, there were 100.
These are just a few examples; not statistically significant, and not meant to imply that food provision in these residences are the cause of any decline in police calls.
Cooper acknowledges that the research has taken her longer than she thought -- four years longer, and counting -- because there are so many variables to account for. People move around, she says, and other types of programming that might have an impact tends to come and go with funding. There have been renovations in some of the buildings as well, a provincial government response to outcry over deplorable living conditions in many of the aging SROs.
Her ultimate goal is to do a cost analysis: what's the associated dollar value of a decline in emergency calls, and how might that compare to the cost of providing meals?
So far, she has only been able to cost 911 calls to police based on the point at which the officer logs in a particular call number, to the point at which they log off a particular call number. However, there is almost always some additional action at the end of that call that she hasn't been able to account for.
Police might show up and diffuse the situation, says Cooper, but she says it appears equally likely that they show up and take someone into custody. Ambulance calls are often followed by a visit to the emergency room and about half the time, she says, a hospitalization.
"If you talk to nurses at St. Paul's (Hospital) casually, they will say 'Yes, we get people in with pneumonia, and they're basically in the hospital while we feed them for two or three weeks until their immune system is strong enough," says Cooper.
"We spend an enormous amount of money to feed them in the hospital -- it drives me insane!" she exclaims. "We'd be a lot better off to feed them in the SROs."
This raises another important question, from a policy perspective: who pays for this kind of programming? Even if researchers could accurately compare the cost of food provision in social housing, to the cost of not providing meals in social housing, says Cooper, "the problem is the silos where the money gets spent."
"The people in the silos who have to spend the money and the people who are going to save the money are not in the same silos," she says. "I've come more and more to see this as an administrative problem rather than a cost problem."
Tomorrow, a look at the logistics of feeding people in supportive housing, and the challenges and opportunities of expanding meal programs.