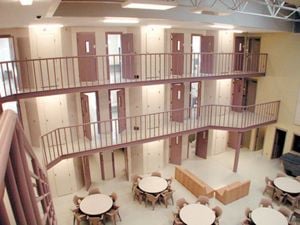 [Editor's note: Read the explanatory introduction to this series also published today by clicking here.]
A few hours before sunrise on Jan. 18, 2008, Richard Troy Moore arrived for work at the North Fraser Pretrial Centre in Port Coquitlam, B.C. A veteran guard, Moore was nevertheless new to his posting that day. His first day on this particular job was Jan. 2. As part of a program set up the previous summer, he was working the jail's Charlie Block, housing mentally disordered offenders, or 'MDOs'.
For most of that week Moore and the other guards on the unit had been coping with a prisoner named John Parker. A small man with a history of depression and mental illness, Parker, 57, had struggled to adapt in North Fraser, where he'd been sent the previous fall. After Moore rolled in on this day, he discovered that Parker's most recent cellmate had been released the previous night.
Along with another guard, Moore decided to move Parker to a new cell on the first tier. Why he did this is not entirely clear. In court, he would say only that he "had a gut feeling there shouldn't be a guy who sobs and is depressed up on the third tier." Presumably he didn't want Parker to jump. And yet, when he was asked directly, Moore said he didn't think Parker would hurt himself; he wasn't suicidal, in other words. It's a contradiction. If Parker wasn't a danger to himself on the third tier, why was he moved to the first?
In any case, he was.
Parker spent that night in a new cell -- Charlie-Five-East -- with a new cellmate, Victor Hurtado -- a young, violent criminal awaiting a hearing that would see him deported to his native Colombia. If anything happened that night between the two men -- Parker and Hurtado -- guards in the jail didn't hear of it, or at least they didn't record it. Documents show no sign of trouble between the two until the following day.
Even then, the signs were innocuous enough.
Lights out
On Jan. 19, at 2:30 p.m., another guard, Frank Debrah, punched in for an eight-hour shift on Charlie Block. Debrah was a floater. He looked after basic security. But he was also a liaison, a bridge between prisoners and guards. "If they need any mundane thing, like soap, toothbrush. . . they come to me," Debrah said. At about 6 p.m. that day Parker approached Debrah's desk. "He said to me 'Boss, can I change cells?'," Debrah recalled. When Debrah asked him why, Parker responded: "I just don't get along with my cellmate." In court, Debrah said this kind of request wasn't unusual. Charlie East was full or near to it that day. It almost always was. So Parker stayed put.
As for Hurtado, Debrah said he only spoke to him once that day, when Hurtado asked him, jokingly, if he could have some booze. "Look around," Debrah replied. "Does this look like a bar?. . . Do I look like a barman?"
Near the end of his shift, at about 9:45 p.m., Debrah walked from cell to cell on a prisoner count. He looked in the window at Charlie-Five-East. Hurtado lay on the top bunk. Parker sat in a plastic chair. The television was on. Fifteen minutes later, on his last tour before checking out, Debrah again peered through the cell window. Nothing had changed. At seven minutes after 10 p.m., the unit lights dimmed. Fourteen minutes later, the bulbs in Charlie-Five-East went dark. His day done, Debrah climbed the stairs to the muster room where guards bookend their shifts. For a few minutes, as they were every night, the halls of Charlie East were empty.
They wouldn't be for long.
As Frank Debrah settled into the muster room, Roger St. Goddard, an eight-year corrections veteran, sat in a nearby office, filling out reports. St. Goddard was a supervisor. He worked the same 2:30 to 10:30 stretch as Debrah. That night, minutes before his shift was done, he saw another guard pop from the nearby control room and race toward his office. "He looked at me kind of surprised, because we're usually upstairs by that time," St. Goddard said. "He said, 'Let's go. We've got multiple cell calls from Charlie-East'."
In each cell in North Fraser, above a small desk, are four metal panels. The first one on the right is an emergency call button. If there's a fight or a crisis, inmates can hit the button, setting off an alarm in the central control room. At 10:25 p.m. on Jan. 19, then again one minute later, emergency calls came in from two cells on Charlie East. The calls sent St. Goddard and the other officer running together to the unit. It took them no more than 30 seconds. Once there, they paced the first tier, peering through windows into darkened cells.
"When we got to about cell 8 or cell 7 I decided to split up," St. Goddard said. "When I was halfway up the first set of stairs, [the other officer] was at Charlie-East-Five and he informed me: 'They're here. They're here'." By that time noise was breaking out across the unit. Prisoners clamoured in their cells. St. Goddard moved back down the stairs. On the first tier, he looked through the window at cell five. Victor Hurtado stood inside, blocking the view. Goddard asked him to move. He did. Behind him, on the floor, lay John Parker.
The prison cells in North Fraser are not large. They were built to hold a single prisoner and have since been jerry-rigged to hold two. Each has two beds and a desk, a television, and two chairs. Each bunk also has a small shelf where prisoners keep personal items. Looking into Charlie-East-Five that night, St. Goddard couldn't see everything. But what he could see frightened him. Dark liquid pooled around Parker's head. Hurtado, for his part, looked terrified.
Code Blue
St. Goddard called out a Code Blue -- prison jargon for a medical emergency -- on his radio. He ordered the other guard to crank on the unit lights then opened the cell door. Inside, he had Hurtado lie face down, hands behind his back. When the young man complied, St. Goddard cuffed him and looked over at Parker. St. Goddard would later testify that he'd seen many fights as a jail guard. He was used to the way blood looked; to the different ways it could pool and settle. "This was different," St. Goddard said. "It looked like blood splattered against a wall."
Shaken, St. Goddard and the other guard rolled Hurtado onto his side. They pulled him to his feet and walked him off the unit.
With the prisoners locked down, the night shift at North Fraser becomes a skeleton crew. After 10:30 p.m., one senior guard supervises the guards on all four of its pods. On the 19th that guard was Thomas James Hanna. A 22-year veteran and four-year supervisor, Hanna had barely checked in when St. Goddard called the Code Blue. As the top guard in the jail, he scrambled out of the muster room and onto Charlie Block to respond, passing St. Goddard and the other guard as they marched Hurtado away.
Inside the cell, the view was grim. The television lay smashed on the floor. Parker was sprawled diagonally nearby. A nurse was already there, with an aide, working on the older man's wounds. Parker's breath was slow and labored. He had a pulse, but barely. On the nurse's instruction, Hanna placed an oxygen mask on Parker's mouth and nose. Up close, the man's face was a mess of blood and bruises. Hanna could see deep cuts near both his eyes. "The ear closest to me was all but detached from his head," he said.
With Parker clearly in trouble, the nurse asked for an ambulance. At 10:40, fire fighters arrived. Paramedics soon followed. They worked on Parker inside the cell. They tried to slow his bleeding and stabilize his wounds. But there wasn't much they could do. At 10:55 they lifted him onto a gurney and wheeled him out. As the stretcher passed him, Hanna looked into Parker's face. He looked like a dead man.
With the paramedics gone, Hanna locked down the cell. He and another guard took digital photos inside. He covered the window and went down to segregation, where Hurtado was being held. Along with a Spanish-speaking officer, Hanna questioned the young Colombian. He read him his Charter rights, and tried to find out what had happened. After the interview, Hurtado was photographed and his clothing seized. An officer sealed it in paper bags.
Seven blows
Meanwhile the paramedics struggled to stabilize Parker in the ambulance. They called for extra assistance and an Advanced Life Support Unit met them at the roadside. Parker was moved to the better-equipped vehicle and rushed the rest of the way to Royal Columbian Hospital. There, an examination revealed Parker's wounds to be gruesome. Doctors used 15 stiches to reattach his right ear. They sutured a gash above his right eyebrow and tried to close lacerations on his left. His lips were cut and bruised, inside and out. His hands and arms were scuffed, marked up with defensive wounds.
But the real damage was internal. A pathologist later picked out seven distinct impacts on Parker's skull, four of them serious. The force of the blows had ruptured his corpus callosum, a bridge of nervous tissue that connects the two hemispheres of the brain. By the time the doctors got Parker to surgery, his condition was critical. In a bid to reduce the pressure on his brain, they cut into the right side of his skull, a procedure called a craniotomy. But it wasn't enough.
At 3:42 a.m., on January 20, 2008, John David Parker was declared dead. He was 57 years old. He had been a prisoner at the North Fraser Pretrial Centre for over a month, a resident of Charlie-Five-East for less than 48 hours.
His death sparked a cascade of official notifications. The North Fraser warden was woken. A coroner was called in. The family was informed. Parker's sister, Jan Wirch, learned of her brothers death about an hour later, alerted by a third sibling by MSN Messenger. "I thought he had a heart attack," Wirch said. "Or he killed himself. I had no idea that someone would have killed him. I think I went into shock."
That shock would turn later into mystification. And anger. How could a slight, sad individual like Parker meet a violent, blood-soaked end while supposedly under the eye of watchful guards?
Was it an isolated case? A tragic confluence of unique circumstances? Or was it something else? Something wider? Evidence, perhaps, of a deeper pathology in 'remand' itself?
Tomorrow, as the Tyee investigation continues, we attempt to get some of those answers.