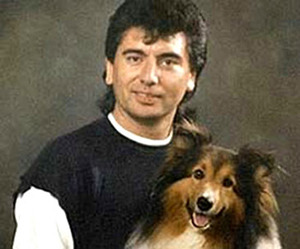 [Editor's note: This is the sixth and final article in a Tyee series about past crimes and unexpected consequences. Find an introduction to the series here.]
It was near the end of the school day when Tash Wolfe and Oliver Lee stood before a classroom of Grade 7 students, coaxing them to free-associate around the words "gay," "lesbian," "bisexual" and "transgendered."
Wolfe, one of the guest facilitators, assured the 30 Waverly School kids that they wouldn't get in trouble for saying a bad word. A boy slouching in his chair near the back raised his hand.
"Fag," he said.
Qmunity -- a Vancouver non-profit that calls itself "B.C.'s queer resource centre" -- runs discussions like this almost every day in classrooms throughout Vancouver. The wordplay activity aims to get slurs into the open as an educational tool. So, Wolfe accepted his answer.
"How many people," she asked, "have heard the word 'fag' in school?"
A dozen small hands went up. The leaders explained the term and urged the kids to consider their word choices.
"And what's the difference between saying you hate someone and saying they're 'gay' or 'a fag'?" Wolfe asked the class.
This time, the response was silence.
A death in the park
Aaron Webster stood naked smoking a cigarette in a secluded area of Vancouver's Stanley Park when he was spotted by a gang of teenage boys wielding baseball bats and a golf club.
The hiking trail was known as the city's most popular gay stroll, a place where men could meet for anonymous sex.
The four teens, raging on beer, vodka and testosterone, later testified that they were looking to "beat up" someone there on that cold November night in 2001. It didn't have to be Webster. But it was.
"Get him!" one of them yelled.
Webster attempted to run toward the parking lot where he had left his car but the teens struck him down. They swung multiple blows to his head, neck and body. The gang may have continued their vicious attack but panicked when someone heard a car approach. They bolted.
Webster's close friend Tim Chisholm found his battered body. Court documents show he called EMS, but by the time help arrived, Webster, 41, couldn't be saved.
The violent attack became known as Canada's most prominent gay-bashing.
Despite the teens' claims at trial that they were prowling for "peeping toms" and not out to attack gays, many authorities and citizens believed the murder had the markings of a hate crime, and that the attackers, convicted of manslaughter, should have been sentenced under the Criminal Code's hate crime designation.
They weren't, but advocates, residents and authorities agree that Webster's death moved the city to take gay-bashing more seriously, and to close ranks against violence.
A city mobilized
The Qmunity visit at Waverly School is just one example of that transformation. The atrocity also united the West End -- an area that remains a hub for lesbian, gay, bisexual and transgendered residents and resources -- to a degree that surprises many, 10 years later.
"I hate to say this, poor Aaron, but his murder opened the door big-time," said Sgt. Rob Faoro, who led the Vancouver Police Department's investigation of Webster's murder. "Now we understand it."
Faoro called the three-year investigation into Webster's death the most labour-intensive case of his career in homicide. But out of it came a newfound trust and respect between police and West End residents, both groups say.
The West End mobilized in other ways, too. West Enders Against Violence Everywhere, a neighbourhood watch and support group just beginning to form in 2001, harnessed attention over the crime to loudly stake its position that victims should report assaults, to help the police address them.
Advocates who pointed to school bullying as a precursor to violence against LGBT people pushed forward anti-homophobia programs with greater fervour. The Pride Education Network, an education advocacy group, developed new curriculum for the B.C. Teachers' Federation. Teachers adopted these workshops widely as demand grew.
Additional groups such as Out in Schools and Out on Screen present films and discussions to classrooms in numbers that have increased nearly every year since 2001.
Qmunity's Gab Youth, the program that visited Waverly, leads children through the evolution of homophobic violence nearly every day of the school year. In 2010, Qmunity held 195 workshops in Vancouver-area schools, reaching nearly 6,000 kids.
And in 2008, the VPD's Diversity and Aboriginal Policing team joined Qmunity in delivering the Aaron Webster Anti-Violence Project, a series of public awareness forums to address the under-reporting of violence.
Statistics reinforce the urgency of these projects. Though the majority of Canada's hate crimes target victims based on race or ethnicity, a 2004 study by the Canadian Centre for Justice Statistics found that those hate crimes motivated by sexual orientation were far more likely to be violent.
"The assaults are still happening," said Jennifer Breakspear, Qmunity's executive director. "Our community still has an incredible need for support and advocacy around issues of violence. Not just when we're out walking on the streets."
Powerful response
Murray Bilida was reading the Saturday morning newspaper at Melriches, a cozy Davie Street coffee shop, the morning after Webster's death 10 years ago. He didn't expect to read words that would shake him so: a gay man had been beaten to death in Stanley Park, his naked body found near an area many gays frequented for late-night hook-ups.
Bilida didn't even know Aaron Webster's name, but his reaction was visceral.
"I was sickened," he said.
He headed next door to Little Sisters, a bookstore that has long been a Canadian landmark for LGBT resources. Bilida approached its proprietor, Jim Deva, a well-respected figure in the West End, and shared his despair.
"I said to Jim Deva, 'Well, somebody has to do something about this,'" Bilida said recently. "And he said, 'Well, do something.'"
So Bilida gathered some friends to organize a rally, printed up flyers and put out a press release to notify the police and media. The next day, about 100 people turned out for the event. After a short program of speech and song, the group turned a corner to begin their march.
And there, to the group's great surprise, were 3,000 more people, ready to walk together. Recalling the memory, Bilida choked up.
"It was something that immediately strengthened my faith in my fellow West Enders and Vancouverites and British Columbians," he said through tears. "To see a community respond in such a powerful way to one person's violent death was, I think, something we haven't seen in Vancouver since."
The few available facts suggested that Webster's death was a hate crime, but the police didn't immediately have enough evidence to prove it. Legal definitions aside, residents were adamant that Webster would not have been killed were he not gay.
Deva said recently that if the police "could point out that this looks like a hate crime and not bury it, and really deal with it absolutely directly up front," then the community would calm down.
"Or," he added, "we were going to have a riot on our hands within days, and we knew that."
Into the breach, Deva said, stepped Dave Jones, a VPD Inspector. Jones told the rally that in his view, the murder had all the markings of a hate crime.
It sounded great to the West End crowd. But to prove that assertion -- let alone solve the crime -- was not so simple. Sgt. Faoro, the detective on the case, still had an investigation ahead of him. Years later, he said that Jones "spoke out of class."
Jones admitted it was "a departure from police procedure."
But at the time, it resonated. Deva called it "brilliant, very compassionate."
Public meetings followed. Gay men told police of times when they'd been harassed or bashed but chose not to come forward.
Jones had been expecting hostility or resentment, he said. Instead he was blown away by their desire to work together. "These guys are pro-police," he told his colleagues. "They want the police to be effective."
What Aaron Webster did
Faoro slogged through the high-profile case, unable to provide an increasingly testy press with details of the investigation.
In the meantime, inspector Jones got to work. At the time, Jones said, he didn't know that MP Svend Robinson had introduced legislation that would add sexuality to the Canadian definition of hate crimes, putting it on par with race, color, ethnicity and religion. All Jones knew was people's innate sexuality deserved stronger protections.
He enlisted a grad student to examine Vancouver crimes in 2001 and 2002 and determine which could be deemed a hate crime -- those with victims seemingly targeted on the basis of their race/ethnicity, nationality, religion or sexuality. The data showed 48 crimes based on sexual orientation -- more than the other three groups combined.
Jones passed his findings up the chain, gaining endorsements from VPD's then chief Jamie Graham and subsequent police organizations at the provincial and national levels.
In 2003, he prepared the VPD's brief to the Standing Committee on Justice and Human Rights considering Robinson's bill. The brief concluded that "from a police perspective, the LGBT community is in need of the additional protection that can be afforded" by adding sexual orientation to the hate crimes code.
When Robinson's bill passed Parliament in April 2004, it did so with the endorsement of the Canadian Association of Chiefs of Police, Jones said.
"If Aaron Webster did one thing," the retired inspector said, "he changed people's perceptions and attitudes. Adding sexuality to hate crimes re-set the bar on what's right and what's wrong."
Hate crime designation 'no panacea'
Fifty people packed into a small courtroom on Nov. 8, 2010, just days shy of the ninth anniversary of Webster's murder. They gathered to hear the sentencing of Shawn Woodward, who had sucker-punched a gay man in a Davie Street bar the year before.
As his victim, Ritch Dowrey, lay on the floor, Woodward stepped over his body to leave. Patrons restrained Woodward, who repeatedly yelled during his arrest, "He's a fag" and "He deserved it," according to witnesses and police.
Dowrey's brain was so damaged that friends and family described him afterward as "a flicker" of the man he once was. Yet Woodward had shown no remorse and offered no apologies during his trial.
Ron Stipp, a co-founder of WEAVE, said, "It would be disappointing, really disappointing, if it's not designated a hate crime." Like many present at the sentencing, he sat tensed, gripping his jacket in his lap. Others clasped their palms together, as if in silent prayer.
When Judge Jocelyn Palmer finally delivered the sentence citing "virulent homophobia," Stipp leaned back, closed his eyes and exhaled in apparent relief.
Woodward would be sentenced to six years. It was the same sentence given to the leader of Webster's murder.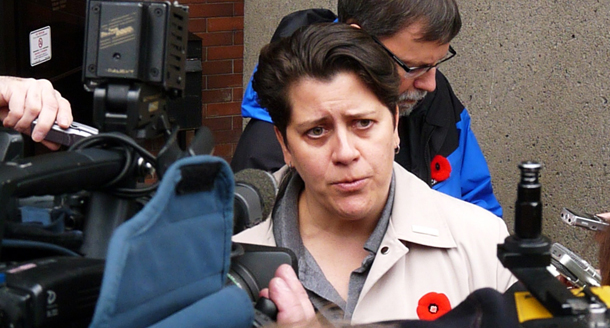 But Breakspear, who sat on the front row at the sentencing, cautioned that the hate crime designation was no panacea.
"It's important for the community; it's important politically, legally," she said. "It gives folks that care about this case something to be able to point to and say there was a resolution that at least felt fair. But it doesn't reverse pain. It doesn't make anything better."
She, the VPD and WEAVE continue to urge victims and witnesses to report all attacks, including slurs.
More lessons to learn
At their Waverly School presentation, the duo from Qmunity wrote a common schoolyard slur -- "That's so gay" -- on the electronic blackboard, letting students react. Invited to free-associate, the kids came up with "stupid," "weird" and "hate."
Lee and Wolfe gathered the students in the center of the room and asked them to play a game. The kids were to move toward one side of the classroom or the other depending on how strongly they agreed with each statement.
When asked if they'd feel OK about a friend coming out to them as gay, there was a small stampede to the "agree" side, under the clock.
When asked whether they thought their school was safe for kids who were gay, lesbian or bisexual, the kids scattered. A few moved near, but not under, the clock. Most stood in the middle. And eight students sat against the windows -- the strongest level of disagreement.
After the workshop, Wolfe said that response was typical.
"Every school is unsafe," she said. "We just go in and try to educate them."

*This story was updated at 8:15 p.m. on Nov. 22, 2011.