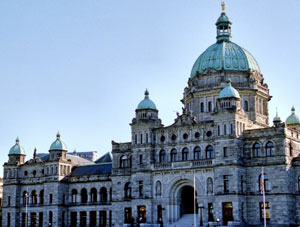 A B.C. government sponsored report warned that the legislative buildings in Victoria are at risk of collapse during an earthquake, which could be devastating for the roughly 500 people who work there, and it urged that $182 million be spent in an eight year project for many needed improvements, most of it for upgrading the buildings to current seismic standards.
"Their loss due to deterioration, catastrophe or neglect is inevitable without a proactive plan and needed immediate improvements," said the June 2006 report by Zeidler Partnership Architects that, until revealed now by the Tyee, has been kept from public view by the government.
The report concludes: "If the buildings are destroyed, whether as a result of significant event or slow erosion, a disheartened public could more easily turn to civil disorder resulting from the loss of a focal symbol. If a sudden event compromises the government, critical leadership could be lost, and disaster magnified with serious implications to the governance of the province."
The authors noted that this result nearly occurred in Washington State during a sitting of its legislature during the near-collapse of its capitol dome in the earthquake of February 2001 (when the dome's entire brick structure shifted a half-inch), an event that quickly prompted Washington legislators to spend $100 million on legislative upgrades.
"The prospect of serious loss of life at this site, with consequential loss of leadership in the event of a major tragedy is unthinkable -- but it is a real and increasing threat. We strongly urge the members of the Legislative Management Committee to consider and act on these recommendations."
After the speaker's office refused to release the Zeidler report in 2009, this reporter filed a freedom-of-information request for it in January 2010, but the government withheld it because cabinet had not found the time to consider it yet. This reporter then appealed the refusal to the B.C. Information Commissioner, but this week obtained the report by other means, and so that appeal has been cancelled.
The Speaker was unavailable for comment Friday on the question if any of the identified problems have been resolved since 2006.
Seismic and other problems found
Seismic codes have been "stiffened considerably" in the past 30 years, the report said. The legislative building falls below those standards, and "has only nominal capacity to resist the damaging effects of earthquakes." The un-reinforced brick masonry walls are brittle, and will fracture during large building movements. The structure "will sustain major damage resulting in loss of life in a significant earthquake, which is predicted for the Victoria area."
Zeidler advised inserting special tie rods and stiff concrete bracing walls to limit building movement during a quake. The report still said the legislature's foundation walls "are in relatively good condition," except for some delamination (splitting apart into thin layers) in the East Wing due to water corrosion.
The authors noted that the Armoury building at 431 Menzies Street is the oldest and most at risk building in the area; neither its roof nor floors are properly anchored to the supporting walls, and in a quake, large lateral movements of the roof "will trigger collapse."
The report also found many fire safety risks to the legislature; inadequate space for the expanding workforce; advanced deterioration due to water entry through walls and roofs, causing structural degradation due to steel corrosion, deteriorating foundations, and breakdown of mortar.
"Our studies have confirmed physical risks to occupants from Building Code-mandated health and safety risks, and risks to the asset due to mechanisms of deterioration. . . . despite frequent minor 'patching' work over the past decades."
Costs and politics of seismic upgrading
In 2006 and 2007, about $2 million in non-structural work was done to deal with falling risks to bystanders, such as loose gargoyles. Yet no administration has spent any substantial money on structural quakeproofing in 40 years.
Zeidler advised an eight-year construction plan, for seismic and other problems, with a "total project cost" of $182 million. (The cost if the project was started in 2006 would have been $109 million, the report noted, but "allowance for escalation to project midpoint" -- in other words, with inflation and interest over the eight-year period rather than the expenses staying constant at 2006 levels -- would have added an additional $71 million).
Moreover, Zeidler estimated that if the project was deferred until later, inflation would force the total cost to rise to $362 million if it was begun in 2016, and $441 million if was begun in 2020. (The figure for 2011 would likely be roughly midpoint between the 2006 and 2016 number.)
This cost estimate is much higher than other figures discussed so far. While the Zeidler report was still being withheld, one media report had said "It is believed the report pegs repairs at between $30 million and $60 million." Another report, done by the federal Public Works Department in 1998, was made public and warned that walls were too weak to withstand seismic forces, advising renovations of $17 million.
Inevitably, political priorities factor into the equation.
Cabinet refused to release the Zeidler report under FOI, citing four sections of the law: cabinet records (section 12), policy advice (section 13), harm to law enforcement (section 15), and harm to government's financial interests (section 17).
On the use of section 17, global FOI expert Toby Mendel said, "presumably they don't want to be pressured to spend the money required to make the building earthquake safe." In fact, in the report's section on "constraints," Zeidler noted first off: "Public perception of allocated funds to government facilities."
Last January, Liberal MLA and House Speaker Bill Barisoff told the Times-Colonist that B.C. politicians are politically reluctant to spend millions to repair the legislature until all the province's schools have been upgraded, for children in schools are "our most precious commodity."
"When you've got schools that you haven't done and you start doing the legislature people say, 'Hey whoa,'" Barisoff said. The government is six years into a 15-year, $1.5-billion plan to seismically upgrade more than 750 primary and secondary schools. So far, it has spent $581 million on work at 121 school buildings, 25 on Vancouver Island.
Zeidler added that "public process" was lacking, despite the legislature standing a few hundred yards from residential backyards: "Although listed in the RPF as a step within this project, an 'Open House' and/or public involvement–review process has not been undertaken to this date."
The B.C. Building Corporation (BCBC) hired Zeidler in July 2005 to examine the whole BC Parliament Precinct, which includes the Armoury building at 431 Menzies Street, the buildings at 612-614 Government Street, the Premier's Garage, and the Grounds (where building users complained of long term health and safety issues and overcrowding). For the project, Zeidler consulted Peterson Galloway Ltd. (structural), Stantec Engineering (mechanical), and Thornley BKG Consultants Inc. (cost estimating).