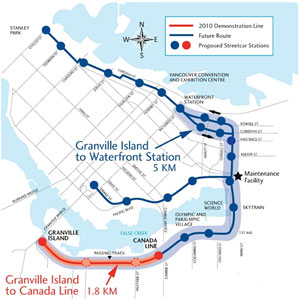 Four out of every five people aboard the Olympic Line streetcar last spring were not tourists but Metro Vancouver residents.
And many of those 550,000 passengers -- about a third, during peak transit hours -- rode the 60-day demonstration train not for amusement but as part of a daily commute to work or school.
These results were among the boxcar of data unloaded during a daylong symposium sponsored by the University of British Columbia and entitled, "Streetcars: The Missing Link?"
The presenters argued that the Olympic Line not only proved the existence of significant pent-up demand for new transit options in the downtown core, but also that massive additional investments in regional transit will be necessary in order for the region to meet the carbon-reduction goals set by either the Province of British Columbia or the more ambitious City of Vancouver.
Here are a few highlights from the daylong dialogue.
Streetcars buried in Vancouver's DNA
Gordon Price took the stage following a presentation about Toronto's ambitious streetcar expansion plans. Price is a former city councillor, a former Translink board member, and a current member of the city's Greenest City Action Team.
Price described the invention of the electric streetcar as revolutionary.
"Think of it as the Internet of the late 19th century," he said, noting that early streetcar systems literally defined the pattern by which West Coast cities including Los Angeles, San Francisco, Portland, Seattle and Vancouver would grow.
"The DNA that was laid down by the streetcar lines still exists today," Price said. "We are still walking the same streets, to get to more or less the same services."
Price showed images of both historical and modern Vancouver streets.
"Don't be fooled by the architecture," he said. "We are living in more or less the same densities that would have been found in a late 19th century neighbourhood."
Such neighbourhoods were served remarkably well by streetcars.
"In 1929, 14 out of every 15 residents of Vancouver, Burnaby and New Westminster lived within 400 metres of streetcar or interurban tracks," Price said.
He contrasted that efficiency with the present.
"We have spent trillions of dollars in the 20th century making the car competitive," he said.
"Give me an example of where that has worked," he taunted the audience. "Give me that example."
No one did.
"The only places that really work... is where we have not done that," Price said, citing Vancouver's refusal to build freeways as a pivotal decision.
"The real success of Vancouver," he concluded, "is it remains intact as a streetcar city."
The elephant in the room
TransLink's new vice president of planning followed Price to the stage. Michael Shiffer, who arrived about a year and a half ago, was previously a vice president at the Chicago Transit Authority.
Shiffer described in detail the continuum of transit technologies, from "Bus Rapid Transit" (think B-Line busses on dedicated lanes) through "Light Rail Rapid Transit" (of which streetcars are a subset) and "Rail Rapid Transit" (such as SkyTrain and Canada Line) to "Regional Rail Transit" (such as West Coast Express).
But Shiffer studiously sidestepped directly addressing either the Olympic Line demonstration project or Vancouver's plans for a downtown streetcar.
Likewise Christina DeMarco, a manager at Metro Vancouver who studies the relationships between transit and planning, delivered a warm and thoughtful presentation without directly addressing the call for a Vancouver streetcar.
Both spoke loudly through their silence. TransLink has stubbornly resisted calls for light rail, not only from Vancouver but more forcibly from the Fraser Valley.
TransLink was the elephant in the room throughout the symposium, and the regional transportation authority's apparent fatwa against alternatives to SkyTrain was the meme that dominated a mid-morning coffee break.
"TransLink is the problem" was the conclusion voiced by several longtime local politicos in the crowd, though none were willing to say so on the record. The moderate wing of the centre-right Non-Partisan Association was heavily represented among the audience of 200-plus. One said he hoped that Shiffer's appearance on stage signaled a new opening within TransLink.
'Streetcars are the missing link'
Dale Bracewell, the City of Vancouver manger who put together the Olympic Line demonstration, was unabashed in his support.
"Streetcars are the missing link," he said, arguing that streetcars fill a needed niche between bus and SkyTrain service.
"This is the piece we don't have. When you look at modern cities in Europe, they have all of these modes," he said.
The Olympic Line carried 25,000 riders on its peak day -- with only two trains in operation. Bracewell said streetcars have longer life-spans and lower operating costs than do buses. He said streetcars attract tourists (who subsidize the service for locals) and stimulate development.
"It's not about streetcars versus busses," Bracewell said. "It's about figuring out where is the right place for a streetcar."
The right place, according to the City of Vancouver, is a downtown route that links the city's disjointed transit terminals. (See map, above.) The city's plans for a Downtown Streetcar line are divided into three phases:
Phase Zero would extend the demonstration line from Granville Island to Science World. This mini-line would connect SkyTrain with the Canada Line.
Phase One would extend the Downtown Streetcar line to Waterfront Station via Quebec, Powell and Cordova streets. This line would connect SeaBus, West Coast Express, and nearly all of the city's downtown bus routes (most of which were formerly streetcar lines), as well as providing yet another connection to the Expo, Millennium and Canada lines. Along the way, the streetcar would tie together neighbourhoods including Gastown, Chinatown, the Downtown Eastside, the Olympic Village, Fairview and False Creek South.
A "Stanley Park Extension" would continue the Downtown Streetcar from Waterfront Station to Stanley Park. This addition would connect the West End and Coal Harbour neighbourhoods. In addition, it would tie together the city's most visited tourist destinations: Stanley Park, Granville Island, and the Vancouver Convention and Exhibition Centre.
A "Pacific Boulevard Extension" would run west from Science World along Pacific and Drake to Granville. This spur would connect to BC Place, Rogers Arena (née GM Place) and Yaletown.
Possible future extensions could include a leg through the False Creek Flats to Commercial Drive, and/or a line through Vanier Park and along the existing Arbutus rail corridor linking Broadway, Kerrisdale and Marpole.
"We will continue to seek opportunities to move this project forward," Bracewell concluded. "Broadway is our number one priority right now, but we will continue to pursue a tandem approach."
Locals loved the Olympic Line
UBC graduate student Silas Archambault presented the results of a rider survey that he and fellow students conducted during the Olympic Line's 60-day trial.
The team interviewed 455 of the more than 550,000 people who rode the streetcar. (Though data was collected at different times of day and during different periods, the sample is not proportional to the total ridership.)
The UBC survey found that 82 per cent of the streetcar riders interviewed were residents of Metro Vancouver -- not Olympic tourists -- and that a surprising number used the temporary line as part of a daily commute.
"Of the people who travelled during the weekday peak, more than one third of them were traveling to work or school," Archambault said.
And even though the streetcar was free, 64 per cent of those surveyed held valid fare cards and were using the streetcar to extend the range of the Canada Line or another TransLink route.
"Many people were using transit to connect" to the streetcar, Archambault said.
Moreover, 30 per cent of those predominately local riders said they would not have come into the city if it were not for the streetcar.
"Almost a third of all trips... would not have [been] taken if the streetcar did not exist," Archambault said.
He calculated that more than 27,000 automobile trips were avoided as a result of the 60-day experiment, resulting in a savings of more than 20,000 kilograms of greenhouse gas emissions.
"There is evidence that a dedicated rider base exists, and that many people would support... a streetcar," Archambault concluded.
In the US, a 'nationwide phenomenon'
American streetcar promoter David Goldberg presented a luncheon talk entitled, "A Desire Named Streetcar: America Rediscovers the Trolley."
Goldberg, who works with a coalition of 500 organizations lobbying the U.S. Congress to reform its freeway-driven transportation policy, said the United States is experiencing a streetcar renaissance.
"This is a nationwide phenomenon," he said. "There are 70 places that now have plans in the works."
Goldberg described a handful of the new U.S. systems. Most were launched with short segments of track (3 to 5 kilometres) running through downtown streets and connecting other modes of transit. (In other words, they looked strikingly similar to "Phase One" of the Downtown Streetcar.)
And most were providing stellar returns on investment, according to Goldberg. His figures showed returns of several thousand per cent, mostly in the form of higher real estate values that translate into a larger municipal tax base.
Among the American projects highlighted by Goldberg were new systems in each of the West Coast cities described by Gordon Price at the beginning of the day -- except Vancouver.
Los Angeles is raising funds for a plan, San Francisco is expanding its streetcar network as a compliment to the regional BART system, Seattle is pursuing a rapid expansion of its South Lake Union Streetcar.
"And it was Portland that really got the modern streetcar movement going in the United States," Goldberg said. "This is our future."
Better health for less money
The afternoon presentations continued piling up arguments in favour of transit in general, and streetcars in particular.
Lawerence D. Frank made a case for the health benefits of transit.
Frank is an associate professor at UBC who holds the J. Armand Bombardier Chair in Sustainable Transportation. Frank organized the conference; Bombardier was a sponsor.
"Driving makes you fat," Frank said. And he cited research to prove it.
"A transit trip is an interrupted walking trip," he continued, before citing new research showing a correlation between health and transit use.
"Walking affects our weight. And that affects our chronic disease rate. And chronic diseases are very expensive," Frank said.
UBC Prof. Patrick Condon followed Frank. Condon argued for the affordability of light rail compared to SkyTrain, and his presentation relied on several of the same intriguing comparisons that he's made in The Tyee: Namely, that for the cost of a heavy rail line below Broadway, TransLink could either cover the region with light rail or buy a Prius for every UBC student.
Among the sea of data Condon presented, one that caught the eye of several audience members was a slide that claimed that streetcars generated only 8.3 units of carbon dioxide emissions per passenger mile -- less than half of what Skytrain generates -- which Condon estimated at 17.8 units per mile.
'Transit is what's holding us back'
The day's final presentation was given by Lon LaClaire, who manages transportation planning for the City of Vancouver.
Like his counterparts from TransLink and Metro Vancouver, LaClaire honoured the fatwa against blasphemy. He never addressed the streetcar issue directly.
Nonetheless, he made the most striking argument of the day.
LaClaire described the city's transportation strategy in terms of descending priorities: walking is the most desirable form of movement, bicycling is the second priority, transit is third, trucking fourth, and passenger cars are accorded the lowest priority.
LaClaire summarized the city's progress toward these longstanding priorities as follows:
Walking rose 44 per cent between 1994 and 2004, a period that predates the completion of thousands of downtown homes;
Bicycling rose 180 per cent between 1994 and 2004, long before the recent addition of dedicated bicycle lanes across the downtown core.;
Transit use rose 50 per cent between 1999 and 2009, a decade during which both the Millennium and Canada lines were opened.
And then, just as his boosterish presentation began to sound like the makings of a run for office, LaClaire dropped a bomb.
"But," he said, during that same decade, "transit's share only rose from 11 to 13 per cent in the region."
In other words, despite the multi-billion-dollar investment in the Canada and Millennium lines, TransLink was barely able to eke out a two-point gain in market share.
The province has set regional goals of 17 per cent by 2020 and 22 per cent by 2030. That's five points a decade. Hitting that would require TransLink to more than double its rate of expansion.
"It really depends on a lot happening in order for us to meet those objectives," La Claire said, in comical understatement.
The city has raised its goal from 23 per cent by 2021 to a transit-related target of 50 per cent by 2050.
"That means tripling the transit share," LaClaire said, dryly.
"Transit is what's holding us back," LeClair stated.
"If you are growing the transit system," he advised, "be prepared to grow every corner of it."
Time to 'do it again'
The streetcar symposium ended with an open forum. Much of the discussion involved funding. Several among the crowd were enthusiastic about some form of public-private partnership. Most were upbeat about the prospect of accomplishing the region's ambitious transit goals.
"It behooves us to think really carefully about the next $10 billion dollars of investment the province has to put into transit," Prof. Condon had said earlier in the afternoon.
"Currently, 80 per cent of our trips are in cars. By 2050 -- which is only 40 years from now -- we have to reverse that statistic such that transit, walking and biking needs to be 80 per cent and car trips might be the remaining 20 per cent," he said.
"It sounds hopeless. But I don't think it is. Because we've done this once before," he continued.
"Between 1950 and 1990... we completely reversed the way this region operates. We moved from walking, biking and transit to an almost exclusively auto-oriented region," Condon continued.
"We did it once before," he concluded. "We have just enough time to do it again."