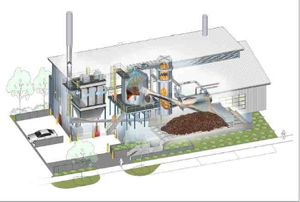 Nexterra Corporation CEO Jonathan Rhone says his company is reducing carbon emissions and helping fight global warming, and some green tech experts are fans.
But a critic says the company's process offers a marginal environmental improvement at best and has some serious drawbacks.
Nexterra builds plants that turn wood waste into a gas that can be used for heating or, soon, for generating electricity. Its highest profile project is in Victoria's Dockside Green development, one of seven completed projects outlined on the company's website. Another plant is under construction at the University of British Columbia.
"A centralized biomass system solidifies Dockside Green's reputation as a global leader in sustainable design and garners significant international attention given the rising concerns over climate change," boasts the website for Dockside, a LEED platinum development close to downtown Victoria.
According to Dockside Green's website, gasification produces no smoke but does emit "clean, odourless flue gases" while making green energy. Those gases do include carbon dioxide, by the way, a contributor to global warming.
Rhone said any time an energy source can be switched from a fossil fuel to a locally sourced biofuel, it's positive for the planet. If the question is what to do with scrap wood, gassification is better than combustion, he said. "Our technology provides a significant reduction in emissions compared to traditional wood-fired plants."
The president of the B.C. Sustainable Energy Association, Guy Dauncey, says he is "a complete supporter" of Nexterra's approach, calling it "an extremely intelligent thing to do with wood waste" and a climate friendly substitute for burning fossil fuels.
But Ben West, a campaigner with the Western Canada Wilderness Committee, has looked closely at the gasification process and says he has serious concerns. "It's just continuing down a road we need to get off," he said. "Burning more stuff... just seems to me to be a fool's errand."
GHG positive
Dockside Green's website describes the gasification process. It takes wood waste and burns it with water in a low-air environment. The process leaves an ash and creates a synthetic gas that can be scrubbed, cleaned, then burned to heat a water boiler.
The system is used to provide heat and hot water to residences at Dockside, and "heat will also be sold to off-site customers displacing natural gas use." According to Dockside, the climate change math works to the development's advantage: "The net result is that Dockside Green is expected to be greenhouse gas positive from a building energy perspective."
The system cuts greenhouse gas emissions from the development by 3,460 tonnes of carbon dioxide equivalent a year, a Dockside publication says. That's the equivalent of taking 850 cars off the road each year.
It also saves the development as much as $600,000 a year, plus another $100,000 a year on British Columbia's carbon tax.
Nexterra's website makes similar claims for its other projects. A United States department of energy system in Tennessee is said to save up to $7 million a year and 20,000 tonnes of greenhouse gas emissions. The UBC project will reduce the campus's natural gas consumption by 12 per cent and cut 4,500 tonnes a year of greenhouse gases. A system built for Kruger Products paper company's mill in New Westminster cuts 22,000 tonnes of greenhouse gases a year.
Plenty of wood waste
At Dockside, Rhone said, the fuel source will be urban wood waste like tree trimmings and the debris from clearing land. It's the sort of material that in the past would have gone to the landfill, where it would have rotted and released its carbon, much in the form of methane, a gas that has a much stronger greenhouse effect than carbon dioxide does.
Some 30 million tonnes of urban wood go to landfills every year, Rhone said, enough to power millions of homes. "We're really talking about a low value waste," he said. "There are enormous volumes of woody biomass all over North America that are currently under-performing."
Waste companies and local governments are starting to realize all that wood waste can be better used outside the landfill, said Rhone. "They're starting to divert it, grind it up and supply it to companies like Nexterra."
At times, Dockside's plant has been run on natural gas, he acknowledged, but it's running on wood now and the plan is to continue running it that way. It is also set to begin supplying the nearby Delta Hotel with heat.
VanCity's director of business performance, James Miller, said Dockside has built out around 20 per cent of its final 1,450 units. Supplying the Delta will allow Dockside to run the biomass system at something approaching its eventual load and will help Dockside be carbon positive, he said.
Displacing Hydro at UBC?
Other Nexterra projects also use local sources of fuel, Rhone said. The company's first project at a Tolko plywood mill in Kamloops uses bark that would otherwise be waste. Tolko makes a synthetic gas that it uses instead of natural gas to dry the veneer on its plywood.
A project at the University of Northern British Columbia chose a Nexterra gasification system over wood fired boilers, not wanting to contribute to Prince George's air quality problems.
At UBC in Vancouver, however, the recently announced project will displace energy the institution buys from B.C. Hydro. The Crown corporation gets the bulk of its energy from hydroelectric projects, making its energy very low in greenhouse gas emissions.
Asked if the UBC project is actually displacing hydro, Rhone said, "B.C. Hydro is buying more power, so this would be a renewable source of power... My understanding is they need to buy more power over the next 10 years to stop buying power from neighbouring states and provinces." The energy B.C. Hydro buys from other jurisdictions tends to be from sources like coal that generate many more greenhouse gases.
Rhone also said projects like the UBC one allow Nexterra to demonstrate its technology so it can be sold elsewhere. "The big market for us is the export market," he said. The company already has offices in Brazil and the eastern United States, plus plans to open one soon in Europe.
Besides the environmental argument, there's an energy security case to be made, he said. While people are increasingly concerned about relying on oil and gas imports, many communities have sources of biomass handy that could be used to reduce the need for fossil fuels in at least some situations.
'Carbon intense process'
The benefits are not, however, as clear as the promoters would have you believe, says WCWC's West.
"My primary concern's around the way the carbon calculation is done," he said. "It really doesn't hold up to basic math."
Biomass projects are considered carbon neutral because converting wood into a gas then burning it releases exactly the same amount of carbon as would be released if the material were left to rot. If the carbon is going to be released anyway, the argument goes, you might as well make use of the energy that's released.
"What's missing from that is the time span," said West. While it might take 20 years or more for a tree to decompose -- a process that would return some of the carbon to the next generation of plants if it occurred in a forest -- gasification releases the carbon immediately.
It's a carbon intense process, he said.
There are, however, some situations where gasification might make sense, West allowed. If there's a steady source of waste wood that has been treated, for example, gasification could be used to separate the toxins from the material. It would do it in a more controlled way than putting treated wood into a landfill, he said.
On balance, though, it would be a bad idea to structure the province's forest industry, as Minister Pat Bell has suggested British Columbia should, towards feeding gasification projects, West said. There are better energy choices if the goal is to benefit the environment, he added. "It seems to me burning stuff should be bottom of the list."
If the sector becomes much larger, it will be very difficult to grow enough trees to feed it, he said. As communities become reliant on these systems, they will need ongoing sources of fuel. It might make sense to use trees killed by pine beetles for now, he said, but "where do we go 15 years from now when we've burned all those trees?"
As a green business, he said, many of the projects may be more 'business' than 'green'. "You've got to understand which interest is driving the agenda."
Worthy of carbon offsets?
The UBC project is a partnership with the General Electric company. Nexterra's majority owner is Calgary's ARC Financial Corporation, a company that manages $2.7 billion in projects that include oil and gas exploration and production. It also invests in oilsands and unconventional gas projects.
Gasification projects like Nexterra's should be ineligible to be used as carbon offsets, West said. "I do have a really serious concern about giving carbon offsets to these projects," he said. "To call it carbon neutral and give it carbon offsets is a disservice."
Nexterra's Rhone said gassification does reduce reliance on fossil fuels and cut greenhouse gas emissions.
There is much wood around that will either rot on the forest floor or in a landfill, said Dauncey of the B.C. Sustainable Energy Association. "The question is what do you do with wood waste," he said.
"To me this is an extremely intelligent thing to do with wood waste, so I'm a complete supporter."
At this point, B.C. isn't growing trees specifically to feed biogas plants like Nexterra's, he said, adding that the future of bioenergy in B.C. is complex and full of uncertainty. There are questions around what to do with material thinned from forests, trees killed by pine beetles and used building materials. "Houses are demolished, there is waste wood, what do you do with it?"
And if the question is how to heat buildings, biogas is a step forward, he said. The process releases carbon from waste wood that is part of a natural short-term carbon cycle. If it helps keep the carbon from fossil fuels stored underground, where it's been for millions of years, that's positive, he said.
'Real changes in the marketplace'
Wood waste gasification is part of a move towards cleaner energy, Rhone said. "I think we have the largest cluster of clean tech companies in B.C.," he said. "Essentially what's driving demand for all these technologies is real changes in the market place."
The company may soon also be able to gassify biosolids, by the way. In the past the waste from sewage treatment has been used in agriculture, but many jurisdictions are changing their rules. "Biosolids are a huge problem in North America," said Rhone. The company has done an initial study on converting biosolids to energy and hopes to have a commercial solution available by the end of the year, he said.
Nexterra is also working with General Electric to use synthetic gas in an internal combustion engine to produce electricity.