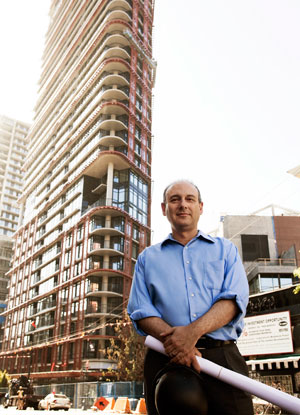 In 2003, Vancouver's city council was in opposition to the 2010 Olympic bid. They gave their support for it, however, contingent on a trade. They would endorse the bid if the province would sell them the land on which to build what has become the largest, and one of the most controversial developments in Vancouver's history: the Woodward's complex.
Now, seven years later, the Downtown Eastside city block that once held an empty, dilapidated department store has a density over three times that of Vancouver's West End -- already one of the most dense neighborhoods in North America. Woodward's houses 200 units of singles and family non-market housing including a dentist and doctor's office, a tower of 1,400 units of market housing, a floor of wheelchair accessible units, a grocery store, a drug store, a bank, an indoor public atrium, an outdoor public square, City of Vancouver offices, office space for non-profit organizations, a coffee shop, a school for contemporary arts, an art gallery, a performing arts theatre, a daycare facility, a massive, controversial mural depicting the 1971 Gastown Riot, and a community basketball hoop.
It is the climax of a vision that the City of Vancouver had for the revitalization of the Downtown Eastside. In order for it to be a success, however, it had to be a work of perfectly balanced art; both a symbolic and tangible expression of the quest for justice and equality in Vancouver's troubled Downtown Eastside.
The man who packaged it all together, architect Gregory Henriquez, has spent his entire career seeking to blend architecture with activism. In the few decades since Henriquez graduated from his architectural training at Carleton University, he has barely touched market-priced housing, aside from the design of his own home. Instead, he has built community centres, arts facilities, and schools on First Nations reserves. He has designed award-winning housing co-ops and social housing developments that seek to empower the residents by involving them in the decisions that shape their living spaces.
At Woodward's, Henriquez sought to do this by challenging himself to become the citizen architect -- by participating socially, politically, and environmentally in the community through the architecture he designed. The goal was not only to design housing, but to mould a sense of belonging, interaction, and inclusivity in the Woodward's community and Downtown Eastside.
As the pinnacle of Henriquez's career nears completion, The Tyee caught up with him in the centre of the action to see the final product through the visionary's eyes, and to hear firsthand what Woodward's means to him.
A guided tour
If you ever get a tour of Woodward's from Gregory Henriquez, I dare you to contain him to one section of the complex. When I met him in the atrium, his time was short. I assumed this is typical, given how I immediately found myself trailing breathlessly behind him as he barked out details to the left and right, pointing with his long, wood-handled umbrella. But what was meant to be a quick, truncated glimpse of only one part of the complex quickly became a two-hour long master tour. Maybe he's just a grandstander, I thought at first, who can't help but show-off the minutia of the masterpiece of his career. But the deeper we went, the more I began to see his rigor as a subtle expression of a much deeper notion: that no single part of Woodward's means as much without the context that surrounds it.
A tower of market-priced housing, for instance, is nothing special in Vancouver. And despite a communal penthouse space, fitness studio, climbing wall, and W-shaped hot tub on the roof, the condo tower in Woodward's -- known as the W Tower -- is no different than most (though most condo developers don't specially design the men's urinals to overlook the north shore mountains). Small apartments with big price tags, high-end appliances, and floor-to-ceiling windows overlooking the ocean make up much of Vancouver's skyline.
But as we walked from Hastings Street into the lobby of the single-room social housing units adjacent to the condos, the W Tower suddenly meant something completely different. Residents of the social housing units, run by the Portland Hotel Society, waited in the lobby for the elevator when Henriquez and I galloped in. Some had transferred here from SRO hotel rooms on the Downtown Eastside. Some had moved right off the street. And a select number of new residents were even part of the original squat group of protestors that demanded the city build social housing on the site. Henriquez, in a slick black trenchcoat and suit pants, immediately struck up conversation with one of the tenants -- who he already knew by name -- and made plans with him to go for a drink.
The elevator spat us out on the communal floor, where residents have access to laundry, health services, television, couches, and an enormous outdoor patio with a viewing pond overlooking the city. The extra cost for such public spaces in the non-market housing, Henriquez explained, was absorbed entirely by developer Ian Gillespie.
"I took him on a tour of my social housing project just around the corner called Laurie Krill Co-op, which won a Governor Generals award and is considered by many to be one of the nicest social housing projects in the entire country. I'm very proud of it," Henriquez said. "And Ian said, 'This is just not good enough. We have to do better than this, right?'"
"I explained that it was done at the end of the NDP's last reign and the funding you're getting now from BC Housing doesn't translate into a building like that anymore. And he said, 'Okay, whatever you need to make up the difference we'll do.' And he did."
'Treated with same dignity'
The 350 square foot units have real maple cabinets, a full three-piece acrylic bathroom, and woodworked shelving aside the Murphy bed that folds into the wall. Towels, blankets, and a gift basket with cleaning supplies all sit on the shelves, awaiting the room's new tenant. The windows and heating system in the building are identical to those in the market housing, despite the fact that the government does not require that quality of materials for social housing.
"They are treated with the same dignity, the same windows, same quality of finishes as everyone else," Henriquez said.
He guided me to a large ballroom off of the communal space that can be used by residents for weddings and special events, and crosses the room to look through the window over to the family housing. Smiling, he pointed to an elevated outdoor playground where children from the family social housing units can play, a mere 20 metres away from the gleaming balconies of the market condos.
"The architecture of this site is really fundamentally about programming. It's about a mixed-use program trying to posit an inclusive form of community," he said. "I think the fact that market housing can live with singles non-market housing, with families non-market housing, with institutional uses, with all these things, really posits hope for our society."
"It's pretty amazing that the world let us do this."
Beauty, ethics and Woodward's
The first page of Henriquez's book Towards an Ethical Architecture boasts an ambitious manifesto.
It reads: "Architecture must be a poetic expression of social justice."
"The Greeks did not make a distinction between ethics and beauty being two separate disciplines of endeavors of human existence," Henriquez told me, looking through the steam of a skim-milk chai latte at the massive feature mural dominating the outdoor plaza. "It's only modernity that's done that... So what we've done with modernity is we've separated everything into distinct endeavors. Social justice issues are now very separate from what most architecture is about. That's a very unfortunate reality in our profession."
"I knew that if you were going to do Woodward's, you had to not only do the right thing, it had to be beautiful. It had to be both. The ethics had to be dealt with and it had to be beautiful. If it wasn't both, it would just end up being a disaster."
"So the things that make it beautiful are the acknowledgement of the realities of what it is, and the conflict, the tension, and the love of this building that we have to somehow reflect in what we build here. That's what this is trying to do in some way."
'We displaced nobody'
But what about that fear lingering in the back of everyone's mind on the Downtown Eastside: that the glitzy Woodward's condos will lead the tip not towards a diverse, inclusive neighborhood, but rather a trendier, pricier locale?
"I think that gentrification is a real fear that people have. I think that it's coming with or without Woodward's. There's going to be a change in this neighborhood. The developers came long before Woodward's; they were building loft projects just down the way here. I would argue that the loft projects that people love -- all the arts community thinks they're fabulous, and everyone thinks are this great historical integration into the neighborhood -- are more of a gentrifying force than Woodward's. There's no social agenda to them, there's no inclusivity. They're just pure market condominiums.
"I think if you look at Woodward's as a model... if every project had to have 40 per cent non-market housing in it like Woodward's does, then it doesn't displace. This project on this site -- we displaced nobody."
"If every little project that occurs when gentrification does come, if each one was as thoughtful and tried to do something of worth and value to society and this community, I think you could do it in a sensitive way. It's possible."
"I think you have to accept that this neighborhood was once much different than it is... This neighborhood wasn't what it is today. It was a much more diverse neighborhood... To think that somehow the fix is to leave it the way it is and only build social housing is a little naïve, as well. The reality is that it has to change, and if we make that change, something that is healthy for the neighborhood and provides a diversity of housing types and doesn't displace people -- the essence is not whether it's gentrification or not, the essence is displacement, and to this day Woodward's has not displaced one person. It's actually added housing to the neighborhood and that's the thing we need to focus on: zero displacement and the creation of more affordable housing. That's what it should be about."
'We can have inclusive communities'
"I hope that Woodward's is seen as a symbolic step in the right direction. That people use it as a model, not as a literal model of the scale of the development, but as a model of inclusivity where we try and include non-market housing, market housing, affordable ownership and all these types of things in a broad mix that doesn't displace anyone, that is inclusive. That's the real message, right?" Henriquez says as we leave, adjusting his umbrella to shield me from the cold Vancouver drizzle.
"We're all just people, and all the sort of departmentalization that happens in most cities doesn't have to happen in Vancouver. We don't have to have gated communities. We can have inclusive communities and create healthier cities and happier cities."