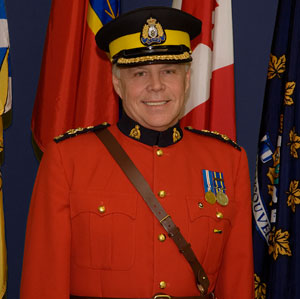 The 2010 Winter Olympics are all about numbers. RCMP Asst. Comm. Gary Russell "Bud" Mercer stops to consider the size of his team, which vastly outnumbers the 2,500 athletes from more than 80 countries who are destined for Vancouver and Whistler in February.
"If you think about mobilizing a workforce approaching 6,000 individuals, that's just the law enforcement side," says the chief operating officer of the Vancouver 2010 Integrated Security Unit. "There's 4,200-ish that are RCMP, there's 1,800-ish that are municipal or provincial police officers other than the RCMP. Just coordinating that, it's like a three-dimensional chess game and the Boston Philharmonic Orchestra all at once."
Mercer has to approach the biggest task of his 34-year career like both a contemplative chess grandmaster and a conductor of symphonies that have never played together. Don't tell him that practice makes perfect. V2010 ISU is party to 100 pre-Games rehearsals. The two biggest will be held in the next several weeks and will be Vancouverites' first taste of how big the Olympics really are.
Budget of half a billion dollars
Mercer, dressed in a rusty-brown blazer and black shirt, with his salt-and-pepper hair perfectly coiffed, doesn't look like a cop. The only uniformed personnel at headquarters -- the former Motorola building at 11411 No. 5 Road in Richmond -- are contract security guards at the front desk. Until next spring, Mercer's job is the most important task in the RCMP: to coordinate the biggest peacetime security operation on Canadian soil. He talks softly and carries a big budget. He's directly responsible for $491.9 million of the $900 million federal envelope.
Not bad for a 53-year-old self-described "military brat" who has lived a nomadic life, commanded people and dogs and landed on the front lines of British Columbia's most notorious incidents of civil unrest.
Mercer's father moved the family around Canada and Europe, every 18 months or so, as he established dog units at military bases. He retired in St. John's, Nfld., where Mercer attended Memorial University before joining the RCMP in 1976. A posting in Corner Brook was a springboard to a four-year stationing in the Arctic and a 14-year career-within-a-career as a dog handler in Alberta and B.C.
'All the good stuff'
He said the job was "in his blood." A photo in his office showing his father with a police dog is ample evidence.
"Dog handlers are a different breed," he says without pause. "When you think about most dog handlers, they like to be out front, it's a very exciting job because you're called to all the good stuff."
Mercer was transferred back to the kennels as a trainer after an injury, then left the dog section and went back on patrol in Surrey in 2000. He rose in the ranks to chief in Chilliwack, where he amalgamated Fraser Valley detachments. That earned him a promotion overseeing Lower Mainland operations from Pemberton to Chilliwack and finally to chief superintendent of federal policing in B.C.
Along the way he never shied away from rolling up his sleeves, whether it was the Stanley Cup riot, Gustafsen Lake, APEC or the so-called "war in the woods" at the Elaho Valley.
Getting the call
He got a career-changing phone call in September 2007, asking if he'd consider applying for the vacancy atop V2010 ISU after the sudden summer departure of Bob Harriman.
There was a catch. The RCMP would forward its shortlist to a hiring committee for the final say. He was interviewed by a multi-party panel on Oct. 1, 2007.
"It was the most different interview, all of my interviews had been before city council," Mercer says. "But I was interviewed by the provincial, federal government and by VANOC, that was the selection process."
He was hired Oct. 24, 2007 amid great change and challenge. William Elliott was in his third month as the first civilian commissioner in 134 years of RCMP history after Giuliano Zaccardelli resigned in disgrace. Former CSIS director and national defence deputy minister Ward Elcock was ending his second week as Prime Minister Stephen Harper's coordinator of Olympic and G-8 security. The airport where most Olympic visitors would arrive in 2010 was the scene of Polish immigrant Robert Dziekanski's Taser-related death during an Oct. 14, 2007 RCMP call.
Meanwhile, the RCMP's 2010 Games security budget had ballooned from $175 million to more than $466 million.
What will the world remember?
Not only is the RCMP-led security force charged with keeping the peace during the Games, but it's under the microscope. The Games give the RCMP a chance to repair its tarnished image at home and retain its respect in a world where there are many forces far worse.
"The people that throw the most stones are the people that generally are the people that have the less skin in the game if things go wrong; finding that balance is probably the hardest thing we do," he said. "There's a lot at stake for the RCMP, there's a lot at stake for the partner agencies that are helping us, there's a lot at stake for Canada, I don't think Canada wants people leaving Canada after the Games remembering security, I think they want to leave remembering Canada beat the U.S. at hockey."
But many Olympics critics think the Winter Games will leave a legacy of surveillance and free speech crackdowns. Last July, Mercer raised the spectre of criminal protests during an appearance before Vancouver city council. He brandished pictures of the official Games mascots carrying Molotov cocktails and "Riot 2010" splashed across a banner. It was all found during just ten minutes on the internet, he claimed.
"Locally, provincially, nationally and internationally," Mercer told council at the time, "there are groups which are considering and planning to engage in criminal protesting during the 2010 Games."
That kind of rhetoric has B.C. Civil Liberties Association executive director David Eby worried Olympics security forces could provoke a repeat of the 1997 APEC clashes. That event saw protestors at UBC clash with police and fall to the ground with pepper spray in their eyes. The incident gained international attention. It resulted in a major government inquiry.
Earlier this month, Mercer's Integrated Security Unit came under fire from civil rights groups for allegedly targeting a Langara student. Two intelligence officers approaching Danika Surm outside her classroom. Her only connection to the Games: a friendship with Olympics critic Chris Shaw. That incident followed dozens of visits to anti-Olympics critics last summer -- a trend that alarms Coalition of Progressive Electors councillor David Cadman.
"I'm beginning to see this kind of police intervention as a form of harassment," Cadman recently told the Tyee. 
'I've always had good experiences'
Mercer, a father of four whose wife is also an RCMP member, still lives in Chilliwack and golfs, hikes and runs. He has a Jack Russell terrier that "thinks he's a German shepherd." A trained climber who has "played" on the Chief near Squamish, Mercer hasn't been on top for a few years. This job demands his time. If he's a chess-playing symphony fan, he keeps it all to himself.
The Olympic assignment runs through next June and he hasn't given thought to his future beyond swearing off retirement.
"I hope there's something for me, I hope they plan to keep me," he says. "I've got a few years left, absolutely delighted to come to work every day and I don't think I've had more than one or two days where I thought differently. I've always had good bosses, I've always had good postings, I've always had good experiences. The force has taken care of me."
Tomorrow: When Mounties clashed with APEC protesters, officer Bud Mercer let fly with pepper spray.