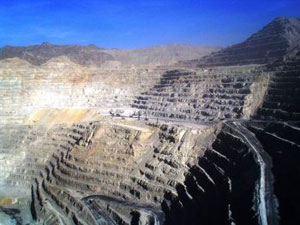 We are sitting at the kitchen table of a quiet adobe house in the desert just above the town of Andalgalá in remote Catamarca, north-western Argentina. Seventy kilometres to the west, Alumbrera mine is in full operation, digging into the ground 24 hours a day. Alumbrera, from the Spanish alumbrar -- to illuminate -- was sold to the people of Andalgalá on the promise of bringing light to the little village. There would be modernisation: new hospitals, schools, jobs and even a farfetched town-wide WiFi network.
In one man's words the people were promised "paradise." But it never came.
Across the table from me is Marcos Pastrana, one of the many villagers who are fighting the mine. The lifelong resident of Andalgalá is a member of the United Citizen's Assemblies (UAC), a country-wide activist organisation.
Pastrana tells me the jobs are less than promised. Instead of a new hospital there's been one new ambulance. And the ground water in the traditionally farming-based community is being used and contaminated.
How else has the mine and its new money affected the village? There are three new brothels and twelve new pharmacies. And, say residents of Andalgalá, poison is in the air.
The mine
At the tourist office in Andalgalá you will find the walls covered in faded posters promoting tours of the old, hand-dug tunnel mines that once sought pink rhodochrosite and other semi-precious stones. But Alumbrera is a mine without tunnels now. It's an open pit.
Open pit mining allows for extraction of very low ore grades. Because the method digs out so much rock to get a small amount of metal, it produces huge amounts of waste -- 20 tonnes of rock for every gold ring. Extracting minerals at these low ratios requires the use of extremely harsh chemicals -- cyanide in the case of gold and sulphuric acid in the case of copper. The unwanted mud slurry, now contaminated, is discarded in a "tailings pond", which will go on leaching chemicals into the ground for hundreds of thousands of years.
Alumbrera is a joint operation between owner Xstrata, Canadian shareholders Goldcorp and Northern Orion Resources, and Argentine state-run company Mineral Deposits of the Waters of Dionysius (YMAD). It is the oldest and largest open-pit mine in Argentina and one of the most profitable in the world. It consumes 87 per cent of the electricity in the province of Catamarca, and uses 60 to 100 million litres of water every day. In the pit, 314,000 tonnes of rock are extracted daily, throwing lime and sulphite dust into the air, which residents say has affected air quality over the last ten years.
Alumbrera consists of more than just the pit. "Bajo Alumbrera", as it is called in its entirety, is a string of operations stretching across five river basins for nearly 1,000 kilometres.
At the mine site, copper and gold are chemically leached from the ore and mixed with water into mud slurry. This is then sent 216 kilometres via an aging pipeline to Tucumán city. In Tucumán the slurry undergoes a drying process, excess water is dumped into a nearby canal, and a mineral-rock concentrate is transported on Alumbrera's private trains to a port near Rosario, where it is shipped overseas for separation and smelting.
Environmental contamination
Alumbrera consumes so much water that it is causing desertification. Farmers in the already arid zone are finding it harder and harder to raise their crops. In 2007, a farmer from nearby Santa María told La Nación, "For the last five years we've seen nothing of the water that we used to use from the Santa María River... In the best of times, these lands could grow peppers, tomatoes, corn and alfalfa, but now, look what it's like. Our family is leaving because we can't work... we have the tools to work, but not the water."
The pipeline is aging and the danger of ruptures and leakages is increasing. Activist Urbano Cardozo, a member of the UAC, informed me that he had documented five breakages in the 20 kilometres he'd surveyed, and had found several old and worn pipe junctions stuffed with rags to prevent leaks.
At the factory in Tucumán, the effluent of the drying process, a toxic mix of chemicals and water, is dumped directly into the DP2 canal. This feeds into the Sali-Dulce river system, a source of water for the area's farmer. Following a series of fish die-offs from 2001-2004 it is now totally devoid of life.
Measurements made by Bajo Alumbrera earlier this year found that the canal contained arsenic and copper concentrations some 20,000 times in excess of the law, 10,000 for mercury, 5,000 for cadmium, 1000 for selenium, and a staggering 60,000 times for lead. Sulphates, molybdenum, manganese, iron, boron, cyanide and the radioactive element strontium have also been found in excess of legal limits.
In children, in utero exposure to these chemicals can cause cognitive setbacks, problems learning language, problems with memory retention, nervous damage, blood and brain disease and deformities. In adults, these toxins have been linked to infertility, bone fracture, genetic damage, deformed nails, liver dysfunction, gout and cancer.
The 930 hectare tailings pond is also an ongoing source of pollution. Xstrata's remediation plan includes a "cap." The firm intends to scrape soil material from the surrounding area and use it to cover the toxic lake. But due to agreements signed in 1996 between Alumbrera and the Menem government, the mine is not legally required to do any remediation. This is left at the hands of local authorities, which many believe means it won't get done.
Even if cleanup does occur, "capping" methods are untested over the extremely long time periods involved, and it is thought that caps will eventually break down and begin releasing toxins, endlessly.
International interests
The bills that govern mining in Argentina were enacted by President Carlos Menem in the mid 1990s, creating a number of mining-friendly tax and fiscal policies, as well as industry-specific environmental regulations.
The environmental regulations are toothless. They set maximum pollution levels and require mining companies to post environmental impact reports every six months and upon termination of operations. But every six months, Alumbrera reports pollution far in excess of legal limits and the laws give government little or no recourse to change the situation. In the words of one mining lawyer who had worked for years in the sector, government can do no more than "suggest, make comments, or persuade" mining companies to change their environmental policies.
The fiscal regulations are designed to attract international mining investment. They consist of several juicy tax policies, off-load closure responsibility on the Argentine state and prevent government from modifying its fiscal relationship with a mine for some 30 years after it starts (more than the average life span of these mines).
The implementation of these laws, which had to be approved separately by each province, was paid for by a World Bank Program called "PASMA", the director of which went on to work as the chief geologist for UrAmerica, a U.K.-based uranium exploration company which owns 270,000 hectares in Chubut and Salta Provinces. The program was part of an extensive World Bank program designed to normalise world mining regulation, and according to David Modersbach, a researcher at the University of Rosario, these law packages have been off-loaded on 117 countries worldwide.
Mining on trial
Alumbrera is being investigated for environmental crimes, smuggling and corruption. For the pollution of the DP2 canal, Bajo Alumbrera vice-president Julián Rooney is being prosecuted for "crimes against the environment." He faces jail time.
This is the first such ruling against a mining company in the history of Latin America. Initiated in 1998 by Juan González, Tucumán's then-secretary of environment, the case was put on hold until it was recently restarted by Tucumán district attorney Antonio Gustavo Gómez.
The ruling has been appealed, and will be contested in appellate and possibly Supreme Court. Called as key witnesses for their complicity in the mine's operations are many high-ranking government officials including Secretary of Mining Jorge Mayoral. Testament to the powerful wall of interests that Gómez is up against, he has to deal with constant harassment. "They tried to bribe me," he says. "My car was [vandalized]. They call my phone [and make threats]. They killed my dog. I've had to change my daughter's school."
In Rosario, Alumbrera is under scrutiny for smuggling gold. In that city, prosecutors have ordered Bajo Alumbrera directors Carlos Silvani (the ex-head of Argentina's federal tax body) and Gustavo Parino (a former customs administrator) to declare gold, uranium and thorium that they had been exporting duty-free, hidden in the mineral concentrate.
In 2005 Alejandro Sangenis, ex-federal legislator and current minister of health for Tucumán, said that his province was being used as "a route for massive smuggling of strategic minerals". And two independent sources in Andalgalá confirmed to me that they had overheard mine managers saying they were still not paying for the gold.
Hearts and minds
Some of the wealth produced by the mine flows to the Argentine government, universities and the church. In fact, Alumbrera has been a significant source of money for the Argentine state. Since the mine started, the Province of Catamarca has received some CDN$168 million in royalties. In 2008, the aggregate amount the mine contributed to the Argentine economy, including taxes, royalties, wages, social security payments and local purchases, was an estimated CDN$830 million. And in the last three years the mine has distributed CDN$552 million through its state partner, Yacimientos Mineros de Agua de Dionisio (YMAD).
These activities are legally required, and nominally are simple attempts to redress the state for environmental damage and foster goodwill with the community. But critics claim money from Alumbrera is tainting the objectivity of the important institutions charged with regulating and studying their large pocketed benefactor.
Universities may have been affected. Through its state partner YMAD, Alumbrera has distributed CDN$24 million to Argentine universities in 2008 and 2009. This July, the Environmental Defence Foundation (FUNAM), a Córdoba based NGO, issued a warning that these donations could be threatening the independence of study results across the country.
Raúl Montenegro of FUNAM says that the funding source "undercuts the independence of the universities when they are called on to present technical reports." His faculty declined its share of the funds and urged the university to do so as well. The National University of Patagonia also rejected the funds.
There is also the very real possibility that funding donations from the mine are affecting autonomy of hospitals in the area. Alumbrera recently funded the construction of a new floor at the Tucumán children's hospital. "Isn't it curious," Gómez pointed out, "that this hospital is charged with studying the same business's health effects?"
Gómez would be the first to tell you that these ties are difficult to trace, as it is more a case of critical studies not being done than researchers deliberately skewing results. But there is some evidence. According to statistics from the paediatric hospital in Andalgalá, between when the mine started in 1998 and 2002, the number of respiratory diseases in children increased by a staggering 63 per cent. In 2002, the hospital stopped publishing such statistics. In a community supplement published by Alumbrera in 2003, director of the hospital Mario Kuibida described contact between the mine and the hospital as "permanent."
And in La Rioja, the Department of Education has printed a book called 'The Young Miner' which aims to teach children the benefits of big mining. Teacher Gaby Romero was shocked on hearing this. "These companies come here to destroy our mountain, our water supply, our food security and our right to protest. They put us under surveillance, hire civilians to intimidate us and now they want to try and indoctrinate our children?" she said.
Andalgalá under the mine
And maybe the indoctrination is working. In Andalgalá, the people don't know what to believe. The mine sits 70 kilometres from the village and no one is allowed to see it. My repeated visit requests were denied. Floating out there in the desert, hidden in its well-managed public image, it seems more an idea than a massive physical reality. And as an idea, it becomes anything anyone wants it to.
For the activists, Alumbrera is another word for evil. Urbano Cardozo led me around spinning wild tales of the iniquity and intrigue. According to him, the mine had gone door to door paying residents $50 each for their support. They had set off an explosion and blamed it on him. And every week they smuggle out lumps of solid gold in the staff transport plane. These charges were met with confusion and denial when I asked anyone else in the town.
For the mine workers it's a source of work, and they will defend it anyway that they can. One pointed out that there is a vineyard near the mine. The wine from there, he said, is shipped to France and Spain. If those countries tested the wine and found toxins in it, then he would believe the stories about contamination. This is proof to him. The rest of the people don't take sides. They shrug their shoulders. "Some like the mine; some don't," they say. In the shadow of Alumbrera, no one knows anything.
Nonetheless, the activists are fighting for something real, a fact I had to remind myself of in the hazy world of Andalgalá. They block roads, and Alumbrera's trains; and they hold protests. In the town of Esquel in Chubut province, residents successfully agitated for a community plebiscite which successfully outlawed open-pit mining by a vote of 86 per cent.
When I found a miner and talked to him -- he asked that his name not be used -- he told me he has a good job. The mine has paid for his training. He has seven kids, and he'll be able to send them to school now. Without the mine, he would have nothing. But he was visibly uncomfortable talking to me, and as we spoke I noticed that he was slowly backing away.
As he inched away, I thought of Marcos Pastrana in the cool adobe house on the hill. "I don't need the mine," Pastrana said. "And I don't need the energy from the mine." As the miner got smaller and smaller in my field of vision, until he backed into a fence and stood there worrying his fingers in the mesh, I thought of something else Pastrana said: "We're not fighting against the mine, we're fighting for life."
This is the situation of mining in Argentina now -- a few activists fighting for a better world and a few workers living in fear while the general populace goes about immersed in misinformation and a foreign company contaminates their air and water and ships oversees much of the wealth it extracts. Until the Argentine state sets up proper environmental regulations, disentangles itself from mining interests, provides infrastructure funding so that public institutions don't have to rely on private donations and tries in earnest to deal with the problem of corruption, this situation seems unlikely to change.