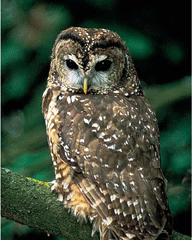 Last fall, if asked to predict the environmental talking points for this election, one might have guessed that spotted owls and mountain caribou would be somewhere on the list.
After all, public polling consistently shows that British Columbians want strong wildlife and habitat protection. In October, a coalition of prominent environmental groups launched a campaign urgently calling for provincial endangered species legislation.
Instead, when it comes to environmental issues, the headlines generated so far in this election have focused almost completely on the carbon tax.
The Tyee asked some enviros to assess the three major parties' planks on a range of environmental issues other than the carbon tax (many of which can be argued to matter, in their owns ways, in the battle against climate change).
Endangered species
Although endangered species protection hasn't had a prominent place in the public debate so far, some environmentalists consider it to be one of the most important ones.
"The interesting thing," says Suzuki scientist Faisal Moola, "is that support for an endangered species law is probably higher than support for the carbon tax or any other environmental issue."
Moola says the Liberals, NDP and Greens have all made endangered species protection a significant plank in their platforms. He calls the Liberals promise to expand existing protection a "sea change" for a party that has historically insisted its laws are good enough.
"To date, they have defended their position on endangered species, claiming that existing resource laws and non-binding policies effectively protect endangered species. That's just not the case.
"The majority of species receive no protections under existing policies. The fact they're committing to expanding protection, I believe, is a recognition that their existing plans are not working."
However, unlike both the Greens and NDP, the Liberals have not committed to legislation that would make it illegal to destroy endangered species and their habitat.
The Intergovernmental Panel on Climate Change (IPCC) has even told the world's policy makers that they need to protect nature, notes Moola.
"The reason they need to protect nature is that we need to retain the capacity of species and ecosystem to withstand and prepare for the effects of climate change."
'Let voters figure out scores': WWC's Foy
Joe Foy of the Wilderness Committee agrees that the endangered species legislation is "a really important one."
Instead of issuing an environmental "report card" for each of the parties this year, they decided to "put out the main issues and let the voters figure out what the scores are," said Foy.
Those issues are spelled out in the Wilderness Committee's Vote Wild tabloid. They include protection for endangered species, as well as salmon farming, old-growth logging, private power development and highway expansion.
The West Coast Environmental Law Society doesn't grade the parties' platforms because it wants to remain non-partisan, says executive director Patricia Chew.
But in July 2002, it issued a report on the Liberals' first year in government, calling it a time of "unprecedented change" for environmental protection in the province. It outlines how the province shifted to "results-based" legislation, with more industry self-regulation, while at the same time cutting ministry budgets for compliance and enforcement.
"Standing back to survey the first year as a whole, West Coast has found a number of disturbing trends. From all indications, British Columbia is moving backwards, with lower standards, less protection and less openness," reads the report.
Chew said there is still a lot of concern around industry self-regulation, but adds, "In some areas the government has attempted to make some amends. They have hired more conservation officers -- but it's not optimal still."
Report card 'not a priority': Sierra Club
George Heyman, executive director of the Sierra Club of B.C., said they decided against releasing a report card on the parties' platforms.
"Frankly, it's not a priority with us right now with the other things we have going on... it's really just a time thing," he said.
When asked what each of the platforms offered for the environment, Heyman (the former president of the B.C. Government and Service Employees' Union) focused on the differences between the NDP and Liberals.
He praised the NDP's commitment to maintain a moratorium on offshore oil and gas exploration, and criticized the Liberals failure to do so.
"The Liberals deserve credit for taking initial measures to address the issue of climate change," Heyman said. "Their continued expansion of highways, refusal to commit the resources to lower transit fares, or put more money into Translink, it's troubling."
Heyman told The Tyee he hadn't taken a close look at the Green Party's platform, but said generally their environmental policies have been stronger than their other policies. Like the NDP, the Green's platform commits to the moratorium, and promises to ban tanker traffic from B.C.'s coastal waters.
The Liberal platform states it will "open up a new energy corridor" to carry liquefied natural gas from the Peace River to Asia, via the port of Kitimat. The Northern Gateway pipeline project would open up another corridor through British Columbia, to transport oil from Alberta to Kitimat, and on to Asian markets.
Greens put forward most on energy conservation
The Pembina Institute assessed the parties' carbon plan during last year's federal election, but has never released a provincial report card, says Matt Horne.
When asked how well each of the parties platforms addressed energy conservation, Horn said there has been a commitment on the part of the Liberals to stick with BC Hydro's tiered-rate system, PowerSmart and LiveSmart programs (which offer small grants for homeowners and businesses to improve efficiencies -- all good pieces, he said.
Horn said the green bond, versus the carbon tax, was the greatest difference between the NDP and Liberal energy planks.
"Other than that, there is a fair bit of alignment with Liberals... in the short term, I don't think there would be much difference between the Liberals and NDP as to what the impacts on energy efficiencies would be."
Horn says the Greens offer more specifics in terms of how they would improve energy efficiency with the building code. They have promised refundable tax credits for energy retrofits, mandatory installation of solar hot water systems on new buildings, and pre-wiring requirements for electric vehicles.
"It's a pretty easy case to make that on energy efficiency and conservation the Greens are putting forward the most," concluded Horn.
Moola said the David Suzuki Foundation is still debating whether or not to release a report card this year.
"We're a science-based organization, so it necessitates a lot of research and careful critical analysis. And as a charitable foundation, we're under quite strict rules by the CRA in terms of our ability during an election period to be explicitly political in terms of assessing policy and platforms."
Not everyone is exercising such caution.
"The Liberal government is the worst government that the environment in B.C. has ever had," Anne Sherrod, director of the Valhalla Wilderness Society told The Tyee.
Last week she slammed the David Suzuki Foundation for supporting the carbon tax.
She told The Tyee she spoke out because she believes the carbon tax/cap and trade debate is a minor issue and a "red herring" to distract from the Liberal's environmental record.
Even the celebrated Great Bear Rainforest plan, finalized by the Liberals after years of negotiation with industry and environmental stakeholders, was not good enough, says Sherrod.
"They really put a feather in their own cap over that," she says. "They saved a third of it and relegated two-thirds of it to logging. That is not enough protection."
Related Tyee stories: