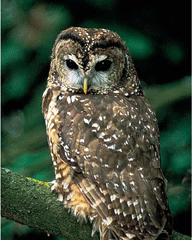 A single female northern spotted owl can still be heard hooting in the night around S&M Creek, but it could be just a matter of time before she's gone.
The bird is one of 17 left in the entire province, where 15 years ago they totalled 200. The species' decline in B.C. is the dire result of government's preference for logging interests over hard science, say conservation groups and even governments' own experts.
A year after Minister of Agriculture and Lands Pat Bell announced a $3.4 million recovery plan, the birds continue to disappear one-by-one as their old-growth forest habitat is felled.
The problem, says wildlife biologist Andy Miller, is a focus on captive breeding instead of habitat protection. In 2002, he was appointed to a provincial spotted owl recovery team. It found the species could be recovered if immediate steps were taken to protect old-growth areas where owls live.
"Our recommendation to stop logging in the immediate vicinity of owls was ignored," says Miller. He resigned from the team citing political interference and later released an independent report.
Last family at S&M Creek
For more than a week Miller has been camped out at S&M Creek, approximately 40 kilometres east of Pemberton, documenting owl and logging activity.
The creek has been designated a spotted owl management area, which means logging is allowed but with certain restrictions. In May, the Squamish Forest District issued a 20 hectare cutting permit to a company called Resource Business Ventures. According to the Ministry of Forests and Range, the permit complies with all restrictions.
"There are a whole bunch of rules and regulations within an owl territory," says Mark Zacharias, director of the agriculture and land ministry's Species at Risk Coordination Office. For example, 67 per cent of suitable owl habitat has to remain intact, and cuts can't occur within 500 metres of an owl site.
The Western Canada Wilderness Committee spokesman Joe Foy says these provisions aren't enough.
"If you're doing a captive breeding program, but at the same time targeting and logging out the best habitat, it becomes a cynical attempt to do the inexpensive part of conservation."
"Release baby owls in to a landscape that will no longer support them and the species will go extinct. When they fledge to go to new habitat, they get picked off by predators in the clear cuts."
Government experts' angry e-mails
Some of the federal and provincial governments' own wildlife specialists are angry at how owl habitat has been logged, according to internal e-mails brought to light by the Vancouver Sun. David Cunnington, senior species-at-risk biologist for Environment Canada in Delta, slammed the current approach as "putting a Band-Aid on a heart attack," because logging of valley bottoms leaves "disconnected suboptimal habitat for owls on valley sides."
In another internal e-mail, Mike Chuttner, the province's bird specialist, said the B.C. government pursued "a recipe [for] extirpation" by placing timber interests above "what the owl needed."
Foy says the provincial government should ban all logging and harvesting at S&M Creek, as it has at nine other spotted owl sites across B.C. Last year the Ministry of Agriculture and Lands issued complete protection for these sites, which total 23,000 hectares, based on a 2005 survey of spotted owl territories.
Minister Pat Bell outlined the plan for these sites in a May 2006 letter to then-federal environment minister Rona Ambrose. The letter also stated ministry staff would "assess future forest harvesting plans, and, where necessary, re-direct proposed timber harvesting to suitable areas where no spotted owls have been detected...."
"Those promises are now laying on the ground, just like the trees in a clear cut," says Foy.
Although S&M Creek wasn't included in the 2005 survey, its only owl resident was recorded in subsequent surveys. With the first cut block already 90 per cent harvested, it's not clear whether it, or other areas like it, will be protected from logging in the future.
Owl inventory due
Zacharias said once the 2007 spotted owl inventory is complete, likely by the end of the month, it will be presented to the Ministry of Agriculture and Lands. Then, it will be up to the minister to decide whether or not to issue complete protection in areas where spotted owls are found.
Foy says if he doesn't, the Wilderness Committee is prepared to take the provincial government to court. He says the data collected at S&M Creek could be presented as evidence to a federal judge. If a judge deems the British Columbia government is not doing enough to protect crucial habitat of the endangered spotted owl, he or she could order the federal environment minister to recommend an emergency protection order under the federal Species at Risk Act.
That process is long, complicated and offers no guarantees, says Ecojustice (formerly Sierra Legal) staff lawyer Keith Ferguson.
"We've been trying to use the law for many years to protect the spotted owl," he says. "We've met with limited success in that the government has increased the areas of protection a little bit, but not enough."
However, he says a federal appeal is the only hope for legal protection because provincial legislation is so weak.
"Almost every [provincial] environmental measure is limited by the phrase, without unduly limiting timber supply," says Ferguson. "It clearly says, logging comes first, environmental protection comes second. The spotted owl is now in such a dire situation. It's a crying shame really that government didn't respond many years ago."
Related Tyee stories: