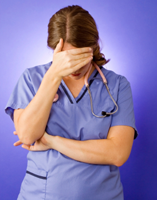 Nurses in British Columbia were more likely to report on-the-job abuse than their colleagues in other provinces, according to figures released by Statistics Canada this morning.
In B.C., 39 per cent of nurses providing direct care in hospitals or long-term care facilities reported having been physically assaulted on the job during the previous 12 months, based on a survey conducted in 2005. That was well above the Canadian average of 34 per cent and lower than only one province, Newfoundland and Labrador.
The number of B.C. nurses reporting emotional abuse from patients on the job was 53 per cent, compared to a national average of 47 per cent. The only province where a higher rate of nurses reported emotional abuse was Manitoba.
"We are very concerned by that," said Health Minister George Abbott. "We have been working with the nurses' union on the whole issue of violence in the workplace."
The Health Ministry has done some advertising in health care facilities to sensitize people to the issue, he said, and it is on the agenda for the common roundtable the government and the B.C. Nurses' Union recently agreed to form.
Some 218,000 nurses were providing direct patient care in 2005 across Canada, according to a summary of the StatsCan study, and 94 per cent of them were women. The reporting of abuse was higher for male nurses, those with fewer years experience, licensed practical nurses and registered psychiatric nurses. Nurses working 12-hour shifts reported higher levels of abuse than did those working days.
Workplace climate
Other "workplace climate" factors that contributed to higher levels of assault and emotional abuse included the "adequacy of staffing and resources," the working relations between nurses and doctors, support from supervisors and support from co-workers.
"The odds that nurses would report physical assault or emotional abuse tended to be high among those who perceived staffing or resources to be the least sufficient, who perceived that relations with physicians were unfavourable, who had low supervisor support, or who had low support from colleagues," said the StatsCan report.
"I believe all of those things apply in B.C.," said BCNU president Debra McPherson. Asked if anything had improved since 2005 when StatsCan researchers did the survey, she said, "not appreciably." "We really need to work on creating a culture of safety, starting from the top."
Short staffing leads to crowded hospitals and angry and frustrated patients, she said. Nurses get the brunt of that. "They're right there on the frontlines and they get it all the time," she said. It happens to some degree with all health workers, but often nurses are called when other professionals need help.
In many of those situations, she said, "It's the nurses who get the punch."
Service cuts
Nor do nurses, relatively low in the healthcare hierarchy, get much support, she said. There are managers who when a nurse says she or he has been hit, will ask, "What did you do to cause that?" It's similar to blaming the victim in a domestic assault and should not be accepted, she said. "That attitude's not uncommon in the health authorities."
"To some degree, it's the impact of cuts in services," said New Democratic Party health critic Adrian Dix.
"If you go around B.C., and talk to nurses, they'll tell you for them this is the workplace issue," he said. Other research has suggested B.C. nurses are subject to increasing levels of violence, he said. "This is definitely consistent with that and consistent with the consequences of the hallway medicine and crowded emergency rooms we've seen in recent years."
Abbott said it is "inaccurate" for Dix to say the government has cut health care. Spending has gone up from $9 billion in 2001 to $15 billion this year, he said.
BCNU president McPherson said Abbott and Dix are each correct in their own way. "They're both telling the truth because facts can always be spun," she said. Health spending has gone up, she said, but there have also been service cuts as budgets have not kept up with the pressures that include inflation and an aging population.
2,000 vacancies
In many cases, there are too few nurses to fill in when people are sick or on leave. For example, McPherson said, Burnaby Hospital was running its operating room six nurses short of its usual staff level on April 15.
Abbott also raised the lack of nurses as part of the problem. "When we have 2,000 nurse vacancies in the province as we do today, the chances of a nurse having to work overtime, to do more nursing duties, produces extra opportunities for the unfortunate encounters that are presently being referenced in the StatsCan numbers."
The B.C. Liberal government has doubled the number of training spaces for nurses, Abbott said, adding that under the NDP government in the 1990s, the number of nursing graduates dropped by 32 per cent.
The BCNU started a non-partisan campaign today with a launch event outside Burnaby Hospital to highlight concerns about the nursing shortage and advocate for better public healthcare and improved care for seniors.
Related Tyee stories: