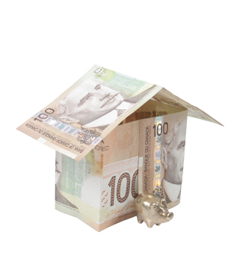 In all the uproar this autumn about the global financial crisis, one local group of institutions hasn't been in the news. B.C. credit unions. Are they in any trouble?
To find out, I talked to Chris Catliff, CEO of North Shore Credit Union, and Ian Smith of Central 1 Credit Union, as well as Charles Priester, a financial consultant based in Metchosin. In general, what they had to say was reassuring.
Smith says credit unions weren't involved in the subprime disaster. Central 1, which acts as a credit union for credit unions, had a small investment with some potential exposure to subprime mortgages, which has been written down. All told, Central 1's total investment was $23 million, compared with its $5 billion in assets.
"We're more traditional," Catliff says. "Our capital base is retained earnings, so it's at book value, and very secure. No one trades our shares on a stock market or can short them, forcing our capital base lower."
What about RRSPs? "Those held by credit unions are essentially savings accounts or term deposits," Smith says. "They're covered by deposit insurance, so there is no risk of losing the principal investment or the accumulated interest."
But members can use their RRSPs to invest in mutual funds, effectively taking them out of their credit union. If invested in stocks, those mutual funds have likely seen paper losses. How many people have taken such losses? Smith doesn't know.
Tougher lending standards, better insurance
"B.C. credit unions have $37 billion on deposit," he says. "One-sixth of that is in RRSPs, in the form of term deposits and savings accounts."* But mutual funds held through credit unions are on the books of various investment firms, and no total is readily available. The federal government, not the credit unions, oversees stocks and mutual funds through the Canadian Investor Protection Fund, which insures these investments to a million dollars per individual.
Are members likely to have trouble obtaining loans or lines of credit? "In general, credit is available," Smith says, "but credit unions are being more selective."
He explains that mortgages had become very liberal, with no down payment and up to 40 years to repay. But for a mortgage with less than 20 per cent down, mortgage insurance is required. Now Canada Mortgage and Housing Corporation requires a 5 per cent down payment and no more than 35 years to repay. "This affects marginal buyers," Smith says. Since demand for loans has been tapering off for the past year, such buyers seem to have left the market.
Priester agrees: "If economic conditions worsen (which they are at breakneck speed), lenders will toughen their lending standards because the default risk usually rises."
Deposits until recently had been insured for up to $100,000. Now the insurance is unlimited. "This has restored confidence," Smith says. To be fully covered, very large depositors have had to disperse their money over multiple institutions. Now, if they wish, they can put all their eggs in one fully insured basket.
'You're the owner'
Ian Smith sees a key advantage in credit unions: "You're the owner." This is especially important in small credit unions, but it applies to all: Credit union staff are more permanent than personnel in banks, they know their customers, and their decisions are less formula-driven. He sees no evidence that B.C.'s 1.6 million members are moving out of credit unions.
Charles Priester agrees that credit unions have a loyal customer base, and largely avoided toxic investments. But he worries that despite their loyal customer base, credit unions may not have "the bulk to ride out a lengthy depression."
Will we need new legislation for the long term? Chris Catliff from North Shore Credit Union doesn't think we necessarily will in Canada. "But this is a new interconnected and global world, and problems in other countries need to be re-regulated in a well-considered, academically based manner."
Forecast: A bumpy ride but no disaster
Catliff adds that credit unions reflect the local economy and community. He says short-term home values are going down a bit, but he sees "move-up" buyers coming into the market who are willing to sell for less but also buy for less. "A credit union in an automotive-industry town like Detroit could likely have problems," he says.
Priester concurs: "Since the Canadian housing bubble was not as extensive as the U.S. one, it is unlikely that the drop in Canadian house prices will be as severe."
Catliff foresees a year of global recession, but not as bad here as elsewhere. Still, we're in for harder times than we've seen in decades. As Priester warns: "Hang onto your hats; it's going to be a bumpy ride."
*Correction made at 11 a.m., Nov. 21, 2008.
Related Tyee stories: