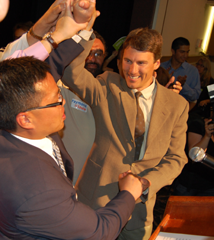 A newly gathered tribe of civic activists has taken control of Vision Vancouver and elected MLA Gregor Robertson to lead what he called "Canada's largest municipal party" into a fall campaign against Vancouver's oldest party, the fractured Non-Partisan Association.
"Vancouver has changed," Robertson told a cheering crowd on Sunday night. "And we are ready to take responsibility for our city." The co-founder of the Happy Planet organic juice company exhorted his youthful supporters to "put the party back in the party" and help build "a city that takes care of our own, and inspires the rest of the world."
Robertson was elected at a day-long nomination meeting that was more like a street fair than a political convention. There were Chinese dragons prancing alongside pamphleteers on roller skates; there were hula hoops and drums, cookouts and bands of all flavours. And through it all strolled fully half of the three-year-old party's 13,623 registered members.
Robertson, a New Democrat who represents the Vancouver-Fairview riding, won the mayoral nomination on the first ballot, with 3,495 of 6,771 votes cast. City Coun. Raymond Louie finished second with 2,244 votes. And former parks board commissioner Allan De Genova finished third with 981 votes.
'Raymond, what a fantastic sight'
Among the many stark contrasts between yesterday's Vision Vancouver party and last week's Non-Partisan Association meeting, perhaps the most poignant was how differently the two mayoral candidates took their respective stages.
At the NPA meeting, many Peter Ladner supporters talked among themselves while ousted leader Sam Sullivan put his head down and read swiftly through a concession speech. The two men shook hands briefly as Ladner took the stage. And most Sullivan supporters had already left the building by the time Ladner reached the podium, alone.
Vision's Robertson waited until runner-up Raymond Louie had addressed the crowd -- which, though dominated by Robertson supporters, continued chanting "Ray-mond, Ray-mond" -- then grabbed Louie's hand and held it aloft as if he were the victor. The crowd cheered both men for several long moments before Robertson spoke. His first sentence was, "Raymond, what a fantastic sight this is."
Laying into Ladner
After thanking his family, team and supporters, Robertson cut to the chase.
"This campaign could have been very different. It could have been divisive, destructive, personal, marked by backstabbing and disloyalty. In other words, it could have been an NPA nomination," he said.
Robertson described Vision as "the largest municipal party in Canada" and likened Ladner to Sullivan.
"Time after time, vote after vote, Sam Sullivan and Peter Ladner agreed and agreed and agreed," Robertson said. "After turning the mayor out of his own party's nomination, Coun. Ladner even said he's going to, 'build on the legacy of Sam Sullivan.'"
Robertson concluded with a slice of his own Vision:
"We need to bring people together from all cultures, from all walks of life, all perspectives, all neighbourhoods, to get the best ideas Vancouver has to offer and develop a made-in-Vancouver blueprint to show the world what true social and environmental sustainability is.
"We need to reach out to all those who share our values and our desires to make this positive change. We want to build an unstoppable majority of voters for November. We need to build bridges to those who share our values, to COPE and the Greens, and create a constructive and respectful working relationship."
'Bring Vision, COPE and Green together': Cadman
Crafting a relationship with the Council of Progressive Electors (COPE) may be the essential next step for Vision Vancouver to translate its popularity into power.
"It's all about creating a strategy to defeat the NPA," Vision co-chair Mike Magee said. "I'm really hoping that COPE will be able to endorse Gregor, and we'll find a way for it to make sense for them to do that."
COPE Coun. David Cadman, who calls Robertson a friend, was in the Sunday night crowd.
"We have to figure out a way to bring Vision, COPE and Green together. That's the key to victory," Cadman told The Tyee.
"I'm hopeful we can build unity around a common mayoralty candidate, a common slate, and a common campaign."
Can COPE back Robertson?
"Yes, I think we can," Cadman said. "He's not part of the previous division. And I think that he's a candidate that can reach out and help to build the bridges to take us forward."
All three civic parties plan to hold nomination meetings in September to name candidates for city council, as well as school and parks boards.
A thousand people an hour
Though the party remained upbeat outside the Croatian Cultural Centre, the mood inside the polling area grew foul.
There were 100 people in line by the time the polls opened at 8 a.m.
At the head of the line was a young man named Peter Lambert, who had to get to work by 9 a.m. Lambert, who'd never voted in a nomination meeting before, said he was drawn to Vision by Robertson.
"I heard about him. I researched him a bit. I really like him," Lambert said. "People are getting involved in municipal politics again."
In addition to being the first cast, Lambert's was also the first of hundreds to be challenged.
"After much kerfuzzling, they didn't accept a passport and a letter as enough evidence that I lived in Vancouver," Lambert said. He found another registered voter to vouch for him, and was allowed to vote.
The scrutineers grew snippy as the numbers of challenges mounted.
"There were some moments that were a little more tense than what I would normally like to see," acknowledged Magee.
Some 50 volunteers staffed 30 polling stations. Nonetheless, by mid-morning, members reported waiting up to an hour and a half to vote.
"We had projected having up to a thousand people per hour. We had less than that for most of the day. But for about an hour and a half we had almost two thousand people show up. We were swamped," Magee said
"Also, at one point in the morning, there was an enormous number of English-as-a-second-language voters, and we didn't have enough interpreters," he added.
Various scrutineers reported that the challenges remained an issue until it became clear to all that Robertson was so far ahead that most of the pending challenges were unlikely to affect the outcome.
'An easy sell'
Robertson's campaign not only set a new record for number of votes cast in a Vancouver nomination race, but it found many of those votes via value-based appeals, as opposed to via traditional demographic and ethnic groups.
The competing campaigns had criticised Robertson's aggressive canvassing, which signed up new members not only door-to-door but also at transit stations and other public places. They suggested that those "bus stop" voters would be less likely to turn out.
But Robertson campaign guru Greg Wilson said the members signed up on the streets not only voted but also volunteered at the same rate as members signed up through more traditional approaches.
Campaign spokesman Brad Zubyk said Robertson's green-business values were "an easy sell" to Vancouverites hungry for change.
"We have over 500 motivated volunteers. We had a phone bank all day. We sent text messages. And we went to their doors."
Zubyk had predicted that Robertson would turn out 3,500 voters. When, in the course of a Sunday night victory party, he was reminded that the actual count was only 3,495, he replied: "I've still got an hour. I'm going to go out and find those five guys."
Larry's in the old-folks' line
Al De Genova had less to laugh about. He ended the night with only 981 votes -- five less than Sam Sullivan had gleaned the week before. And as the results became clear, De Genova left the scene. He was not in attendance for the celebrations following the crowning of Robertson.
De Genova did encourage his supporters to support Raymond Louie as their second choice in the preferential ballot, as The Tyee reported last Friday. But since Robertson gleaned more than 50 per cent of the vote on the first ballot, those number two votes were never applied.
It was a surprising result not only for De Genova, but also for party co-founder and former mayor Larry Campbell, who'd endorsed De Genova and urged Louie as a second ballot.
"I voted Al first, and Raymond second," Campbell told a press scrum at mid-day. "I've been telling everyone I talk to to do that."
By nightfall, it was clear that with thousands of new Robertson supporters in its ranks, Vision Vancouver was no longer Larry Campbell's party.
Not that Campbell seemed to mind. "I'm 60 years old," he bragged. "They put me in the old-folks' line. I was in-and-out of there in 15 minutes."
Related Tyee stories: