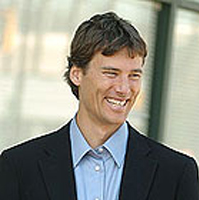 While the B.C. Liberals were in Whistler this weekend trying to put a kinder, gentler face on Gordon Campbell, the NDP were getting a face-lift of their own in the Vancouver-Fairview riding.
Campbell and his caucus don't miss an opportunity to portray the NDP as a union-driven party with a deaf ear to small business. But the nomination yesterday of Gregor Robertson, a successful young entrepreneur over his main contender in the Vancouver-Fairview riding, Judy Darcy, former head of the Canadian Union of Public Employees, may send a different signal about the NDP's economic thinking, and relationship to business.
Robertson, who was named one of the "Top 40 Under 40" in the Globe and Mail last year, is the co-founder of Happy Planet, an organic juice company that hires locally, shares profit with its employees, and donates 10 per cent of its revenue to local charities like the Food Bank and Lovin' Spoonful.
Broad support
The campaigns were as distinctly different as the two main contenders themselves. Darcy made her presence as an organizer felt by handing out bold yellow scarves embroidered with "JUDY" (a trick she lifted from the NDP leader Carol James' nomination campaign), while Robertson's delegation of mostly 20-something supporters waved makeshifts black and white signs brought to the meeting in their campaign RV.
The NDP are polling at nearly 40 per cent among eligible voters, according to a recent Mustel Group poll. That puts them six percentage points behind the Liberals, but more than 10 percentage points higher than what insiders consider their core group of voters. Strategically, this means the NDP must start reaching out to Green and Liberal supporters to get more seats in the next election.
On Sunday, the more than 500 delegates who turned out to Eric Hamber secondary school chose Robertson, a successful young business leader with boyish good looks, over Darcy, a seasoned political veteran and activist from Ontario. Having helmed CUPE for 12 years, Darcy could have been said to represent the old-school labour-entrenched NDP values.
Darcy says she will campaign for Robertson. So will Vanessa Violini, the Green candidate who placed second behind Collins in 2001 Vancouver-Fairview. Violini, who has thrown her support behind Robertson, said Vancouver-Fairview has a long history of electing younger candidates. She was 24 in the last election and noted Collins himself was 27 when he won his first seat in the riding in 1991.
Wealthy and young riding Vancouver-Fairview's 2001 census shows more than 45 per cent of the riding is between the age of 20 and 40 and Robertson said he shares their political beliefs."I know them because I'm one of them," Robertson said in his nomination speech. Robertson has the progressive social values of a Green, but the unity and organizing power of the NDP behind him, Violini said.
The Greens vote is not all the NDP has its eye on with Robertson's nomination; they are also banking on his business reputation to broaden his appeal to the Liberal supporters. More than 15 per cent of the family incomes in Vancouver-Fairview top $100,000 per year.
At the Liberal convention in Whistler this weekend, Collins hammered on the NDP's economic record, emphasizing in a CKNW radio interview that Glen Clark's premiership saw the province's bond rating drop twice. NDP leader Carol James called such talk "the old rhetoric thrown around by the Liberals." She said the NDP left two balanced budgets and a 4.8 per cent growth rate in its last year in power, more than double that under B.C. Liberals.
James on economic plans
James laid out some of her party's economic agenda in an interview with The Tyee. She said the NDP aims to develop a stronger secondary industry in the province to weather commodity price fluctuations. She said the NDP will look to expand its economic plan not only into small business, but in the high tech sector and in alternative forms of energy.
"Resources are always going to play a part in our economy in B.C. But we have to have communities that don't deal with the kinds of boom and bust that we've seen, where you go from having an economy that's thriving, then three years later the community has gone under and you've lost jobs," James said.
One believer in the NDP's transformation on economic issues is Paul Summerville, former chief economist for RBC Dominion bank and a former Asian Pacific regional director for TD Securities. "I think the NDP is going to surprise a lot of people in the next ten years," he told The Tyee. "Their policies of social inclusion and economic responsibility are two parts of the same coin. Their economic plan is very 21st century."
Summerville, an independent banker who lives in Victoria, has joined the NDP and vows to help the party succeed, but opted not to seek a nomination given that he had so recently moved back to the province from his last posting in Japan.
Building on Brar Jagrup Brar's win in Surrey-Panorama Ridge was "a good first step," James said. Brar is the director of Surrey Self Employment and Entrepreneur Development Society (SEEDS), which has helped more than 700 business owners get a start in the Surrey area. Small businesses are the key to the province's development, Brar said in an interview last week. With more than 22 per cent of the province self-employed and 98 per cent of business in the province from small and medium businesses, Brar said, it is the economic engine of the economy.
James said likewise, Robertson is just the kind "progressive and community minded" candidate the NDP wants to have running on its slate.
If elected, NDP plans to develop an advisory council for the premier, which will incorporate activists and community leaders as well as business people.
"Everybody has to be at the table. Right now, even business owners are being shut out. If you're one of (the B.C. Liberals) friends you get in the door and the other ones get cut out," James said.
Open to business
The NDP's economic plans would also include appointing international trade officers to help forge global business ties. James added the NDP will invest more in training and education related to economic opportunities. She notes Beaver aircraft wanted to manufacture in Kelowna, but ended up not doing so because the company was not guaranteed related training spots in the college.
"Everyone will tell you, all the statisticians, that that's the new economy. Investing in your people is the new economy," James said.
Robertson will have a big challenge selling that message in his riding come May. In the 2001 election, Collins walked away with the election with nearly 55 per cent of the vote. He also has nearly 14 years of the political experience that Robertson is without. Robertson said he is not concerned.
"Look at what these career politicians have got us in to," Robertson said.
Scott Deveau is on staff at The Tyee.