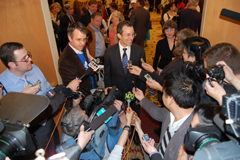 Vancouver City Coun. Peter Ladner has thrown Mayor Sam Sullivan off the Non-Partisan Association ticket, narrowly winning nomination as the NPA's mayoral candidate in this November's civic election.
Ladner's victory was a stunning upset for Sullivan, who -- with 15 years experience on city council and an estimated half-million dollars in his campaign war chest -- was able to turn out only 986 supporters.
Sullivan's unexpected loss was also a political blow to four of the NPA's five elected councillors, all of whom (except Ladner) supported Sullivan. As they launch their re-election campaigns, those NPA incumbents now find themselves out of favour among citywide constituents -- who prefer Vision Vancouver and/or COPE to the NPA by a margin of two-to-one, according to recent polls -- and also out of step with many of their own party's members.
Ladner, who won the NPA mayoral nomination by a mere 80 votes, pledged to unite his deeply divided party.
"This has been a very awkward time," Ladner said in a short acceptance speech.
"I think I can offer a better alternative, and that we can win in November," Ladner said. "But I wish there were a way to do it without having to deliver this blow to Sam Sullivan."
'Sam...we sure hope you win'
The day that shook the NPA began with a hurried faux debate between the two mayoral contenders.
Fearful that the Anti Poverty Committee might monkey-wrench their event, NPA organizers convened the long-awaited debate an hour earlier than scheduled. As a result, there were less than 100 people in the Marriott Pinnacle ballroom when Ladner and Sullivan squared off on stage.
Ladner was generally more upbeat than he'd been during the preceding week's radio debates, but nonetheless delivered his "Sam can't win" message.
"All the polls have said that the voters want a change in the mayor's office," Ladner warned. "If the NPA does not deliver that change, Vision and COPE quite happily will."
On the sidewalk out front of the hotel, the Anti-Poverty Committee delivered a perversely similar warning. After reciting the now-familiar litany of complaints about Mayor Sullivan and the 2010 Olympics, APC organizer Anna Hunter bellowed into a bullhorn: "Sam, we are not going to vote for you, but we sure hope you win. Because the longer you are in power, the more people you drive to the APC."
Police and protestors played cat-and mouse-games throughout the day, stalking one another through and around the Marriott.
Fast final push
Pamphleteers transformed the long marble staircase that rises through the hotel lobby into a gaudy gauntlet from which no NPA member could escape. They squabbled among themselves like squeegee kids upon discovering that one Sullivan flyer promoted a slate that omitted the two parks board candidates who'd endorsed Ladner.
An eclectic assortment of NPA members paraded up the marble gauntlet, ranging from party Brahmin such as developer Rob Macdonald and investor Lorne Segal, to large Indo-Canadian families dressed in traditional garb.
Ladner's team had employed the same political software used by presumed U.S. presidential nominee Barack Obama, and had been blasting near-daily e-mails to the roughly 1,400 new NPA members they'd recruited. But the day was carried by Ladner's low-tech team of 100 volunteers working the phones and driving supporters to and from the downtown hotel.
Just as the polls were about to close at 4 p.m., Ladner volunteer Reg Tupper came running out of the elevator, hollering for his fellow party members to make way as he raced a wheelchair-bound elderly woman down the hall at high speed. The woman appeared to be enjoying the ride; it was undoubtedly the campaign's final push.
'A soul-searching exercise'
After such a frenzied day, time seemed to slow during the more than two hours that NPA officials spent counting the votes.
A handful of political handlers spent the lull noshing on finger food and picking apart the campaign.
"I think this vote today is not just about who's going to become the candidate for mayor," mused Sullivan media strategist Steve Simpson.
"This is going to be the beginning of a soul-searching exercise for the NPA. They have to come to terms with the possibility that this is a political organization -- not a non-partisan organization -- and that it has to not only say it represents all of Vancouver, but it really has to begin to represent all of Vancouver," Simpson said.
"Peter is right. We've got to get out of our cars," he added. "I think that the NPA represents the political equivalent of a car culture. And it just has to change."
Sam-pede to the exits
NPA chair Matthew Taylor announced the results about 6:30 p.m.: Coun. Peter Ladner had received 1066 votes; Mayor Sam Sullivan had received 986.
The crowd split into two groups instantaneously. Ladner supporters shrieked and cheered. Sullivan supporters fled with startling velocity, literally tripping over one another as they hustled down the long marble staircase in what one wag fairly described as a "Sam-pede."
Coun. Kim Capri was the only NPA councillor brave enough to linger in the ballroom. Capri has been Mayor Sullivan's most loyal lieutenant, and she was visibly shaken by the news. Local news reporters circled round her, like sharks to the scent of blood in the water.
"None of us said Peter was a bad caucus member," she replied, in response to a question about division within the NPA team. "What we wanted to see was continuity..."
When pressed about whether she and the other caucus councillors were out of step with NPA members, Capri replied: "I think that the membership has said that they want to have a change. And we need to now come forward and support that."
'Sam's people will not support Peter'
"I've never seen the NPA this badly divided," said Alex Tsakumis, a former NPA board member who now works as a political commentator for CTV and writes a column for the 24 Hours newspaper
Tsakumis worked on Sullivan's 2005 campaign, and helped engineer his defeat of former BC Liberal cabinet minister Christy Clark.
"This is worse, way worse" than the split that followed that nomination fight, Tsakumis said.
"This party is so divided -- so bitterly divided -- there's no way they are going to get together before the election," Tsakumis said. "Sam's people will not support Peter. In fact, the two candidates can't stand each other. That's the ugly reality for the NPA. And it's just going to get worse for them. Think about it. Sam and Peter will have to sit on the same council between now and election day."
Predicted the life-long conservative: "The big winner today is Vision Vancouver."
'Not one iota of difference'
As if on cue, Gregor Robertson campaigner Brad Zubyk sauntered in and handed out copies of a press release.
"I congratulate Peter but want to put him on notice that I will not let him hide from his record," Robertson said in the prepared statement. "On almost every key vote, Peter faithfully supported the Mayor."
One NPA member grumbled, "Where is your sense of decency? Won't you at least give a man time to fix a proper martini before you start with this?"
Apparently not. The Council of Progressive Electors (COPE) followed up with a similar e-mail just a few hours later. The COPE release quoted Coun. David Cadman.
"There is not one iota of political difference between Peter Ladner and Sam Sullivan," Cadman said in the COPE release. "Their voting record on all the big issues over the past three years at City Council has been identical."
The two parties' swift reactions only seemed to confirm what everyone from the NPA Brahmin in the Marriott ballroom to the APC anarchists on the street below were slowly grasping: Vancouver's entire political landscape had changed.
'A very good gesture'
The mayor himself remained gracious and witty until to the bitter end. As has long been his habit, Sullivan defused the awkward moments before the day's results were announced by joking with the press.
Earlier in the day, someone allegedly affiliated with the APC had slipped past the police and poured a soft drink on Mayor Sullivan's head. When asked about the incident by the assembled press corps, Sullivan coyly denied that his attacker was protesting either his mayoralty or the 2010 games.
"I think it was a symbolic gesture of support," Sullivan said, smiling. "I believe that Coca-Cola is a major sponsor of both the Olympic and Para-Olympic games. I think it was a very good gesture."
A moment later, he added, "And my hair stayed in place for the rest of the day."
Related Tyee stories: