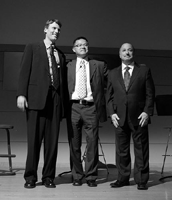 Vision Vancouver mayoral nomination contender Allan De Genova has told The Tyee that he will encourage his supporters to cast their second-choice ballots for a soon-to-be-named rival in the hotly contested nomination.
De Genova said he will not identify his endorsee until Sunday, but sources inside all three campaigns hinted that City Coun. Raymond Louie was most likely to get De Genova's nod.
"I think there's always been a lot of synergies between our camp and Raymond's camp. A lot of them have been brought about by some of the actions that the Gregor camp has taken," said Ian Bailey, who manages the De Genova campaign.
"I haven't been told. But given all the comments out there in the past several months, I'd be surprised if it wasn't Raymond," said Neil Monckton, who manages the Louie campaign.
"What I'm anticipating they will do is hand out sample ballots as voters arrive. They'll be marked with names one and two," agreed Brad Zubyk of Gregor Robertson's campaign.
Such a de facto endorsement could help propel Louie, the two-term city councillor, past presumed frontrunner Gregor Robertson if there is a second ballot vote.
De Genova told The Tyee that he made his own decision about who to support, and that there is no deal in place between himself and another candidate. In explaining his reasoning, he expressed deep dissatisfaction with his treatment at the hands of the Vision Vancouver executive, which he said was "controlled" by people inside the Robertson campaign.
'It will be quite obvious'
When asked whether his campaign will offer advice to its supporters on who to choose for second place on the preferential ballot, De Genova told The Tyee:
"Yes there is. Yeah."
The Tyee: So you are steering your supporters to a specific second-choice candidate?
De Genova: "Absolutely. Absolutely."
The Tyee: "Who is that candidate?"
De Genova: "You'll see on Sunday. It will be quite obvious."
The former Non-Partisan Association member was more blunt about why he had made this decision.
"Because I was not happy in the balloting process and how things shook out... I have nobody on the executive that represents me. I wasn't even able to have an observer there... the executive is made up half of Gregor's people and half of Raymond's," De Genova said.
"This is my chance, now, to align myself with what I think is important for the party. At the end of the day, this is what's right for the party," he added.
De Genova said he had neither met with nor informed the candidate he will support. And he denied that his pending announcement will contradict his previous promises to "leave it up to the membership" to make their second-choice decisions.
"They're going to ask my opinion because most of them coming out to support me will want to know my values and who I'm supporting. I will put that message out there," De Genova told The Tyee. "I'll let them decide. At the end of the day, I won't tell them how to vote. But I will tell them my values."
Second-choice ballots could pick winner
If he's in last place, and if a sizeable majority of his supporters heed his advice, a De Genova endorsement could swing the outcome of Vision Vancouver's modified preferential ballot.
Each of Vision's 13,400 registered members ia eligible to vote from 8 a.m. to 5 p.m. at the Croatian Cultural Centre this Sunday.
If no candidate wins more than 50 per cent of the votes cast on the first ballot, then the third-place finisher will be knocked out of the running, and his ballots will be reconsidered.
The second-choice votes by supporters of that third-place candidate will be added to the first-choice vote totals of each of the two top contenders.
Whoever has the most votes at that point will be declared the winner, regardless of whether or not he has more than 50 per cent of the total.
Confused? Here's another way to look at it: You've got to vote for the loser in order to have your second choice count toward picking the winner.
De Genova and his campaign dispute any suggestion that he is in third place, and insist he will turn out enough votes to win this Sunday.
However, if one were to judge relative campaign strength by the numbers of memberships each party claimed to have handed in to the party, Gregor Robertson would be first, Raymond Louie second, and Al De Genova third.
One would reach the same conclusion if one were to judge support by reading polls released last week by candidates for the NPA mayoral nomination.
'Read my lips: No deal.'
Coun. Raymond Louie and his campaign say there is no deal of any kind in the works with the De Genova campaign.
"We're not telling people how to vote," Louie told The Tyee on Thursday morning.
"There's no deal," he added. "I've publicly stated many times now: Make your choice based on what you think you want for our city, and who can best accomplish that."
When told about De Genova's pending second-choice endorsement, Louie asked, "He is? To who?"
After the context of De Genova's statement was explained, Louie said, "Well, that's always what I expected. I expected that both Gregor's people and Al's people would be more inclined to support me than each other. Especially when it started off with Al saying Gregor is so far left he falls over."
But rumours of a deal persisted on Thursday, fuelled in part by a pre-existing friendship between Louie campaign manager Neil Monckton and De Genova contractor John Young.
Forgoing any customary greeting, Monckton answered The Tyee's phone call with the words: "No deal. Read my lips: No deal."
Monckton, a veteran political handler who has friends and associates in each rival campaign, confirmed that he and Young have been housemates and were business partners until last summer.
"John is a good friend of mine," Monckton said, "I speak to him all the time."
When asked whether the two men had ever discussed the possibility of one campaign endorsing the other, Monckton said, "I can't comment on that."
Young similarly confirmed his friendship with Monckton: "We talk frequently. Sometimes we talk about the campaign. Mostly we talk about our lives outside the campaign."
And Young likewise refused to confirm or deny any discussions about a deal between the De Genova and Louie camps.
De Genova campaign co-chair Ian Bailey was less obtuse.
"What they have discussed, I don't know," Bailey said. "I do know that all major decisions in this campaign are made by me and Bill [Cunningham] and Al. And so I know there's no deal."
'Everybody is playing strategy'
While De Genova has promised to endorse a second-choice candidate and Louie has pledged not to, presumed frontrunner Gregor Robertson is leaving it up to his supporters to decide not only who to vote for but whether to mark a second choice at all.
"People will make up their own minds," Robertson said. "We're certainly not dissuading people from using that number two vote. We're ensuring that they know they have that opportunity, and how the votes will be counted."
Robertson campaign spokesman Zubyk said it was "not in our team's interest" to discuss De Genova's plans. He said this nomination battle will be won by the campaign that musters the most supporters voters on May 15.
"We have over 500 volunteers working to turn out 6,000 votes," Zubyk said. "I'm increasingly confident -- though these things are never an exact science -- that we have the machine in place to do it on E-day."
Bailey scoffed at that prediction.
"Gregor signed up people on the street. Those are going to be hard people to turn out," he said. "If Gregor's camp turns out 3,500 to 4,000 people that day, they're going to win. But if their vote collapses, they could be in third place."
"Everybody is playing strategy on this," Bailey added. "The odds are shifting now. Anybody can win."
Related Tyee stories: