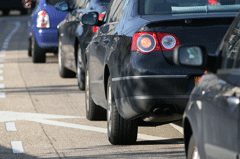 Numbers from the latest census suggest that northerners don't drive as much as carbon-tax opponents claim.
A number of northern mayors have complained that the B.C. government's carbon tax will punish rural and northern British Columbians.
The mayors, as the Province put it, "say their communities will bear the brunt of the tax because their remote locations mean they must drive more, they have no transit alternatives and their colder climate requires more heating fuel."
But numbers from the 2006 census indicate that northerners drive less, at least when it comes to commuting.
Commuting Distances

Median commuting distance, km

Per cent commuting less than 5 km

Per cent commuting more than 30 km

BC

6.5

40.5

7.9

Vancouver

7.4

35.4

4.4

Abbotsford

7.3

40.3

18.2

Chilliwack

6.2

42.5

17.6

Prince George

5.4

47.1

5.1

Quesnel

4.8

51.3

7.4

Williams Lake

3.6

61.3

11.6

Fort St. John

2.5

70.7

4
As the above table shows, the median commute in Fort St. John is 2.5 kilometres. (The median is the midpoint in a series of numbers. In this case, half of all commutes in Fort St. John are longer than 2.5 km and half are shorter.)
According to the census, 71 per cent of all Fort St. John residents drive less than five km to get to work. Only four per cent drive more than 30 km.
Compare that to the average commuter living in Metro Vancouver. There, the median commute is 7.4 km. That's almost three times the Fort St. John commute.
A little over one-third of Vancouverites travel less than five km -- half the rate of Fort St. John. The number of workers going more than 30 km is about the same in both places.
Land o' killer commutes: Fraser Valley
The number of people making really long commutes gets higher as you go up the Fraser Valley.
A whopping 18 per cent of commuters in Abbotsford go more than 30 km -- the highest in the province. Chilliwack is right behind, with just under 18 per cent.
Last month, the mayors of Fort Nelson, Fort St. John, Williams Lake and Quesnel wrote to Victoria, asking for a break from the carbon tax.
At the time, Fort Nelson Mayor Chris Morey told The Tyee that people who live in her town have to drive for hours.
"People that work in the bush, for instance," she said. "There's sometimes 100 kilometres or more one way to the work sites and then back to the town at the end of the workday. There's these great distances."
While Fort Nelson is too small to show up in the StatsCan numbers, the other towns that joined the protest all have median commutes that are under the provincial average. And all except for Williams Lake are below the provincial average in the proportion of commuters having to go more than 30 km.
Some truck drivers elusive
One factor that might affect these numbers is a StatsCan category for persons with "no fixed workplace address." These people aren't counted in the commuting numbers we've been looking at.
StatsCan says this category covers people like truck drivers -- workers who either travel a lot during their work day or work at a different place each day.
Someone like Mayor Morey's 100-km commuter might describe themselves on their census form as having no fixed address if they go to a different site in the bush each day.
In most places, however, the proportion of workers with no fixed workplace is relatively low. In Fort Nelson, for example, it's five per cent.
In Quesnel it's 10 per cent and in Williams Lake it's 11 per cent. It's substantial in Fort St. John, though -- 20 per cent.
(For comparison's sake, the proportion of commuters with no fixed workplace is 12 per cent in both Prince George and Vancouver, 15 per cent in Chilliwack and 16 per cent in Abbotsford.)
Key footnotes
A few points about what these numbers don't show:
They don't show the total kilometres that people in these towns have to drive -- just the distances they have to go to get to work.
And these numbers are for all forms of commuting, not just driving. As the northern mayors point out, their constituents don't have the option of taking SkyTrain to work when the price of gas goes up.
And the numbers don't say anything about the mayors' argument that cold northern climates mean higher heating bills and therefore higher carbon taxes. The jury's still out on that one; some experts say heating bills up north aren't that much higher because northerners insulate their homes better.
No one seems to have any definitive stats to settle this argument one way or another. (Believe me, I've looked. If you know of any sources that would help shed some light on this argument, send me an e-mail.)
What these numbers do suggest is that, because commuting is such a big part of most people's driving, people in the North likely have to drive less on the average than those in the Lower Mainland and the Fraser Valley.
And it would seem reasonable to assume that, if northerners do use substantially more heating fuel, the shorter commutes will balance off at least some of the extra carbon tax they'll pay.
The census numbers also suggest that there are sizeable differences when it comes to driving distances, even within the North. The average commute in Quesnel, for example, is almost twice that in Fort St. John.
Sitting in traffic
Kevin Washbrook, of the pro-carbon-tax group Voters Taking Action on Climate Change, argues that "there's costs and there's benefits all over the province."
"People in the Lower Mainland have some pretty wild commutes," says Washbrook. "Not only that, they take a lot longer because traffic is so congested."
Washbrook, who dug up the StatsCan numbers and pointed them out to The Tyee, says that, based on the census data, he would expect that overall driving distances for northerners are lower than for people in the Lower Mainland.
He noted that New Democratic Party leader Carole James has written about a woman in Mackenzie who has to drive two hours to Prince George for an ultrasound.
The total carbon tax would be "pennies" on a trip like that, he said.
"Carole James talks about the burden the tax puts on people," Washbrook said. "Putting aside the fact that it's revenue neutral and all those things, which she's not talking about, I think [the census data] says that the burden is more fairly distributed than people are suggesting."
Said Washbrook: "The carbon tax isn't about what you do next time you get gas. It's about what people do when they say, 'Wow, this is going to just keep going up.' So when I buy a new car do I really need a huge pickup truck? Or can I live with a smaller car?
"Of course, it may never make sense to take the bus in Fort St. John or wherever. There may never be the density to provide efficient bus services. But those aren't the only choices we have."
Related Tyee stories: