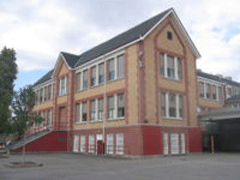 When the "big one" hits the West Coast, our grand, beautiful heritage school buildings likely will be among the first to crumble -- and we can only hope the kids are out.
At a Think City schools forum in Vancouver earlier this month, one panelist's presentation drove home the need for seismic upgrades here in B.C., with devastating images of post-quake school buildings from Long Beach to Pakistan.
"Even in developed countries, schools face a disproportionate risk in earthquakes," said the presenter, Tracy Monk of Families for School Seismic Safety.
"I felt sick to my stomach when I realized what could happen."
Yet government plans to replace these aging structures are being met with criticism from parents and teachers who say the province's funding formula means some schools end up safer, but smaller.
Schools aren't just a bunch of classrooms, pointed out delegates and panelists at the forum.
Instead of building to a minimum square-footage, they argued, we should use this province-wide reno as an opportunity to reinforce and enhance the school's role as a sustainable community hub.
Huge task ahead
In 2004, the provincial government allocated $1.5 billion dollars for a seismic mitigation program for B.C. schools.
More than 700 schools were identified as needing upgrades in order to decrease the chances of children and adults getting injured, killed or trapped inside a school should an earthquake hit.
The government has stated this will happen in the next 15 years or sooner, but so far, of the 63 schools short-listed for immediate action only 13 have been completed. Another 17 are currently under construction.
If a feasibility study determines that the cost of renovating an existing school exceeds 70 per cent of the cost of building a new one, the latter option is taken.
This is the situation at many heritage schools, which require more work to bring them up to par.
Save or knock down?
One of these schools next in line for seismic upgrades is General Gordon Elementary in Vancouver's Kitsilano neighborhood.
Last year the Vancouver School Board presented staff and parents with two options: renovate the existing building, which would keep occupants safe during a large earthquake but likely not be functional after, or demolish the existing building and replace it with a new one that would better withstand a disaster.
One parent, Z Smith, wasn't impressed with either option. Maintaining the existing building meant students might not have a place to go to school after an earthquake, but the proposed new facility would be about 1600 square feet smaller.
Students would lose their lunchroom, there would be no room for hallway cloak areas and the library would be slightly smaller.
"We're having to choose between adequate and unsafe schools or safe and inadequate schools," he said.
Is older greener?
According to Smith, the seismic mitigation plan is actually working against another government mandate to make schools carbon neutral.
"Old buildings turn out to be the most energy efficient," says the architect. Using a benchmarking guide from Natural Resource Canada, Smith calculated that General Gordon actually uses slightly less energy per square meter each year than brand-new Heritage Woods school, built specifically to be energy efficient.
"There's a perception that old means leaky or something," says Smith.
"But buildings built pre-1920s are designed to use less energy...they are designed to use natural light and natural air flow."
Centres of community
Annabel Vaughan, who was the driving force behind the Think City schools event, says another "unintended consequence" of the seismic mitigations program is the loss of much-needed childcare and community space.
She chairs the Friends of Dickens committee, a group trying to save the 1913 heritage wing of the school that is slated to be demolished this year.
The committee wants to retain the wing, currently used for community activities, at a cost of $3-5 million for seismic upgrades and add childcare, arts and music facilities.
Another Vancouver school, Kitchener Elementary, stands to lose its YMCA after-school childcare program because the new multipurpose room will be too small to accommodate the minimum requirement of 30 children.
New school facilities must meet minimum area standards of square footage that are determined by the number of children and use of the space. In elementary schools with fewer than 425 children, there is no minimum requirement to provide multipurpose space.
"It's not the goal of the [seismic mitigation] program being questioned but the process," said Vaughan.
"If we're getting schools that are smaller and less equipped to provide unique programming, then there's something wrong with that process."
Premier 'seemed receptive'
Both Vaughan and Smith met with Premier Gordon Campbell earlier this month to discuss what they view as a major disconnect between the seismic mitigation program and his government's other mandates of carbon-neutrality and expanding the school's role to provide more childcare space.
"He seemed receptive," said Smith. "He acknowledged these three initiatives seem to be working as silos . . . . He said he would set up a working group."
Ken Denike, chair of the Vancouver School Board finance committee, said the board's first priority is safety, the second is providing childcare space.
He says the province funds capital projects on a per student basis, and doesn't count children who use the space unless they're students in the building from 8:30 to 4:30.
The exception is the province's Strong Start program -- which technically isn't daycare as parents or guardians are required to attend activites with their children. In that case, the children are included in the school's capacity.
Denike says it's possible the Ministry of Children and Family Services may help fund more space for childcare in schools, but nothing is on the table yet.
Related Tyee stories: