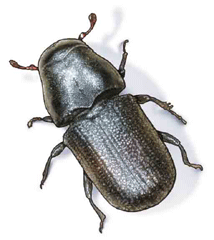 "The mountain pine beetle doesn't read the newspaper," is a saying among researchers who study the pest that has already left an area of dead timber four times the size of Vancouver Island in its wake.
That is to say, predictions about when, where and how fiercely the pine beetle will strike next aren't always accurate.
A new joint research project between British Columbia and Alberta could help researchers improve current forecast models by better understanding the relationship between pine beetles, the killer fungus they carry and the lodgepole pine trees it attacks.
A team of scientists from the University of British Columbia, University of Alberta and University of Northern British Columbia received $4 million to study these interactions at the genomic molecular level over the next two years.
The project is funded equally by both provincial governments through research organizations Genome Alberta and Genome BC.
Insect anti-freeze
Brian Aukema, a research scientist with the Canadian Forest Service who is based at UNBC, says this is a novel approach to understanding pine-beetle infestation.
"We really hope to get a genetics-based understanding of what is happening when the beetle colonizes the tree, says Aukema.
"For example, we know beetles produce over-wintering compounds, similar to anti-freeze. But what genes are responsible for that, and are there different populations of beetles that are more adapted to survive in different types of trees?"
To find out, Aukema and fellow researchers at UNBC are collecting as many pine beetle samples as they can, looking at the insect in all its life stages -- from larvae to adult.
The genes in each beetle sample are exposed to various chemicals, like pheromones or the chemicals in tree sap to determine what makes them "switch" on or off.
"We're not sequencing every single base pair in the DNA," says Dezene Huber, a Canada Research Chair and associate professor at UNBC. "We're looking at these genes that are expressed, genes that are turned on. We want to cast a net into the biggest school of genes possible."
Predicting beetle waves
Huber wants to be able to understand the environmental conditions that allow pine beetles to do well, or not well, and also find population markers that will give researchers a better idea of where the beetles are coming from and how they're moving.
"One of the problems is that we don't have a very good fix on whether a particular infestation is moving from its infestation centre, carrying out like a wave, or if there are little infestations popping up all over with the appearance of a spread," he says.
Aukema says the newest forecast model has demonstrated "proof of concept;" when applied retroactively to the last mountain pine beetle outbreak in the '70s, it correctly predicted infestation locations eight times out of 10.
Knowing which pine beetles are attacking which trees at certain times of year or temperatures will "fine-tune" forecast models and make them all the more accurate.
"It gives us some better information that we can use for proactive management . . . if there are some areas that could be cut or harvested or burned for beetle management," says Aukema.
Tree genes that fight pests
While work at UNBC has been focused on the genome of the pine beetle, UBC researchers are uncovering the genetic secrets that allow coniferous trees -- pine and spruce -- fight off pests like the pine beetle.
Associate professor Joerg Bohlmann is the co-leader of the project along with the University of Alberta's Dr. Janice Cooke.
For 10 years Bohlmann has been analyzing coniferous sap, or oleoresin, which contains hundreds of chemicals that act as the tree's natural defense against pests.
He recently co-authored a study proving for the first time that coniferous trees undergo rapid gene duplication and mutation that can make them bio-chemically distinct from one generation to the next.
"What we have found recently is that the many genes that are responsible for producing these many chemicals are under some very rapid evolution, from one generation to the next and sometimes within the same individual tree over its lifetime," says Bohlmann.
He adds that he and his research associates are now trying to determine whether the "survivors" of the infestation have already evolved to produce a new combination of beetle-resistant chemicals.
He says the same types of diagnostic tools used to understand which genotypes make humans more susceptible to cancer apply in the forest, and what it means in the long run is that forest management practices must help maintain that natural biodiversity.
Planting a thriving future
"We want to make sure whatever tree material we use for planting in the future is significantly genetically diverse," says Bohlmann, adding forest management programs in BC and Canada are already "paying good attention to that."
"The importance of this diversity is also why this research is not going to be applied for cloning, or genetic modification purposes," he says.
Bolhmann also stresses that this research doesn't offer a "silver-bullet" solution for immediate application.
"We don't know treatments," he says. "It's important to understand these interactions if you want to be able to better predict . . . maybe eventually come up with treatments."
As Huber points out, the application of this research goes beyond the mountain pine beetle. It's expected that climate change will trigger more types of these insect infestations.
New pest threats
Right now the Ministry of Forests and Ranges research branch is working on controlling a weevil that attacks spruce and a rust attacking white pine. And the western pine beetle (very genetically similar to the mountain variety) is already devastating ponderosa stands in Kamloops and Kelowna.
"Management of pests isn't simply eradication, but sometimes figuring out how you can live with the animal, how you can keep the creature below an economic threshold," says Huber. "This new information is going to be public and it's going to be out there for a lot of interested researchers to use."
"It's much larger than the pine beetle, ultimately."
Related Tyee stories: