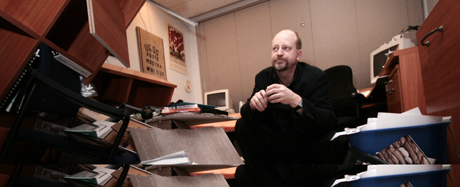 The office of a Vancouver journalist has been broken into in an incident he believes is linked to the political scandal he is covering.
Bill Tieleman, a regular contributor to The Tyee who has been writing about the B.C. legislature raid case, discovered upon his return from the courthouse Monday that someone had broken into his office via the ceiling and a vacant adjacent office after attempts to force his door apparently failed.
Although nothing was missing, Tieleman said the intruders had moved a copy of a book about the raid and an accompanying press kit across his office and placed them on top of fallen ceiling tiles.
"Somebody was sending me a clear message about the B.C. legislature raid," he told The Tyee. "There's no question about it."
Tieleman has been documenting the twists and turns of an affair that is still in the pre-trial phase nearly four years after it burst onto the public scene.
Police raided the B.C. legislature offices of two ministerial aides on Dec. 28, 2003 and suggested at the time there might be links to drugs and organized crime going to the highest levels of government. In the end, the heart of the matter was the $1 billion privatization sale of B.C. Rail to CN Rail.
The two former aides -- Bobby Virk and David Basi -- stand accused of breach of trust and fraud for allegedly passing along confidential documents to OmniTRAX, one of the company's bidding for B.C. Rail. Aneal Basi, David's cousin, faces money-laundering charges.
A key player in the affair, former OmniTRAX lobbyist Erik Bornmann, once earned the nickname Spiderman for entering a locked Liberal Party office through the ceiling. But Tieleman does not see any connection.
"They tried pretty hard to get in the door," he said. "They just didn't do a good enough job."
Police have investigated the crime scene and taken a statement from Tieleman who says he takes the incident seriously but refuses to be intimidated.
"The main thing is I'll continue writing for The Tyee and 24 Hours about this."
Related Tyee stories: