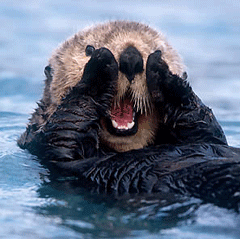 It was unusual to see a live sea otter off the coast of Tofino, much less a dead one. As my friend Pippa kept watch over the carcass we had found lying at the water's edge, I trudged across the beach to fetch my cell phone from my little coupe -- and gauge the capacity of its trunk. Pippa also happened to be Dr. Pippa Shepherd, species-at-risk coordinator for Parks Canada, and she was determined to find a way to get the dead animal to a lab. It's definitely not going to fit in my car, I thought with relief as I walked back toward her with the phone.
It was the 2004 Labour Day long weekend, and we were at Chesterman Beach on Vancouver Island's west coast. We'd planned to cap our girls' getaway weekend with a fancy dinner in Tofino in a few hours. The discovery of a dead otter was an abrupt interruption.
The mammal's dark wet fur glistened in the late-afternoon sun. "It looks very fresh," Shepherd was saying into the cell phone, leaving urgent voice mails for her colleagues at Parks Canada and the Department of Fisheries and Oceans. "Call me back as soon as you can."
As she hung up the phone and gazed at the creature on the sand, my friend's face flashed a mixture of anger, excitement, and resolve. Part of her job was to serve on the recovery team for sea otters, then listed as a threatened species by both the federal and B.C. provincial governments. With much to learn about causes of otter mortality, Shepherd knew she had to get this one into a fridge, fast.
Decimation
Hundreds of years ago, sea otters were regular sights off the coast of B.C., part of an estimated population of 150,000 to 300,000 that inhabited the northern Pacific coastline arcing up from Hokkaido, Japan, to the Kuril Islands and Russia's Kamchatka Peninsula, across the Bering Sea to Alaska, and down the North American west coast all the way to Baja, Mexico. Coastal Aboriginal tribes -- like the Nuu-chah-nulth and Haida in B.C. -- prized the animals' pelts for their warmth and the prestige they bestowed on their wearers. Luxuriantly dense and soft, otter fur was worn as chiefs' regalia and was given in potlatches to mark coming-of-age ceremonies, weddings, and funerals. Aboriginal songs, stories, dances, and art celebrated the sea otter's gifts.
The mid-18th century marked the tipping point in the delicate ecological balance between people, sea otters, and the sea urchins, abalone, clams, crabs, and other shellfish they both fed on. Russian commander Vitus Bering, Spanish explorer Juan Perez, and British Captain James Cook all discovered the riches that could be had from obtaining sea otter pelts from Aboriginal hunters in exchange for iron, cloth, and beads, and then trading the pelts with Chinese mandarins on their return voyages.
By the 1770s, Nootka Sound on the west coast of what is now known as Vancouver Island was a major hub in the lucrative trade. Farther south, Spaniards and Americans were on their own quests for what had become the most valuable fur in the world.
The frenzied demand soon decimated the sea otter population. By the mid-1800s the commercial enterprise was largely over. In 1911, when the International Fur Seal Treaty banning the hunt was signed between Japan, Russia, the U.S., and Britain (representing Canada), fewer than 2,000 sea otters remained in the world, mostly in hard-to-reach waters off Russia, Alaska, and California. In 1929, the mammals were extirpated in B.C. when the last known sea otter was found dead in Kyuquot Sound, about three-quarters up the west side of Vancouver Island. It had been shot.
Rebound
Thanks to the 1911 treaty and more recent endangered species legislation in the U.S. and Canada, sea otters were on a worldwide rebound by the time Shepherd and I came across ours in 2004. In fact, close to 3,200 of the mammals were once again living in B.C. waters, and over 100,000 worldwide. Though the population had not yet expanded to its full historic range -- hence, the rarity of our find in Tofino -- and was still vulnerable to a single catastrophic event -- say, an oil spill -- sea otter recovery was cautiously regarded as a success in Canada's species-at-risk community.
As the afternoon ticked by and the tide started to come in on Chesterman Beach, Shepherd finally managed to reach a colleague at DFO. Assured that help was now on the way, she insisted that I and another friend keep our dinner reservation while she kept watch on the beach.
On her own and concerned about the rising tide, Shepherd grasped a hind flipper and pulled the waterlogged animal -- "it must have weighed eighty to a hundred pounds," she recalls -- to higher ground. She waved off curious dogs with a stick. "As I watched over the otter, I tried to get a handle on what might have killed it, but there were no clues."
About an hour later, a colleague showed up with a truck and a tarp, and the two women hauled the animal to a Parks Canada storage freezer near Tofino's airport. By the time Shepherd returned to our campsite, plans were in place for the otter's transfer to the mainland for a necropsy.
I had nearly forgotten about our little adventure when Shepherd phoned me a few weeks later with some surprising news. The necropsy had confirmed what had killed our sea otter. A gun.
Why would someone shoot an endangered animal? This question gnawed at me for over two years until eventually I decided to find out. Turns out that what I thought was a black and white issue is actually a complicated shade of grey.
Keystone species
Edward O. Wilson -- the so-called father of modern biodiversity study -- says that the sea otter may be the most potent keystone species on the planet. Once such a species is removed from an ecosystem, drastic change occurs. The dramatic decline of sea otters in the 18th and 19th centuries triggered massive increases in the populations of their prey -- sea urchins, sea cucumbers, northern abalone, clams, geoducks, and Dungeness crabs. In turn, the new abundance of urchins devastated the kelp forests they fed on, producing desert-like barrens. Loss of kelp increased coastal erosion and meant no watery homes for nursery fish.
Given the benefits of having sea otters around, Canadian biologists jumped at the chance to reintroduce them to B.C. in 1969. The U.S. Atomic Energy Agency planned to conduct an underground nuclear test in the Bering Sea near southwest Alaska, and the Canadians received permission to remove some of the sea otters still inhabiting the area and transplant them off the west coast of Vancouver Island.
They chose the shallow waters around the Bunsby Islands in Checleset Bay, just north of Kyuquot Sound. On July 31, 1969, 29 otters were captured and flown in close and noisy confinement to the release site. Not surprisingly, few survived the relocation.
A second attempt was made by boat in July 1970. U.S. fish and wildlife officers captured 45 sea otters in nets and placed them in holding tanks on board the U.S. research boat, the G.B. Reed. Only 19 animals survived to be released in the Bunsbys. Still, an increase in sea otter sightings over the next two years provided some assurance that this transplant had been more successful.
The final effort was made in July 1972. This time, 46 sea otters were removed from the ocean using salmon gill nets, and then injected with an anti-stress hormone. After being transferred by aircraft and then by ship to Vancouver Island, the otters were placed in temporary floating pens within the warm waters of Checleset Bay, where they could clean their fur and recuperate from the journey before their final release. Ian MacAskie, long-time marine researcher in the eastern Pacific, wrote about the experience in an article for The Beaver in 1975. "The transplant was a thorough success," he enthused.
Except for one thing. The people who had lived on the shores of the bay for 5,000 years -- the Kyuquot/Checleset, one of the Nuu-chah-nulth's 14 chiefly families -- had not been consulted nor even informed about the otters' return.
Leo Jack is a Nuu-chah-nulth who was born in Kyuquot in 1963 and has lived in this community ever since. "If they'd told us what otters would do to our seafood, we would have fought them," he says. "We would have said no."
'A love reaction'
"Most people's reaction to a sea otter is a love reaction," says Shepherd as we visit the Vancouver Aquarium. With their pert button noses and long fringes of whiskers, curious expressions and alert black eyes, sea otters are extremely charismatic. Children around us clap their hands and shriek with glee as the Aquarium's four sea otters twist and twirl and play-wrestle with abandon.
While many scientists object to the anthropomorphizing of animals, it is easy to do with sea otters. As males explore and extend the species' range, females and pups live together in intimate communities. When they sleep, they link paws so they don't drift away from each other. When they catch their food they break the shells on their chests using rocks or other hard objects. They're one of the few animals known to use tools like this. Even Shepherd gets sheepishly affected by them. "They're such goofy, busy, cute, fuzzy things," she says.
Cute they may be, but they are also voracious eaters, consuming a quarter to a third of their body weight every single day. With an average male weighing 100 pounds, that's a lot of grub.
After being released in Checleset Bay, sea otters flourished on the abundant supply of shellfish that had sprung up in their absence -- the same creatures that their Aboriginal neighbours relied on for food and medicinal purposes.
"Sea otters have changed things quite a bit around here," says Jack. "They eat everything that we used to eat." A stocky, friendly man who makes his living transporting kayakers around Kyuquot Sound, Jack gets a bit tense when talking about sea otters. He reminisces about collecting abalone and sea urchins for communal feasts. "The whole tribe would come together to eat them. Elders would go nuts over that stuff. Now they're all gone. My mom would take me out on the rocks in the summer, early in the morning when the tide was out. We'd walk along the rocks and get a bucket of abalone. We'd eat them raw or fry them up with butter. Now my kids don't know what they even taste like."
What Jack doesn't say is that abalone were over-fished by commercial harvesters well before sea otters had a chance to have an impact, but his claims about sea urchins are backed by scientists and observers on all sides of the issue.
'How we made a living'
Although he misses the taste of abalone and urchins -- soft, milky, kind of sweet -- Jack is particularly rankled by the otters' more recent attack on intertidal clams -- the Kyuquot's only substantive commercial fishery.
"There used to be manila clams on every beach on the coast," he says. "That's how we made our living in the winter besides logging." Since the otters' reappearance, Jack says there have been few wild clam openings. Even then, digging has been restricted to a single beach. "I'd trade otters in for the seafood any day."
Roger Dunlop, a scientist from Calgary who is now employed by the Nuu-chah-nulth Tribal Council, supports Jack's claims. As the tribe's northern region biologist, Dunlop spends a lot of his time studying the coastal ecosystem. "The intertidal clam fishery was one of the last remaining artisanal fisheries that required no investment other than a small speed boat, gum boots, a raincoat, and a rake," he says. "Once the otters cleaned out the urchins and other shellfish in Kyuquot, they started eating clams, so now there's even more competition between people and otters. A lot of people in Kyuquot feel that their rights are secondary to these animals."
Tomorrow, the second of two parts: From endangered species to resented predator. The legal challenge to protecting otters off B.C.'s coast.
Related Tyee stories: