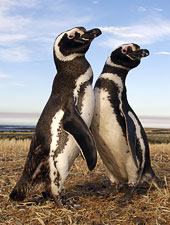 Let me pose a question that no government has dared ask the fish farm industry, so I'll do it for them:
"What is the connection between farmed salmon and the Magellanic Penguin?"
It's been proved that fish farms attract hundreds of thousands of sea lice, so many that they are slaughtering wild salmon smolts in the hundreds of thousands.
We know that the farms dump all manner of dangerous crud (forgive the technical term) on the ocean bed including excrement, antibiotics, dyes used to give their fish the customers the colour they wish as well as highly toxic chemicals to get rid of the sea lice they deny having in the first place. Farmed salmon escape and have taken to breeding in our streams and rivers pushing wild salmon off the spawning beds … and they are bad for your health.
A fish has to eat
But I digress. Back to those pesky penguins.
In the January 5 edition of Science magazine there is an article which should raise troubling questions. I'm grateful to Craig Orr, Ph.D., Executive Director of Watershed Watch Salmon Society for the article.
Let's start with a fundamental fact: Atlantic salmon must eat. Farmers know that and have found that anchovies work nicely to keep their charges happy. It is, to the farmers and our governments, irrelevant that it takes five kilograms of fish like anchovy to make the feed necessary to produce one kilogram of farmed salmon.
Before we go further, well you might ask why the hell are farmers using somebody else's protein -- five pounds of protein in the form of anchovies for one pound of protein in farmed fish? David Suzuki has been asking that question, in vain, for many years.
The anchovies have been fished to a highly dangerous level for off the Peruvian and Chilean coast and now the fish farmers are turning more and more to Argentina.
Heavy on the anchovies
Here's what four prominent scientists have to say in Science:
"The Patagonian coast is famous for its charismatic megafauna—Magellanic penguins, southern right whales, southern elephant seals, and southern sea lions— but the small, less charismatic southwest Atlantic anchovy is a key trophic link in the ecosystem. Overfishing anchovy could disrupt energy flows in the southwest Atlantic ecosystem, harm other fisheries and wildlife, and damage the valuable ecotourism sector....
Rising global demand for fish meal could fuel unsustainable anchovy fishery expansion on the Patagonian coast. Global aquaculture, which uses feeds manufactured from fish meal, increased by 50% between 1998 and 2004, and will likely continue to grow. Uruguay recently approved a Chilean-financed factory to process 200,000 tons of anchovy into fish meal. An increasing human population will create even greater demand for protein and nutrients derived from harvest of forage fish like anchovy.
The southwest Atlantic anchovy (Engraulis anchoita) is a crucial intermediate step in the flow of energy through the food web, dominating the level between tiny plankton and much of the wildlife of the Patagonian shelf. Commercially important fish and cephalopods, penguins, cormorants, terns, sea lions, and dolphins prey on the anchovy. Anchovy compose more than half the Magellanic penguin diet in the province of Chubut. The penguins also eat Argentine hake (Merluccius hubbsi), one of the commercially important fish species that prey on anchovy.
Anchovy populations are naturally quite variable, and longer-lived predators are able to cope with this variability -- as long as good years follow bad ones."
Local is global
The point?
First, the anchovy population is critical to many species in the region's eco-system.
Secondly, the Atlantic Farming industry in British Columbia is a dirty industry no less than a coal fired energy plant is.
And, finally, when you eat that farmed salmon remember that you're munching on anchovies that should be in the beaks of those Magellanic penguins.
Unhappily we tend to look upon farming Atlantic salmon only in terms of our own environment whereas the fish farmer's footprint pops up half way around the world.
As long as our environmental attention is keyed in on Kyoto, the day to day despoiler of our environment will pollute away and seldom, if ever, be called to account. And until enough of us understand this, fish farmers and other abusers of the environment will continue to get away with it.
By all means, look to Kyoto. But we must also keep our eyes on local stuff that we can and must do something about. For as we move to save our wild salmon from execution from fish cages we're helping to save a lot of critters who live a long way away.