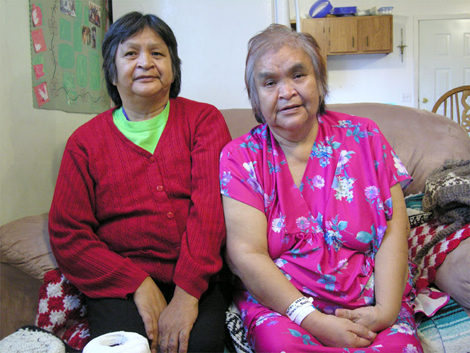 Winnie John and Rosie Swan live in Ahousaht, a community of about 400 nestled on the dark forested shores of Flores Island, an hour's boat-ride north of Tofino. As children, the two sisters both spent time at the Christie Residential School on Vancouver Island. As a result, both are now eligible for compensation under a multi-billion dollar federal government plan. (For more on the compensation program, read Part 2 of this series, in yesterday's Tyee.)
Swan now 69, only spent one year at Christie. But after their mother died, John, nine years Swan's junior, spent the remainder of her childhood at the school. "I went to that school for nine years," Swan said. "No summer, no Christmas, not even allowed out for funerals. We weren't allowed to talk to the boys, even if it was our own brother."
Both sisters say they didn't learn much about reading or writing at the school. Most of their time was spent washing dishes, cleaning and mopping, or learning how to sew and knit. So while lawyers are scrambling to get a piece of the compensation billions, former students such as John and Swan are struggling in an information void, lost in paperwork they don't understand and unsure of how to get their money or how to avoid losing an unfair share to an attorney.
There is a growing controversy over the fees -- which could total more than a billion dollars -- that lawyers stand to make off the residential schools file and the tactics they use to sign up clients. There are alternatives to the high commission fees available to former students, such as John and Swan , but, for now, many survivors face a confusing bureaucratic path on the way to claiming and receiving payment.
Lawyers top source of info
At home in Ahousaht, John and Swan have many questions about the compensation process. The government has made some information available on the Internet and on toll-free phone lines. But this hasn't worked out for them. Neither has access to the web or a phone. John once called the 800 number at a neighbour's home, but the line was disconnected before she received a reply.
For many former students, everything they know about the compensation process comes from lawyers. Lawyers who, not incidentally, stand to earn thousands of dollars for each new client they sign up. The Merchant Law Group, a Saskatchewan-based firm, represents more former students than any other group. (The firm is locked in a battle with the federal government over exactly how many clients they have, a battle that is delaying the entire compensation process as reported in Part 2 of this series.)
Merchant Law long ago scooped up the website www.residentialschools.ca. The site offers two options for pursuing a claim: a toll-free number and a fill-in form. Closer to home, a Victoria-based lawyer pays for large, simple advertisements in bold print in the Nuu-chah-nulth bi-weekly Ha-shilth-sa newspaper.
"RESIDENTIAL SCHOOL COMPENSATION AND HEALING PLANS: FIND OUT WHAT YOU ARE ENTITLED TO," reads the ad.
'In need of healing'
Merchant Law also uses direct mailing to solicit clients. This despite a directive issued by the Canadian Bar Association in 2000 recommending that lawyers "not initiate communications with individual survivors of Aboriginal residential schools," pointing out that survivors "are often vulnerable and in need of healing."
Billy George Keitlah Sr., who has only just started to remember and talk about the sexual abuse he suffered for years at the hand of a male teacher during the 1950s, recently received his fifth solicitation package from Merchant. The fourth package, sent by a Surrey-based MLG lawyer in January, includes:
a six-page cover letter (single-spaced)
an eight-page questionnaire, with questions and sample responses such as: "What part of their body touched what part of your body? (His hand touched my genitals. His penis penetrated my anus. Her hand fondled my genitals, etc.)"
a three-page contract with a schedule of fees that range from 30 to 40 per cent (depending upon when and how the case is resolved) plus expenses, with a yellow and red "SIGN HERE" sticker.
The fifth package, dated in November, but only mailed February 6th, is signed by Tony Merchant himself. It contains a one-page letter and a two-page contract, offering a flat 30 per cent fee plus expenses.
Merchant defends the direct mailing and the abuse questionnaires. He feels that the CBA guidelines, drafted in 2000, are outdated. Merchant believes that survivors with the most serious abuse claims secured lawyers long ago, so that the ones he is contacting now, for the most part, represent less serious claims. As for the questionnaire, he says, "We think that it is gentler for someone to sit in their office or in their home and work on a form, than to have them feel that they are being grilled about these things by being asked lots of questions."
Although Merchant cannot explain his Surrey lawyer's formula for the sliding 30 to 40 per cent retainer fee, he promises that no MLG client will pay any fee higher than 30 percent for claims settled though the formal government settlement process (although cases settled outside of that process may attract higher commissions).
Thousands for survivors, millions for lawyers
The lawyers have good reason to solicit clients. Under the agreement signed by the government, a total of $80 to $100 million has been set aside just for the firms involved in the original law suits. But that's just the first part of the story. The fees for negotiating the agreement pale compared to what's now on the table.
Former students who were sexually or physically abused in the schools can apply for additional compensation through something called the Independent Assessment Process. No one knows exactly how many survivors will apply through IAP, but individual awards could range from $5,000 to $525,000. The total cost of the program is expected to be in the range of $2 to $3 billion. That is on top of the $1.9 billion set aside for all former students, regardless of their experiences.
To get an IAP award, former students have to recount their experiences at a hearing. As a result, many have contracted, or will end up contracting, a lawyer. Typical lawyers' fees for settlement of residential school claims range from 30 to 40 per cent of the award value. (Those applying through IAP will have 15 per cent of it covered by the government, on top of any award). Add it all up and you could have lawyers walking away with one third of a $2 to $3 billion package, up to $1 billion.
The IAP process is designed to be straightforward. If someone like Keitlah, who suffered severe and repeated sexual abuse over a long period of time, applied, his award would probably be at least $150,000. Thirty per cent plus commissions may be standard and fair for new legal cases, but the IAP process will be a set procedure and likely shouldn't take months of a lawyer's time. Given that, it's hard to see how the billable time put in, or the actual value of service, can justify a $50,000 plus fee.
There are other options for former students. They can contract lawyers to work at an hourly rate instead of for a percentage. They can also pursue a claim without a lawyer (other than to sign the final documents), using someone else that they trust to help fill out the forms if necessary.
Billy Keitlah reads and writes well, but when the Tyee interviewed him, he knew of none of these options. Most of the information he has received came from the Merchant Law Group.
Lawyers 'laid the groundwork'
Back in Ahousaht, Winnie John and Rosie Swan wait to be compensated for crimes committed many years ago. Both women say that they filled out a lot of forms last summer. But they don't know what the forms were -- whether they were just submitting information, or applying for actual compensation. They don't know why no one has got back to them, or what the "hold-up" on their money is.
Billy Keitlah meanwhile, is philosophical about the role lawyers have played in the compensation process. Despite the disparity between the amounts some firms stand to make and the total awards he and fellow survivors can expect, Keitlah is quick to acknowledge that they deserve to get paid. "Without the work they did, none of us aboriginals would have got a cent," he said. "They laid the groundwork, put their necks out. No one else was doing that for us."