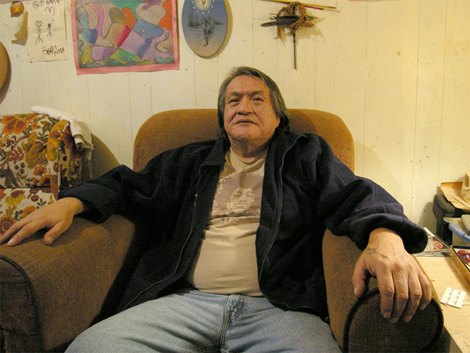 [Editor's Note: This is the first in a three-part Tyee series on Vancouver Island survivors of Indian Residential Schools and their rocky path towards compensation, by Tofino writer Jacqueline Windh. In today's story we meet one man who, despite years of abuse, doesn't want the government's money. Tomorrow, how the compensation program came to be and why no one has yet been paid. Friday, why a small group of lawyers are the big winners in the compensation game.]
Billy George Keitlah Sr. comes from a line of hereditary chiefs of Ahousaht, one of the Nuu-chah-nulth tribes on western Vancouver Island. (His son now carries his chieftainship.) Keitlah attended the Port Alberni Residential School for five years, from grades two through six, during the 1950s.
For most of his life, Keitlah couldn't remember what happened to him at the school. In fact, he didn't even remember being there, or ever seeing his four brothers and sisters who were sent there with him. "It's very scary, when you can't remember several years of your life."
Keitlah worked for the Coast Guard for 35 years. Even early on in his career, what happened to him in the residential school affected his work. "I couldn't be skipper," he says. "I was always getting angry at the crew, swearing at them, giving them the same language back that I got at school. There's no place for that in search and rescue. I did all my training -- but I bypassed all the promotions. Because I realized I had issues."
So Keitlah stuck to driving the little boats.
In his last years with the Coast Guard, specific memories of what happened to him as a boy resurfaced. Little, seemingly random triggers brought things back: driving through Port Alberni and seeing the leaves change in fall; meeting a woman with the same last name as a teacher in the school.
Keitlah started drinking between shifts. When he retired, four years ago, there was no longer any reason to stop drinking. He stayed drunk for two years.
"I told him that he had better start looking at his residential school issues," says his wife, Annie. "He used to say that he couldn't remember anything. But one night when he was drunk, he told me that they'd raped him."
At a sober moment, Annie told her husband what he'd said. And he listened. Keitlah has been sober for close to two years now -- but that has been just the beginning of his pain. With sobriety has come a rush of new memories and an acute lack of confidence. For the last two years Keitlah hasn't left his house. He passes his days in a little room at the back of his basement.
One of thousands
Billy Keitlah is one of approximately 100,000 First Nations children who attended Indian Residential Schools in Canada over more than a century. There are about 80,000 of them still alive today. And while all are eligible for compensation under an agreement with the federal government, some, like Keitlah, aren't sure they want the money.
To date, only a handful of survivors have received payment. The few who have been paid fought for years, and had to sit through hearings in which they were required to recount traumatic events from their childhood. Now the compensation program is stalled by dispute. The money is frozen, and, as will be reported later in this series, lawyers stand to earn tens of millions of dollars while survivors cap out in the thousands.
Beatings began with the strap
Sequestered in his little room, Billy Keitlah has allowed the memories to flow as easily as the tears, and he has written down everything that he can remember -- 29 pages of handwritten script, penned in stages over the years. Early instalments begin with easier memories: growing up in Ahousaht, being sent to Port Alberni. Later chapters delve into the darkest parts of the past. His voice shifts back and forth from present to past, and from adult to little boy.
"WHACK. WHACK. WHACK. WHACK. [The teacher], breathing heavily, tried to hit me harder with the strap. 'Are you going to stop using that language?' Going beet red in the face, his face matched the red hair on his head. 'What were you saying?' WHACK...[The teacher] was a very angry man. He stunk real bad."
Keitlah believes that he was singled out for abuse because he was next in line for hereditary chieftainship.
"The government knew who they were dealing with when they took our family from Ahousaht. They knew if they disrupted the chief's lineage they could seriously undermine the hereditary system of governance."
In Keitlah's culture, language is tied intimately to the teachings of his grandparents and the ancestors, to sacred songs and dances and to prayers to the creator Naas.
Keitlah's account recalls how the beatings started with strapping his hands.
"The abuse began to get worse, as my language couldn't be erased from my brain or speech. It was my first language -- what I thought in and tried to forget but couldn't...The system couldn't break me from using my first language. It was too much for [the teachers]. They began my years of abuse, constantly belittling me, always putting me down, calling me names. Trying to make me an example of someone they wanted to break."
Over the years, the beatings became more violent.
"My hands could take the pain, but my bum was hurt more from the straps than my hands were. They got to my inside and knew they had me beaten. When I was hit on my lower back with the strap -- the pain seemed to sear my soul. I promised to forsake my language. I promised to forget all that happened. I would have promised anything to never feel pain anymore."
The beatings on Keitlah's buttocks led to the night visits by [one of the teachers], visits "to make you feel better."
Keitlah says he isn't comfortable having the words he has written used for this article. "But I think it needs to be said, what happened," he says. "We can't just keep sweeping this under the carpet."
Keitlah refers to Maher Arar, who has just been awarded a more than $10 million dollar settlement by the Canadian government for torture experienced while confined in Syria. "I don't want to compare one suffering to another. What happened to Arar, if they tortured him, he deserves every cent of his award." His eyes well up and he pauses and swallows.
"But just the price of what they're paying him and how quick they were to apologize to him...The Prime Minister himself! It is hard to look at it and compare it to what we've gone through."
Doesn't want the money
Billy and Annie Keitlah are fighting to keep their home, where they care for five of their grandchildren, from being sold from under them. When Billy was drinking and Annie was just surviving, they fell behind on their tax payments.
Keitlah knows that, under a compensation program set up by the Federal government, he is probably entitled to $150,000 or more. [For a breakdown of the federal compensation formula, see sidebar.] But in spite of the family's financial problems, he's not much interested in it. "I wouldn't feel proud getting that money," he says. "Who figures out what each act is worth anyway, that point system? Who arrives at that figure? It's like a prostitute putting $50 on each time she is fucked."
To some residential school survivors, though, the money is important. "No matter what anybody says, money is a great help," says Matthew Williams.
Williams has just testified at his sixth (and supposedly final) hearing, and expects to hear soon how much he will be awarded. "You can do a lot with money, to help yourself move on and get over it."
Still, for others, it is the acknowledgement of what happened and an apology that are most important to any sort of resolution or closure. "In order for me to feel relieved, the government, the church, the brothers and sisters who abused me, they would have to face me and apologize," says Brian Lucas, a Hesquiaht who attended Christie Residential School for seven years. For Brian, a written apology would not be sufficient. "They've got to come to me and face me, to see how I'm living today and what affects me today and why. There's a place in my heart for forgiveness, but not until that happens."
Keitlah says that sobering up, facing his memories, and writing it all down is helping him work through what happened. He can feel his body finally letting go of something that he had held for so long.
"I'm not going to get rich," he says. "To me the money means fuck all. I just want people to know what we went through. I think it was way worse than what Arar went through. Look at him, he's out in the public talking about it. I can't go out in public."
Tomorrow: How the compensation program came to be and why no one has yet been paid.