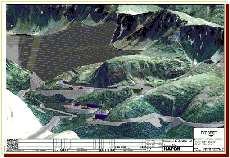 A controversial plan to turn a northern BC fish bearing lake into a dumpsite for mine waste has a coalition of four First Nations calling foul on government's responsibility to consult and accommodate.
This unprecedented plan to kill a lake by filling it with acid rock has many others in the north questioning the decision-making process in the mining industry.
The project, now being scrutinized by a federal-provincial joint review panel, is being pushed forward as the Liberal government touts 300 regulations cut from government services such as mining, forestry and consumer protection.
Kemess North is the second phase of Northgate Exploration's remote mine holdings 250 kilometres northeast of Smithers, BC. The new project is set to produce 120,000 tonnes of ore per day, up from 55,000 at the existing Kemess South.
First Nations, which include the Gitxsan, Bear Lake, Kwadacha, Tsay Keh Dene and the Takla Lake First Nation, say the project shouldn't even have reached the review stage.
Under current federal fisheries legislation, it is illegal to wipe-out a fish-bearing lake, which is exactly what Northgate Explorations is proposing to do.
"How many lakes are you going to destroy?" asks Grand Chief Edward John of the First Nations Summit, who support the northern chiefs in their concern.
'A toxic business'
If the plan goes through, the lake which streams into the Finlay River, would never be recovered. And if something goes awry with the tailings, this could threaten an entire watershed used extensively for hunting, fishing and trapping by the area First Nations. Is this considered sustainable, John asks.
"Mining development is at best a toxic business."
He says First Nations in the area are not opposed to all development, but John reminds us of the Supreme Court of Canada ruling in the Haida case last November which stated the government can not continue to run roughshod over aboriginal rights.
"Deregulation butts up against the government's obligation to consult and accommodate aboriginal rights," he says.
The controversy over the Kemess proposal highlights a broader controversy building in BC's mining regions over how much say local residents should be given over mining projects in their own backyards.
Enviro assessments now 'discretionary'
The mining industry has seen major growth over the last six years, says the president of the Mining Association of BC, Michael McPhie.
There are now 14 potential mine projects in various stages of review and development, he says, which represent $2.4 billion in capital investment over several years, 2,800 new direct operational jobs and many more spin-off jobs in construction, services and supplies. This compares to the one lone mine under review in 2001.
Investment in mineral exploration in BC topped $130 million in 2004, four times the total for 2001. More than 47,000 mineral claim units were staked and recorded in BC in 2004, the most in 13 years, says the BC government's deregulation website. This growth is largely due to high commodity prices that many say is thanks to huge demand from China.
Keep the lights on, said a Mining Association of BC ad during the election, "Find out where your candidate stands on mining." But according to some, it is the public who are being left in the dark.
Mining watchdog Glenda Ferris says it is more and more difficult for the public to access information like mine plans and reports on the potential impacts of proposed mines. This is a direct result of Liberal laws and policies introduced since they were first elected in 2001, says Ferris, who helped found the Environmental Mining Council of BC.
Ferris, who lives in the Bulkley Valley Stikine riding where large mining projects such as NovaGold's Galore Creek, BC Metal's Red Chris Project, and Redfern's Tulsequah Chief mine are at different stages of development, is particularly concerned about the changes to environmental assessment process.
According to a West Coast Environmental Law report, under the new act or Bill 38, environmental assessments (EA) are now discretionary.
"If the executive director of the EA office considers that a project will not have significant adverse environmental, economic, social, heritage or health effects, the project can proceed without an EA. The new Act does not identify a process by which this internal determination will be made, and there are no safeguards to ensure that decisions will not be politically driven."
Prices zooming
Understanding the potential impacts of mining requires a level of technical knowledge beyond most residents who might be affected, noted Ferris. She points to a recent headline in The Interior News in Smithers: "No acid mine drainage." The headline reflected assurances made at a town meeting by the CEO of Blue Pearl Ltd., which wants to start a molybdenum mine in the area.
Ferris claims CEO MacDonald, didn't tell the whole story to the mostly supportive crowd at a community meeting held in April.
According to Ferris, molybdenum mines leech metals not acid. In fact, she says, a closed moly mine in Peachland, called the Brenda Mine, is still leeching toxins into water, causing copper deficiencies in cattle who eat hay watered with the contaminated liquid.
Jim Borland, investor relations director with Blue Pearl, says the mine is still in its conceptual stage, and the company doesn't have enough information for a mine plan yet.
Molybdenum, an alloy used to strengthen iron and steel, is now listed at US $35, up from a low of $5 a few years ago. These favourable prices, the quality of the deposit and ease of access to the rail line a kilometer or two away make this property attractive.
Getting at the deposit, which is deep within Hudson Bay Mountain, the behemoth backdrop which gives Smithers' alpine-village theme a sense of legitimacy, means tunneling, and this, Ferris says, means disturbing rock – always a potential source of acid.
Borland says environmental tests are being done as we speak, which will lead to a feasibility study to be completed by mid 2006 and mine development to begin early 2007, and production a few months later.
Ferris wonders whether the public will be able to see the results of the thousands of tests that must be done.
She remembers when the Telkwa Coal project was under review in 1996, the website would be updated routinely with reports like geochemical analysis and geotechnical reports.
Under the new EA act, public access to these documents is also discretionary.
Mining firms want faster decisions
Ferris says she is even more disturbed by the Kemess North lake-killing proposal that has roused First Nations opposition.
Ferris says something like this hasn't come up in the mining industry since the 1950s and the possibility of Northgate being allowed to dam a natural lake to use as a tailings pond sets a dangerous precedent.
"There hasn't been near enough public dialogue about the implications," she says of using an existing aquatic ecosystem instead of building a tailings pond.
The mining industry has a different perspective on the environmental assessment, but they are dissatisfied too. McPhie says the environmental assessment process doesn't necessarily lead to better decision-making about mining operations, just longer timelines.
With the Kemess North project, he says industry is frustrated because a public review panel was agreed to last August, but it took until May to get the process underway. This, he says, was a hold-up on the federal government's end.
McPhie also thinks the environmental assessment process is too focused on the environment and not enough on the economic and social sustainability of projects. He thinks there needs to be a better balance.
"There is always and upside and a downside when people see so much activity going on. It was very quiet for a number of years… with new projects on the horizon, a big thing for us, as an association and an industry, is to make sure we are interfacing with the groups we are working with," says McPhie.
As for exploration, internet claim staking introduced in January means at the click of a mouse companies have the right to set up camps and drill for samples in some of the most pristine regions of northern BC.
Loss of government staff in places like Smithers means no one is monitoring where camps are located, or whether exploration teams leave drill cores and other detritus around.
According to a 2002 Mining Watch Canada report called "Below the Surface," over the past ten years there has been a 60 to 70 per cent reduction in environmental protection agencies. While cuts to the Ministry of the Environment started with the NDP, in 2001 the Liberals dealt a serious blow by eliminating at least 1,000 positions in the department which they renamed the ministry of Water, Land and Air Protection.
Natives call for mining moratorium
Liberal policy changes have also left First Nations with no funding to become involved in the process.
Already overwhelmed with stacks of resource project documents to review, it is not surprising that some First Nations in the north have called for a moratorium on mining activities in their territory.
The Tzalten Nation north of Fort St. James issued a moratorium on new mining activities in their territory after Teck Cominco, the federal and provincial governments failed to act on a tailings dam break in November 2004, which saw anywhere from 6,000 to 8,000 cubic metres of rock, dirt and waste water spill into Pinchi Lake.
This is only the latest in a long saga of trouble the Tzalten have faced since the now-closed mercury mine was open in the 1940s and 1970s. Fish-eaters, now up to 99 per cent of Tl'azt'en people have suffered health problems from mercury poisoning.
In Tahltan territory, elders have taken over the band office, protesting a recent agreement with the provincial government, which they fear will enable Gordon Campbell's Liberals to fast-track three massive mining projects, a gas field, a hydroelectric dam and possibly a controversial road to the Alaskan coast.
They issued a moratorium on all resource development in their territory in February.
The Taku River Tlingit have been trying to prevent the re-opening of the Tulsequah Chief copper-gold-zinc mine on their traditional territory since 1987. The original mine operated by Cominco Ltd, is now owned by Redfern Resources.
The big controversy here is the proposed 160 kilometre road through the undisturbed watershed. Not only will this road cause extensive damage to fish and wildlife habitat, but it will open the way for even more mining projects already on the books.
Although Redfern had been approved to go ahead with the mine after a lengthy environmental review process which was later appealed and then upheld in the Supreme Court of Canada, is now citing financial difficulties due to high construction and operating costs. The company recently decided to put the mine on hold for another couple of years while they do more exploration in hopes of increasing the mineral property.
Open roads?
One of Gordon Campbell's election promises was a $2.5 million pledge to complete an environmental assessment of a different northern road, the proposed Stewart-Omineca resource road, a project that would see a connector between Mackenzie, north of Prince George, and the open port at Stewart.
This would save Northgate millions of dollars each year in transportation costs from Kemess North and South says Ferris. Presently they truck and barge ore to Prince George and ship by rail to ports.
"This road gets them straight to tidewater," she says.
Although they are the only company operating in the area, Northgate insists the road is not for them and it is the government who intends to pay for the project.
The road is a contentious issue for some Gitxsan hereditary chiefs, who don't want to see their territory opened further to resource extraction.
Roads are like death by a thousand cuts says Ferris, citing impacts on wildlife and fish bearing streams. "You make that profound land use decision to open a mine and you make two or three errors along the way and everybody is paying for a long time afterwards," Ferris says.
Ferris lives down stream from the Equity Silver mine which shut down in 1994. A security bond pays for the ongoing maintenance of the contaminate site, but the risks will not go away for 500 to 1000 years, she says.
Big BC Liberal donors
Mining companies, led by giant Teck Cominco, have given more than $750,000 to the Grits. Northgate has donated over $30,000 since the Liberals were elected. NovaGold and Redfern have also chipped in.
Even the NDP support mining. Gary Coons, the North Coast MLA says his party supports the "one window" permit and review process, a sort of one-stop shopping for mine developers, which the previous NDP government set in place.
But the amount of development being proposed in the north has turned up the strangest bedfellows. In the Upper Kispiox Valley, an unlikely group has come together to protest resource development in the north, this time coalbed methane drilling in the headwaters of three great rivers, the Skeena, the Stikine and the Nass.
The Skeena Watershed Conservation Coalition is comprised of what fourth generation resident Shannon McPhail calls farmers, hippies, big-game outfitters, environmentalists, miners and fishermen.
"It is the unlikelihood of this union that has made people realize there is something to be concerned about," she says.
McPhail believes few mining jobs go to locals. And although public consultation was listed as a number one priority in the tenure acquisition, three wells were drilled in the wilderness area before anyone knew gas rights had been sold.
Borland, of Blue Pearl, underlines the mining industry's interest in engaging the public, but didn't give any dates for the next consultation in Smithers.
"We want to know what the issues are so we can address them. Without local support, no commercial venture is going to go very far," he says.
Grand Chief Edward John agrees with this sentiment and suggests both the federal and provincial government pay heed to their duty to consult with First Nations when aboriginal rights are in question.
Demanding more consultation
As it stands, the Kemess North joint review process allows First Nations and a limited amount of other participants to apply for travel money to attend the meetings. John and the other chiefs say they need to do their own independent studies to determine the impacts on the territory and they need to be consulted in a government to government manner on this and other resource development concerns.
"Do you deal with it on a case by case basis in the courts? Are you going to risk ongoing confrontation and blockades? How do you conduct business when you have two conflicting authorities?" John asks.
"We need to re-examine how government dialogues and listens to us," says Ferris, "and not just by talking to the mayors of these towns. People live in rural areas too. Whatever real catastrophe happens on their watch, we will all be living with it forever."
Heather Ramsay, based in Queen Charlotte City, is a contributing editor to The Tyee.