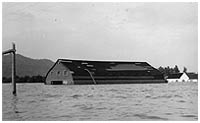 [Editor's note: Chris Wood, a National Magazine Award-winning writer on climate change and water resources, has been looking into what British Columbians can expect from global warming for this series funded by a Tyee Investigative Reporting Fellowship. Today we publish the first two of his reports, with three more to appear on consecutive Thursdays. To learn more about Wood, his series, and Tyee fellowships, go here.]
Here is how the nightmare could unfold in just five years:
The warning that dikes along the Fraser River might be too low to withstand the next big flood, first brought to wide attention by The Tyee in August 2006, fades beneath a sea of public indifference as a dry summer passes into a normally damp winter. Faced with spending more than a million dollars a kilometre to bolster flood defences, governments at all levels order more studies and the issue drops out of sight.
If anything, the political focus soon shifts to water restrictions, as two more years of below-normal precipitation follow. The summer and fall of 2009 break records for consecutive rainless days. The organizers of the 2010 Games bite their nails down to the last minute, then call out snow-making machines to provide the powder top skiers expect. The Games go off in grand style, but our post-Olympic hangover is made worse by continuing drought. More records tumble the following summer as temperatures soar into the 40s inland and even on the coast.
In late June, 2010, lightning ignites forests turned to tinder by the pine beetle. Flames engulf entire mountainsides, overwhelming exhausted fire crews. By July, the woods are burning from Manning Park to Quesnel. CNN runs satellite video of a smoke plume visible from space that extends as far as Greenland.
In the Lower Mainland, dwindling North Shore reservoirs compel the GVRD to ban all outdoor watering. Municipalities threaten to fine anyone caught washing a car. Wells run dry in East Langley and elsewhere, forcing municipalities to truck in drinking water. Optimism among biologists and fishermen for a larger-than-expected run of sockeye turns to despair when millions of fish perish in the depleted, over-heated Fraser. Abnormally dry days and warm nights continue well into October.
Warm, wet air finally sweeps across the coast in November. Gauges measure record rainfall in the mountains. But relief ebbs when burned-over slopes become unstable, triggering a rash of landslides. Earth torrents block dozens of spawning streams and send thousands of tons of silt cascading into Lake Coquitlam. The GVRD is forced to close its biggest reservoir to let the water clear, switching eastern suburbs over to supplies drawn from the diminished Seymour and Capilano reservoirs. The rain continues, but water restrictions still last into the New Year.
After weeks of unusually mild temperatures, the mercury finally drops in late January 2011. By February, skiers and boarders rejoice as Whistler and other resorts report record snow packs. But then April turns abruptly warm, bringing with it a late-season "Pineapple Express" of moist, warm air. Drenching rains coincide with a rapid melt of the unusually heavy snow.
On May 1, officials issue a flood warning for the lower Fraser River. As the grey flow inches relentlessly toward the crest of hastily reinforced dikes, the warning is overtaken by evacuation alerts. Those culminate on May 7 in compulsory orders to abandon parts of Chilliwack, Mission, Barnston Island, Fort Langley, Maple Ridge and Port Coquitlam. Twenty-five thousand people flee their homes.
Overnight, floodwaters breach the river dikes in several places. Raging waters wash out portions of the Trans-Canada Highway, south, and Highway 7, north of the Fraser, both transcontinental rail lines and a main power transmission line. Eighteen hours later, the flood reaches undiked Annacis Island. Operators are forced to shut down one of the GVRD's two main sewage treatment plants.
By the time the flood crest recedes, British Columbia's largest city is cut off from the rest of Canada. Three hundred thousand people are without power. Nearly as many more lack drinkable water or useable toilets. An oil slick rides atop billions of litres of raw sewage flowing into the Strait of Georgia along with the last of the flood waters. Damage exceeds the infamous hurricane strike on New Orleans back in 2005.
An alarmist scenario? Probably. Could it happen? Certainly.
Sobering warning
Weather is variable. Climate, for all the research being devoted to it, is still a complex and imperfectly understood beast. But the events imagined above are fully consistent with the picture emerging from recent weather trends and increasingly confident climate forecasts. Indeed, the scenario I've painted leaves out a few twists, such as a sudden storm surge up the Fraser from an extended bout of onshore winds.
And one element of the foregoing narrative is not at all imaginary: the warning that a flood on the Fraser could breach the existing dikes. As reported in The Tyee today, a study soon to be released by the Fraser Basin Council indicates that a recurrence of historic high flows on the lower Fraser River would produce water crests as much as 1.6 metres (five feet) above the worst-case "design profile" that dikes along the river have been engineered to resist. The dikes themselves are as much as one metre (three feet) too low to protect portions of Mission, and stretches up- and down-river from there, against a recurrence of the worst flood in our history. And all that is before factoring in the effects of climate change.
In fairness, those effects are still imperfectly understood. That does not mean -- as some skeptics have it -- that climate change as a phenomenon is in dispute. It does mean that the impacts of a 1-2°C rise in average global temperature, the minimum we can expect in the first half of the present century, are hard to predict with absolute precision on the scale of a season or a particular river basin.
Bad weather trends
But we do know a few things. Weather in British Columbia is driven largely by annual oscillations in the atmosphere over the Arctic and longer-term changes in air pressure over, and water temperature within, the Pacific Ocean: the well-known "El Niño" effect and less well understood "Pacific Decadal Oscillation" (PDO). These rhythms combine in ways that may reinforce or reduce their respective effects, as well as that of "greenhouse" gasses in the atmosphere like carbon dioxide. A "warm" El Niño may partly counter-act a "cool" PDO. El Niños alternate with their cool sister 'Niñas' on a relatively short cycle of a few years; the PDO lasts for decades before switching from "warm" to "cool." The warming effect of greenhouse gasses, meanwhile, seems to be following an undulating upward trend, with some evidence the trend is accelerating.
Put them all together, and we can look forward to some quite specific kinds of changes in the weather, even if we still can't say just when a particular example will strike. Most of these changes, in fact, are already evident in weather observations taken over the last few decades. Again, here are some things we know:
The "wet coast" is getting wetter, on average. According to Indicators of Climate Change in British Columbia, published in 2002 by the provincial government, precipitation has been increasing in southern B.C. by two to four per cent a decade.
More of this moisture is arriving in a relative few intense storms. These seem to be more common in the spring.
But we're getting less snow. In Vernon, where records go back fifty years, water engineer Bob Campbell, reports that "Every decade the water equivalent of the snowpack has declined."
Dry spells are getting drier, with winds drawing more moisture out of soil and vegetation as temps spike (think back to the July 21st weekend); they may also be lasting longer.
Spring is coming sooner. The moment of peak flow on the Fraser River has inched earlier by about a week, on average, since records were first kept.
Amid these general changes, the variability of day-to-day weather -- the fierceness of individual rainstorms, daily highs and lows of temperature -- is also ramping up toward the extremes.
Although not strictly a matter of "weather," at least not locally, warming in the Arctic and elsewhere is turning frozen icecaps into liquid and causing water molecules already in the oceans to expand. For that reason, emergency planners consider a rise in the level of the Strait of Georgia a longer term, but more certain threat than almost any other climate prediction.
Two more considerations round out the big picture. The first is that the Pacific Decadal Oscillation appears to be on the verge of one of its periodic rollovers, from "warm" to "cool." That could partly offset the effect on our region of global warming (otherwise forecast to be more pronounced over western North American than the east). But it is also predicted to bring even more precipitation, further driving up the risk of floods.
The second thing is that while any of these effects may bypass us in any given season, they may also combine, in costly ways. Extremely heavy rain may follow on weeks of drought, with the result that soils cannot soak up water fast enough to restore depleted aquifers. An ordinary windstorm may pile up heat-swollen seas in a storm surge that coincides with a spring tide, and do so just as a rain freshet crests in the Fraser River, testing the dikes around Sea Island and Richmond. You can play the game of mix-and-match with a hundred different scenarios.
Not ready
Are we prepared? In a word, no.
Or it might be kinder to say, "not yet." In fact, a remarkable amount of research, study and innovation on pilot scales is under way to equip British Columbia to cope with the weather ahead. This is especially true with respect to water. On that score, "we're a centre of innovation," insists Kim Stephens, who runs a program jointly sponsored by government and industry to encourage "water-centric" urban development.
Anna Sears, who recently moved back to Canada from California to provide staff support to a newly created Water Stewardship Council in the Okanagan, agrees with him. "I think British Columbia is ahead of the curve and doesn't know it," she told me.
I'll have more to report on what they and others are doing in future instalments in this series. But even optimists admit that measures to prepare for what's to come are still more concept than action. And there are huge gaps in key areas of what we need to know in order to respond effectively. About a quarter of British Columbians, for instance, rely on wells for water. Yet we know almost nothing about how much is being drawn out of aquifers or how those are connected to surface streams; more on that as well, in a future report.
The potential for a catastrophic flood on the Fraser River is a particularly powerful case in point.
Some time in the next couple of weeks, local authorities, emergency planners and First Nations from Hope to Richmond will begin to receive the results of a study that the Fraser Basin Council has been conducting in conjunction with municipal, federal and provincial governments. The study, done over the past year at a cost of about $700,000, set out to answer an important question: given all that has changed along the course of the Fraser River from Hope to the sea since the last major assessment was done in 1969, are predictions made then about what a "flood of record" might look like (and which are used to calculate how high dikes must be to protect communities along the river) still valid?
Researchers reviewed records from the two biggest historic floods, in 1894 and 1948, and combined them with new and extremely detailed maps of the river bottom and surrounding flood plain as it is today, including dikes, bridges and other structures built since 1969. They ran all this data through sophisticated computer models not available 40 years ago. And when they looked at what came out, they were, to put it mildly, startled.
"What seems to be the case is that water levels that would be generated today are higher than in 1969," says Steve Litke, the Fraser Basin Council manager overseeing the study. From Harrison River down to New Westminster, the new model produced flood crests above those for which dikes along that stretch of river are designed. The difference is greatest at Mission Bridge, where the new design profile predicts a flood crest nearly 1.6 metres above the old one. Dikes there are built to remain just .6 of a metre above the 1969 crest. That means if the new model is right, a flood on the scale of 1894 would top those dikes by a full metre.
'Multiple dike failures'
It should be said that those results are still somewhat preliminary. Litke has sent the work back to the researchers to try to explain the difference. It is possible that some assumptions about the "roughness" of the river bottom may have influenced the outcome: the greater the friction on the river bed, the more water piles up. The scientists are checking that. There is also some question about the accuracy of estimates about how much water flowed into the Fraser from tributaries like the Pitt, Harrison and Chilliwack Rivers.
But if the new model is right and the so-called "100-year" flood -- the one we last experienced over a century ago and are, statistically, overdue for -- came again?
"There would be multiple dike failures," Litke says. People living below dike level along either side of that stretch of the river could expect scenes, "like those we witnessed in New Orleans." And, he adds, "The rest of us should be concerned because of the effects on infrastructure. The Trans-Canada goes along there, the two railways. Oil and gas pipelines could be breached. The hydro corridor. You're certainly affected, even if your house is intact."
There is one other uncertainty hanging over this picture of potential catastrophe. The modelled flood that produced these results was based on the recorded past. But will the future look like the past? Litke wonders. "How valid is that historical peak flow? Climate change is an obvious big question. Something bigger could occur."
Research to answer that question, he adds, "is on our wish list." But for now, "we don't have the financial resources to do it."
Some additional reading:
The GVRD's analysis of changing precipitation patterns.
The Fraser Basin Council's collection of flood-related documents.
Veteran journalist Chris Wood is recipient of a Tyee Fellowship for Investigative Reporting, which provided the funds necessary to do the in-depth reporting in this series. Tyee Fellowships for Investigative and Solutions-oriented Reporting are supported by donations from Tyee readers and intended to support independent journalism to educate the public about critical issues facing British Columbia. If you are interested in making a tax deductible donation, please go here. If you are interested in applying for a fellowship, please go here.
Wood is working on a book, Dry Spring: When the Water Runs Out, forthcoming from Raincoast Books.