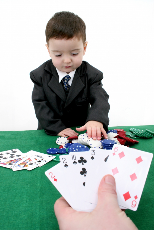 In British Columbia today, opportunities for gambling by children are growing with the rise of Internet wagering, cable TV poker and handheld computer games. But young people barely understand the serious risks involved, say experts.
The B.C. Lottery Corporation grossed $2 billion last year. But the BC Problem Gambling Program, which started in 1997 and now has about 40 counselors to deliver services around BC, has a yearly budget of $4 million -- that is, just one-fifth of one percent of the BCLC gross.
Providing gambling education and prevention to the schools has historically been a challenge. This was some of the news delivered at a recent public presentation called When Gambling Stops Being a Game, by Rosemary Usher and Jennifer Gregg, coordinators of the BC Problem Gambling Program (part of the Ministry of Public Safety and Solicitor General), at UBC Robson Square.
Three years ago when Gregg wanted to do prevention and education in high schools, she told the audience, one principal said "we don't gamble, it's not an issue here." But, ironically, she saw signs for raffles and kids playing cards.
"Now we go into a lot of schools, but it's still very hard to get into more rural schools, for they see no problem," said Gregg. "Some of the schools take the view that 'If we talk about gambling, the kids will want to start doing it.' Fortunately, that attitude is changing."
Don't call it 'gaming'
The program has delivered gambling prevention and education to 1,300 teens in Langley. Of the 454 youth surveyed there for Gregg's thesis study, about 90 percent had gambled at least once in the past year; nine percent reported that they were at risk for developing problems and five percent reported behaviour consistent with problem gambling. (Gregg added that the word "gambling" should always be used instead of "gaming" to describe any wagers with a reward of value.)
The program also runs an "adventure-based learning program" in several elementary schools, whereby students explored the dangers of gambling and developed skills to make healthy decisions. The program¹s manager Donna Klingspohn said in an interview that the program is also creating a new educational resource for young gamblers, in cooperation with the Richmond School District.
In its first public annual report (2004-05), the program noted it received 3,500 calls last year and 4,000 hits on its website per month. Yet Klingspohn said less than one percent of gamblers who call the program are under age 19, so the problem's full extent is mainly hidden. One of the problems in addressing this hidden issue is that youth often seek help from the family rather than seek outside aid, she added.
"Youth often gamble within the home. Some parents say 'it's safer for kids to be playing poker in the basement than drinking or doing drugs,'" said Gregg, adding that because kids don't have money, they'll often wager other things such as clothing, dares, video games and bikes.
Young people gamble on activities such as video games, school lottos and bingos, arcades, sports betting, dice, pogs, raffles, dares, handheld poker machines, unregulated internet games, pool or other games of skill.
Problems: 1 out of 20
The youth problem gambling rate of five percent was also found by McGill University in Montreal, which, since 1992, has operated an entire institute devoted to the subject. It cites studies from the United States, Canada, New Zealand, Europe and Australia that have noted rising rates of youth involvement in both legal and illegal forms of gambling. The McGill centre noted a large-scale study of adolescents in Alberta that found the average problem gambler started gambling at age 10 and it says similar results were found in other studies around the world.
Although gambling for youth can be just as addictive as illegal drugs, the McGill centre says that, contrary to popular belief, profit is not always their primary motive. Other factors include release from stress and depression, the joy of risk-taking, fantasy, pride, peer pressure and lack of self control. Young problem gamblers can be more prone to delinquency, criminal behaviour, disrupted family and peer relationships and lower school performance and work activities.
A 1998 Harvard Medical School study found teen gamblers are three times more likely to become addicted than their adult counterparts because they lack impulse control, and the younger the age of initial exposure, the higher the incidence.
The McGill centre maintains that popular handheld gambling toys such as Texas Hold 'Em for the Nintendo Game Boy (labeled as suitable for age 8) and Play Station 2's High Rollers Casino clearly suggest to children that it¹s harmless to gamble for money when they grow older.
As well, poker has become a glamorous and familiar "sport," now shown on sporting channels like TSN, Fox and ESPN. Celebrities play Texas Hold 'Em for charities on TV. Poker games tend to be more popular for boys, but manufacturers are now marketing to girls, using pink poker chips.
Gambling online
In October 2004, the North American Training Institute in Florida, which specializes in gambling addiction, warned that the ratings boom on cable television for high-stakes poker has resulted in a poker boom among American teenagers and it added that youngsters in Canada and elsewhere are at risk, too. The Americans have an interactive gambling cable TV station and one is soon coming to BC. An American newspaper found kids as young as 11 playing poker online for play money. Even though all online poker sites are located offshore, (the U.S. Department of Justice says online gambling, a $9 billion a year business, is illegal) players must be at least 18. To get around the rule, some underage players ask their college buddies to let them play for real money on a PartyPoker.com account.
Researchers and therapists have found an increased probability that youngsters who engage in poker on play-money sites will eventually play for cash. Worse, they say, success on the practice sites can mislead kids into believing they'll win money if they play for real.
A recent study by the International Center for Youth Gambling at McGill of 1,100 children ages 12 to 17 showed that 42 percent play gambling games online, but not for money, while nearly 6 percent play for real dough. The remaining children said they do not gamble online.
The youth gambling program can be reached at 1-888-795-6111 and www.bcresponsiblegambling.ca.
Stanley Tromp is a Vancouver journalist.