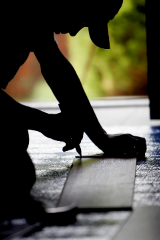 It's that pregnant man syndrome again.
In the 1970s, the mayor of Montreal assured his nervous taxpayers that the Olympic Games in the city could no more go into cost overruns than a man could get pregnant. Montreal is only now, three expensive decades later, able to retire the debt load the 1976 Olympics created there.
In early February, the Vancouver Organizing Committee for the 2010 Olympics (VANOC) elicited angry responses from critics by announcing the need for the provincial and federal governments to cough up another $55 million each to cover projected cost overruns on games construction.
The BTY Group, a research organization serving the local construction industry, is currently predicting construction costs in BC will escalate by 50 percent between 2005 and 2010.
To date, there are no reports of male pregnancy in BC, but the call for additional funding has sparked a vigorous debate about Olympic costs, especially those expenses associated with wages for skilled workers.
Spokespeople for the non-union sector of the construction industry, like the Independent Contractors and Businesses Association's Philip Hochstein, have blamed escalating labour costs for the overrun, with increases in land, material and fuel costs also implicated.
Now, calls are being heard in some business circles for the federal government to solve the problem of rising labour costs by bringing large numbers of foreign workers into the country on temporary permits.
The Sydney approach
Contacted by The Tyee, Maureen Douglas, a media spokeswoman for VANOC, was unable to comment on how much of the expected overrun was due to labour costs. She also declined to comment on whether VANOC supported Hochstein's call for the federal government to admit a large number of temporary workers during the pre-games building boom.
Colin Hansen, the BC minister responsible for the Olympics, was unavailable for comment on these questions before this story went to press. However, the new BC budget, announced February 21, set aside four hundred million dollars over the next four years for skills and training initiatives.
Union spokespeople within the construction trades are highly skeptical about the foreign worker proposal, noting that they have been predicting Olympic cost overruns for years and offering governments and games organizers a deal that would avoid such losses.
They blame the government and VANOC's unwillingness to create a labour accord similar to the one that kept costs within budget at the Sydney games in 2000, as well as the Campbell Liberals' creation of budget-busting "fast track" arrangements for Olympic construction contracts for creating the problem.
They say the non-union construction industry wants to import off-shore labour to address problems it created by failing to train adequate numbers of new apprentices and by lobbying government to fast-track Olympic projects and exempt these projects from almost all existing statutes. As early as 2003, the BC and Yukon Building and Construction Trades Council's Wayne Peppard warned that legislation designed to fast-track Olympic construction and exempt it from ordinary regulatory procedures ran the risk of creating a disaster for taxpayers. In 2005, Peppard told CBC radio news that a failure to negotiate an umbrella labour accord for the Olympics meant that the games building projects were in danger of out of control cost increases and possible job actions.
Service Canada 'captured'
The Tyee met with Hochstein, whose presentation was laced with equal measures of salty language, power point slides and statistics. The construction industry in BC suffered during the NDP years in the 90s, he said, as did the industry across Canada, which experienced one year (1993) of losses and many of minimal profits. In BC, the industry only began to recover when the Campbell Liberals took power. Now, facing the prospect of over eighty billion dollars in Olympic and other major project construction between now and 2010, the industry is plagued by shortages of skilled journeymen in most construction trades and needs the federal government to speed up admission of skilled workers on temporary work permits immediately.
However, Hochstein claims Service Canada, the federal body within Human Resources and Skills Development Canada responsible for assessing the need for such permits, has been "captured" by organized labour and this takeover means that the industry is unable to import the temporary workers it needs to hit 2010's ambitious building goals.
Hochstein says there is a productivity crisis in the Canadian construction industry, driven, in part, by the rapid expansion in the industry work force in the last few years and the lack of older journeymen to mentor and train the thousands of new hires generated by the industry turnaround and pre-Olympics expansion. He says that real construction wages fell significantly during the 90s when measured in constant dollars. The loss to workers, he says, helped subsidize lower prices for the industry's customers as it coped with increasingly costly supplies and materials.
20,000 new temps?
In 1966, Hochstein said, 9.6 percent of immigrants to Canada were construction workers. By 1994, only 1.3 percent of landed immigrants were construction workers, and by now, that figure was below one percent. In 2004, Hochstein said, 74 percent of landed immigrants were non-workers.
"We need," he said, "to change this distorted mix in immigration. We need a system that will make it as easy to bring in construction workers as it is now to bring in information technology workers. Everybody understands there is a shortage, but the structure for bringing in construction workers is unrealistic and bureaucratic. The trade union movement has captured Service Canada. The unions have been very effective in getting government to put up barriers."
Hochstein told The Tyee that the last federal government was "too close to labour," but that he and his member companies were hopeful the Harper Conservatives would be more sympathetic. He would, he said, like to see up to 20,000 additional construction workers admitted on work permits between now and 2010. These workers, he said, would not only help control labour costs, but also would help train and mentor younger Canadian workers, helping to address productivity problems within the industry.
In 2004/2005, work permits for foreign workers in all categories brought just fewer than 20,000 workers to BC, according to a spokesperson for Citizenship and Immigration Canada. Roughly a third of these permit-holding workers in BC are "live-in caregivers", the government's euphemism for nannies and figures provided by Service Canada suggest that construction workers constitute only a small section of the remaining workers admitted.
Hochstein's call for 20,000 additional temporary workers may seem like a lot, but it is modest in comparison to the ambitions of Curtis Panke of World Wide Immigration Consultancy Services, a Toronto-based company, who told the Times of India in February 2005 that "British Columbia is on the lookout for 30,000 skilled tradesmen from India to build necessary infrastructure for the 2010 Winter Olympics….Initially these people will get work permits. Late, they will be offered permanent residency."
How great a shortage?
Richard McPhee, a Vancouver lawyer specializing in immigration law, has worked for BC construction companies who want to see skilled workers admitted to Canada as soon as possible to address what they see as a crisis in labour supply.
"There is strong anecdotal evidence there is a shortage of skilled labour in construction," he told The Tyee. "But when the Service Canada Foreign Worker Recruitment Program tries to document this for a Labour Market Opinion, they have problems completing it, and they have to consider what the unions say. The unions tell me they're telling the feds that there is no shortage. Definitely, the LMO is at the heart of the problem."
LMO's are documents assessing labour supply. The procedure for issuing temporary work permits for foreign workers depends upon an LMO that suggests workers are in short supply in a particular job category in Canada, and upon requirements that companies wanting to import temporary foreign workers advertise widely in Canada to try to fill their job openings on shore. If Service Canada issues an LMO that identifies a need in the labour market, the final responsibility for issuing work permits falls to Citizenship and Immigration Canada. This ministry, contacted by The Tyee, declined to comment for this story and referred all questions to Service Canada.
At the Vancouver offices of Service Canada, Ron Marshall, a ministry spokesman, was dismissive of Hochstein's suggestion that unions had captured his office.
"We work on applications as they come in, on a case by case basis. We're non-partisan. Our Labour Market Opinions determine whether permissions are granted," he said.
Attempt at agreement failed
So, are the trade unions now controlling Canadian immigration policy, and, in the process, crippling efforts to bring in the Olympic Games on time and on budget? Not guilty, say union spokespeople contacted by The Tyee.
Peppard rejects the claim that he or any other trade union official has captured the federal bureaucracy. Further, he regrets what he sees as a lost Olympic opportunity.
"We supported the games bid, and early on, we tried to initiate discussions with Jack Poole and then John Furlong at the organizing committee, as well as with federal and provincial politicians. We were arguing for the sort of umbrella agreement on labour that worked so well at the Sydney games," Peppard said.
"After a series of meetings over two and a half years," Peppard said, "it became clear that there would be no project agreement. When we have project agreements, we're always willing to give when we get. If they'd linked us into a project agreement for venues, the byproduct would have been an established, collaborative agreement. We have contacts across Canada and internationally. We could have helped with labour supply and training. But these guys are slaves to their free market philosophy."
Peppard said temporary workers from offshore are a problem in themselves. "We support workers immigrating to Canada, but temporary worker programs never work."
'Targeting aboriginal communities'
A provincial program, the BC Provincial Nominee Program, based on an agreement between the province and the federal government, nominates workers and business people for landed immigrant status, as opposed to temporary work permits. This program nominated just fewer than 600 potential immigrants in fiscal year 2005-2006, Ian Mellor, Investor Services Director at the provincial program, told The Tyee. Approximately 100 of these nominees were business people, and not all the remaining nominees were construction trades people, so this alternative entry path does not begin to address the number of foreign workers that Hochstein wants to see admitted.
Perley Holmes is skeptical about Hochstein's claim that BC needs foreign workers on temporary documents to reach its Olympic goals. Holmes, the business manager for Local 97 of the International Association of Bridge, Structural, Ornamental and Reinforcing Iron Workers, spoke to The Tyee in a recent phone interview.
"We haven't had a problem staffing jobs," Holmes said. "We've got 15 locals in Canada and 180 in the US. I've currently got 100 ironworkers on a list waiting to come out. We're running a training course now with a union firm and we graduate 10 a month. We're targeting aboriginal communities and preparing young people for good jobs. It's the companies that don't train apprentices that want to bring in foreign workers."
"There's a pattern here," said Holmes. "Hochstein and the BC Liberals worked to sabotage apprenticeship programs run by government and non-union companies do very little to train apprentices. Now they want to bring in offshore workers on a temporary basis to try to fix the problems they've created."
Both Holmes and Peppard had a similar response when they were asked about the claim that unions had captured and blocked the admission process for foreign workers: a hearty laugh and rueful suggestion they wish they had as much power as Hochstein attributes to them.
And so the debate continues, as voices on both sides grow, in the words of the Olympic motto, "faster, stronger, higher."
It remains to be seen whether the new Conservative government will respond to business pressure to increase admissions for foreign construction workers and whether such co-operation with the business agenda will protect taxpayers from an ugly debt surprise the day after the Olympic torch is quenched.
Construction industry spokesmen continue to call for more foreign workers and union leaders continue to bemoan lost opportunities for a collaborative arrangement that would have created an event both fairer and more affordable.
As usual, some of the most interesting and strenuous Olympic events are occurring off the ski slope and playing field, in back offices and public policy arguments.
Tom Sandborn is a Vancouver journalist an occasional contributor to The Tyee.