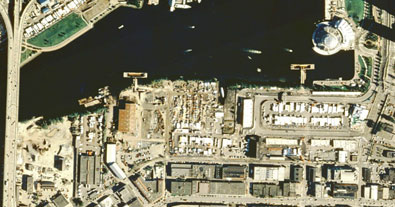 The long-running tug-of-war between camps with competing visions for Vancouver's Southeast False Creek development will come to a head in a public hearing at city hall Thursday.
In the works since 1991, city council's SEFC plan for a residential community built on industrial lands across from the downtown peninsula has received massive amounts of public input, evolving to include world-leading environmental and social sustainability principles.
Cutting edge environmental-tech bells and whistles to be run from the Olympic Village core and integrated with the multiphase development are sure to go forward, but the social sustainability component of the project is in doubt, since Mayor Sam Sullivan and the NPA asked city staff to revisit the SEFC plan with the goal of paying $50 million used to support social housing and amenities back to the city's property endowment fund.
The city manager's office reported back, recommending revising the housing plan approved by the previous council last summer, which included one-third market, one-third modest income and one-third affordable housing, in favour of an 80 percent market, 20 percent non-market ratio.
But a law expert wonders if the city can change the game now without reopening the bidding process to developers who took a pass on the current guidelines for economic reasons, thereby risking a time crunch on Olympic Village completion. And the social sustainability camp plans to protest recommendations for reversing the current housing mix at Thursday's public hearing, with a long list of speakers.
Long Process
Since 1991, various planning agreements have passed through council, for example, the South East False Creek Vision Statement established by Council in 1999 states:
"SEFC is envisioned as a community in which people live, work, play and learn in a neighbourhood that has been designed to maintain and balance the highest possible levels of social equity, livability, ecological health and economic prosperity, so as to support their choices and live in a sustainable manner."
But all along, a camp within city hall has raised alarms at dipping into the city's property endowment fund to support non-market housing and public amenities.
In returning the current study of SEFC streamlining options, city manager Judy Rogers reiterated what she stated at the time of the ODP Public Hearing on March 1, 2005:
"As envisioned in the ODP, the Southeast False Creek community provides a higher standard of public infrastructure and amenities than has been provided by other major developments in the city. Many of these are directed at achieving the sustainability goals set by council. However, there is also the risk that the development defined in the ODP will not meet traditional sustainability goals without careful financial management over the period of development…. In making decisions now and in the future about the extent of the financial commitment in SEFC by the PEF, these trade-offs deserve careful consideration."
Housing cuts recommended
In its report, the city manager's office recommends scaling back the SEFC modest market and affordable housing requirements, while leaving the large community centre and public park amenities in the SEFC plan alone.
"The city manager recommends removing the modest market requirement from all phases of development. While the objective of providing modest market housing in the development was supported in the ODP…. Removing the requirement removes development uncertainty and eliminates a potential unfunded liability to the city estimated at $21 million over the development period."
And:
"Consideration B2 reduces the amount of affordable housing across the city lands to 20%, noting that the amount of affordable housing in sub-area 2A (Olympic Village) will be higher, at 25% to 28% (250 units), as an Olympic legacy commitment."
"By committing to build 250 units in sub-area 2A, the city is establishing its commitment to affordable housing. This change yields the single largest return to the PEF at approximately $16.6 million."
The report also notes that due to time pressure, developers must be told right away how any changes would effect their proposals.
"The housing mix is fundamental to the amount of development rights that are available for marketing through the current and future RFP's and, therefore, to the revenue the city will receive through the sale of these rights. If council wishes to change the housing mix, a definitive decision must be made now. The short-listed respondents need to clearly know on what housing mix their proposals will be evaluated."
Legal concerns
But Leo McGrady, of law firm McGrady, Baugh & Whyte, says keeping the short-listed developers up to speed may not be enough. Based on bidding process principles, he says developers not short-listed in the current phase of development may be able to bid again based on changes to housing mix and could possibly litigate if refused.
"The bidding process in a case like this must be fair and open," McGrady said. "If the nature of the job changes in a significant way, after short listing and before acceptance, than those changes have to be put to the people on the short list and given the right to bid again. And it seems to me, that people that did not bid because of the economics, may now also have a right to bid."
Rob Bennett, the city's project manager for the sustainability program says judging from public interest to retain the current housing mix guidelines in the SEFC ODP, he's expecting an explosive meeting Thursday.
"It (revisiting the housing mix) was part of a political platform, but there has been so much public consultation in the past that has gone into this," Bennett said in a phone interview. "The mixed income vision of creating a rich neighborhood is what council will ultimately struggle with. You will hear the most (public) people in favour of keeping that vision. It should be interesting. I'm looking forward to the fireworks."
Bennett adds city staff have worked to retain the mixed neighborhood model as much as possible, but there are always trade offs in trying to mitigate against rising building costs and time constraints.
'Ghetto for rich'
But Linda Mix, part of a group planning to have at least ten speakers in favour of the current housing mix at the public hearing, says the city manager's recommendations will create precisely the wrong kind of neighborhood.
"If you only have 250 units of social housing in one area (Olympic Village), you get a ghetto," Mix said in a phone interview. "We don't want to ghettoize people in rich or poor areas. If we lose it, (the current ODP housing mix) we will have gated communities of condos and projects with poor people. We will be losing a healthy, real community."
Mix says other cities such as London, England, have instated equitable housing mix models for all major developments now, realizing a range of incomes in an area create more economically and socially healthy communities.
"There needs to be a critical mass of middle income people, (like) teachers, bus drivers, people working downtown, to live in SEFC," Mix said. "It's a really good opportunity for the city of Vancouver to do something great with this land, because there is not much left."
Sam Cooper reports on politics for The Tyee.