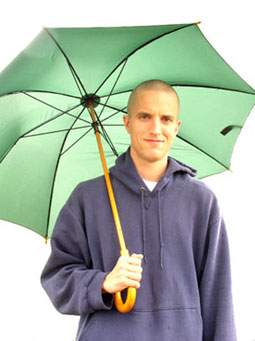 Sometimes the future of U.S.-Canada relations comes down to one decision made by one person. More often than not, that person is a president or a prime minister. But next week, it will be shaped by an adjudicator for Canada's Immigration and Refugee Board, who will decide whether to accept or reject the claim of Jeremy Hinzman -- a U.S. soldier seeking political refugee status in this country because he refused to fight in the war in Iraq.
"I signed up to defend my country, not to be a pawn in some sort of political ideology," says Hinzman, who was in B.C. recently to speak to peace groups and drum up support for his refugee claim, to be heard in Toronto on July 7.
Hinzman, 25, joined the U.S. Army in January 2001, enticed by its promises of up to $50,000 for his college education upon completing his service. But he says he was horrified by basic training that resembled scenes out of Full Metal Jacket, and he started attending a Quaker church.
He asked to be transferred to non-combat duties and claimed he was a conscientious objector. The army rejected his application, however, because he admitted that he'd defend his unit if it was attacked, and they sent him to Afghanistan. Then his unit got called to Iraq.
Desertion penalties severe
Just before it deployed this January, Hinzman fled to Toronto with his wife and son. Now if he returns to the U.S. he faces several years in prison -- or possibly the death penalty -- for deserting during wartime.
"If I'm punished for refusing to fight in a war that's recognized by the international community as illegal, then that's persecution for a political opinion," Hinzman says. "It's a logical claim. But the political reality of it may be another matter."
Hinzman is right to guess that politics will affect the outcome of his case, which has made headlines worldwide. Citizenship and Immigration Canada has taken the unusual step of applying to intervene at the July 7 hearing to argue against his claim -- afraid, perhaps, that if it succeeds, the precedent will encourage more U.S. soldiers to head north.
So far, only one other American soldier has claimed refugee status in Canada. But the U.S. Army is stretched so thin that it's continually extending the tours of duty of soldiers in Iraq and Afghanistan, and morale is suffering. Jeffry House, Hinzman's lawyer, says that more than 60 U.S. soldiers have contacted him for advice, and several have told him that they've deserted and are planning to come to this country. If the U.S. reinstates the draft -- which many military analysts say will be necessary by early 2005 if the U.S. needs to maintain the numbers of troops it has in Iraq -- the numbers of Americans seeking refuge in Canada will explode.
Many 'refugees' come with degrees
There are, of course, plenty of Americans here already. The U.S. consulate in Vancouver estimates that 750,000 Americans already reside in this country -- as many as 250,000 in British Columbia. Even if the number is lower, it's large enough that Democrats are actively registering U.S. citizens in B.C. to vote in the November election (see details below).
Many are dual citizens, or married to Canadians, or are "reverse snowbirds" enjoying Canada's relatively inexpensive real estate. Many are armed with student visas and work permits to further their educations and careers. But Hinzman may be the most famous example of what seems to be a new class of immigrant: the Bush Refugee.
As The Tyee reported recently ("U.S. Liberals Debate Flight Versus Fight"), many Americans have started openly discussing the merits of going into political exile abroad. Now it appears that some of them are actually packing their bags and moving. They haven't turned up in statistics yet -- Citizenship and Immigration Canada has only calculated its data up to 2002, and it shows that immigration from the U.S. has remained steady since 1996 -- and their numbers are probably small. But if you ask around, Bush Refugees aren't hard to find.
Ann Wilson, a community activist in her 50s from a small town near Santa Barbara, California, is one of them. The Iraq war made her see her country in a whole new light, she says. During the weeks leading up to the invasion, she distributed leaflets at a local farmers' market, trying to rally support for further UN weapons inspections. But when the bombing started, the market banned her -- and when she protested, her neighbours got ugly.
Spitting was 'too much'
"We were spit at, we were called 'traitors,' " Wilson recalls. "It was too much." She and her husband, a building contractor, considered their options. "We kept saying, 'We're moving to Canada!' It was a joke, but as things became more serious, we became more serious."
So last September the Wilsons sold their house, moved to Salt Spring Island, and applied for permanent residency in Canada. (They haven't got it yet, which is why they asked that their names be changed for this article.) "It was a big deal to say 'I'm leaving,' " Ann Wilson says, because her family's been in the States since confederation. "But I'm glad I did."
There are more like her. Over the past couple of weeks, I've spoken with a number of Americans who've recently moved to B.C. because they're disturbed by events south of the border, although many are reluctant to talk about it publicly. Professionals who deal with American clients also hear these stories. Four realtors in my town, Victoria, told me that they've recently represented American buyers who were looking for a "safe haven" outside the States. One said that as many as half his current American clients specifically cite the Bush administration as a reason why they're looking for property on Vancouver Island.
Immigration consultants hear this, too. "The primary motivation is lifestyle, but there definitely is an undercurrent of political motivation as well," says James Norris, a former diplomat who's provided immigration advice in downtown Victoria since 1982. "Of the Americans I've worked for in the last year or two, many are Democrats, and they're firmly against George Bush and the war in Iraq."
Soldiers evoke Vietnam controversy
Canadians don't need to lose much sleep about many of these newcomers. As it does for the thousands of people who apply to immigrate to Canada every year, the government will simply assess them on a points system. Many of them, like the Wilsons, with university degrees and experience at skilled jobs, will score high and be allowed to stay. The harder question is how to deal with young Americans without such qualifications -- including soldiers like Jeremy Hinzman -- who are refusing to fight in a war that most Canadians consider to be morally unjustified.
In the late 1960s and early '70s, when as many as 50,000 American men came here to escape military service in Vietnam, they could get landed immigrant status right at the Canadian border. That's impossible today. Instead, the only option for U.S. soldiers (aside from marrying a Canadian) is to formally claim that they're political refugees. Trouble is, until now, no one has ever successfully claimed to be a political refugee from the United States.
That can change, however. Public pressure can persuade the federal government to reinterpret its immigration policy toward those who refuse to fight in an illegal war. It has happened before. According to John Hagan's book Northern Passage: American Vietnam War Resisters in Canada (Harvard University Press, 2001), even after Pierre Trudeau became prime minister in 1968, the government waffled for months on the legal status of the thousands of arriving draft dodgers and deserters. The U.S. pressured Canada to send them back. But the NDP, the United Church, newspaper editorials, and hundreds of letters to federal ministers demanded that Canada refuse to act as America's "military policeman," and admit the young Americans to the country. Canada did, and the country was better for it.
A year later, Trudeau told church leaders, "Those who make the conscientious judgment that they must not participate in this war … have my complete sympathy, and indeed our political approach has been to give them access to Canada. Canada should be a refuge from militarism."
Is Canada as politically courageous as it was 35 years ago? We are about to find out.
Ross Crockford is a freelance writer living in Victoria. In previous incarnations he has been a Vancouver trial lawyer, a staff writer for The Prague Post, and the editor of Victoria's Monday Magazine, where an earlier version of this story appeared.
DEMOCRATS WANT EXPATRIATE VOTES
American citizen living in B.C.? Want to see George Bush gone in November? Democrats Abroad is holding voter-registration drives to help you file absentee ballots in this year's presidential election. In Vancouver, they'll be at Urban Fare, 177 Davie Street in Yaletown, from 11 a.m. to 3 p.m. this Sunday, July 4 (for more information, email bcdemocrats@hotmail.com). In Victoria, they'll be at Fusion Café, 818 Douglas Street, all day on Saturday, July 10 (for more information, e-mail islandbcdemocrats@yahoo.ca).