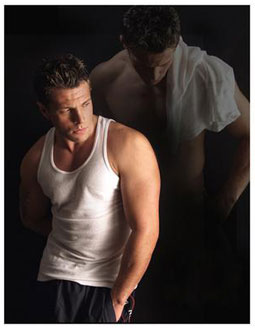 "I can't breathe."
Those, says a friend who watched in horror, were Roman Andreichikov's last words as he lay pinned to the floor of his Granville Street apartment.
Three Vancouver police officers had piled themselves atop his body while another one stood by his side. One officer pushed Andreichikov's head down against the floor. Two officers bent Andreichikov's legs at the knees while they used their body weight to drive his ankles into his back.
"If you're mumbling, you're still breathing," was one officer's reply, reportedly. Moments earlier, one of the officers holding Andreichikov's legs had shot him with a Taser - an electric stun gun that overwhelmed his nervous system with 50,000 volts of electricity. With his body in convulsions, the officers took hold of Andreichikov and bound his hands with cuffs. Then thirty seconds after Andreichikov gasped his final words, he drew his last breath.
Roman Andreichikov died May 1, 2004 at the age of 25. Nobody yet knows for sure what caused Andreichikov's death. But the fact that he was a brawny personal trainer, that he was Tasered, and that he was incoherently high on drugs places him at the centre of a complex controversy over how police should apply force to make arrests.
Taser use by Canadian police forces has been decried by Amnesty International. Also, the positioning and restraint imposed by the officers just before Andreichikov's death is coming under concerned scrutiny across North America, with some researchers seeing links to a pattern of deaths in custody.
Was it the cocaine in his body that killed Andreichikov? He had been using crack cocaine for several days and his irrational behaviour led his friend to call for an ambulance. Or did the police play a part in ending Andreichikov's life?
Finding the answer becomes especially pressing in Vancouver where many mentally ill people reside, and where the population of crack and methamphetamine users is growing, causing police to resort more and more often to the techniques used to subdue Andreichikov, the Taser and aggressive physical restraint.
Andreichikov's grief-stricken mother Diana is desperate to know why her son died. "He wasn't a criminal," she says. "Roman never hurt anyone in his life."
The Vancouver Police Department isn't talking about the case while its major crime unit investigates what happened. The coroner's office automatically reviews every in-custody death, but it may take more than a year to complete its findings. Andreichikov's autopsy and toxicology reports have yet to hit the coroner's desk. Nor would the department answer more general requests.
The Tyee asked for the VPD's written protocols for using Tasers and for dealing with mentally disturbed people, as well as related coursework required of officers. The department's spokesperson said the VDP was unable "at this time" to provide such information to The Tyee.
Taser concerns
Every year in B.C., a handful of people die in police custody. Some years the number is a dozen. Some years it's less. Of those unfortunate few, perhaps two or three of them per year would have died much like Andreichikov did -- shortly after struggling with police and being put in restraints. Sometimes the deceased were high on cocaine, methamphetamines, or some other stimulant when they died. Sometimes they were psychotic due to a mental disorder like schizophrenia. In other cases, they die stone sober.
Two British Columbians -- Terry Hanna and Clayton Willey -- died in separate incidents last year after being Tasered and subdued by RCMP officers. Their cases are still under review but have added fuel to a growing firestorm over police use of Tasers. Amnesty International called on the Canadian government and others to suspend police use of Tasers until further review. Several police forces in the United States have already holstered their Tasers after public outrage sparked by a number of in-custody deaths. The manufacturer, Taser International, says the total number of deaths after Taser use now approaches 50. The company points out, however, that every autopsy report to date has listed a cause of death other than the Taser. None of the reports have found the weapon to be a contributing factor. Taser spokesperson Steve Tuttle says the weapons don't have nearly the power required to damage someone's heart.
Hospital defibrillators generate 150 to 400 Joules of energy per pulse. The Taser generates a maximum of 1.76 Joules per pulse."You do the math," Tuttle says. "We are nowhere near the threshold that would cause cardiac tissue to be affected." Even if Tasers contributed to in-custody deaths, the numbers wouldn't account for all the people who have died in restraints or shortly thereafter - a total estimated to be in the thousands.
'In-custody death syndrome'
Deaths of people after restraint have been documented beyond B.C.'s borders: Ontario, The United States, Great Britain, Iraq. And people aren't just dying in police restraints. Children and teenagers have died after being pinned down by caregivers in group homes. Seniors have died in care homes after being restrained to furniture. Whether the deaths occur on the street, in jail cells, in group homes, seniors' facilities or in mental institutions, the death toll keeps mounting.
A study by the Harvard Center for Risk Analysis estimates that between 50 to 150 people die in American health facilities each year shortly after being restrained. That's 500 to 1500 in the past decade. Other researchers estimate a similar number of people die after police restraint.
What's killing these people - and may have killed Andreichikov - is known by names like in-custody death syndrome or police custody death syndrome. Most commonly, it's called either positional asphyxia, or agitated/excited delirium. Sometimes autopsies reveal the victims died from hypoxia - a lack of oxygen to the brain. Whatever force or restraints they experienced before they died kept them from being able to breathe. Hog-tie restraints, prone restraints and body-pressure to the back, chest, neck or abdomen have all proven potentially fatal. An Iraqi prisoner in the custody of U.S. navy commandos died last April from positional asphyxia.
'Excited delirium' a factor?
When a person is killed by positional asphyxia, it's usually clear who did it. But when a person's heart stops beating before he or she stops breathing, they call it excited delirium and the blame game becomes more complex. Do police or caregivers contribute to such deaths when they restrain the victims, do they merely fail to stop the fatal effects of psychosis?
Anthany Dawson died August 1999, after a violent struggle with Victoria police. Prior to his arrest, he had been seen lying on his back in the middle of a road screaming and hitting the pavement with his fists. He was mentally ill and psychotic. Five police fought to gain control of Dawson. Afterwards, they strapped him face-down to an ambulance stretcher where he struggled against the straps. He soon lapsed into a coma and died two days later in hospital.
The police complaint commissioner's report on the Dawson case cited the work of San Francisco assistant medical examiner Steve Karch.
In Karch's opinion, people who die from excited delirium are doomed regardless of what police do. The victims are delirious, adrenaline jacks up their heart rate, their hearts fail and they die. Such people are merely the victims of their own drug use. "If death occurs while the officers are trying to restrain the victim, the police will be assumed to be responsible," Karch says.
But other researchers note that every excited delirium death is preceded by a forceful struggle with police. A study published in the Canadian Medical Association Journal examined the deaths of 21 people due to excited delirium in Ontario. In all 21 cases, the deceased were forcefully restrained in a prone position, sometimes with pressure placed on the neck. Twelve of them (57 percent of the total) had a psychiatric disorder. Only a minority of them - eight out of 21 (38 percent) - had cocaine in their system.
In other words, while other factors may vary, the use of forceful takedowns remains a constant element in excited delirium deaths. Larger American studies have corroborated these findings.
Coroner: potentially lethal combo
Vancouver coroner Sandy Barabe believes stimulant drugs and forceful restraint can combine for lethal effect. You panic automatically when you're squeezed so you can't breathe. Catecholamines - your body's fight or flight hormones - kick in to help you battle for air. Thatadrenaline surge spikes your heart and makes it race. "When someone is restrained or fighting - that's a well-known, documented phenomenon that causes cardiac arrest," Barabe says.
Psychotic episodes due to illness or stimulant drugs like cocaine raise the heart rate too - and for a prolonged period of time. Experts believe the combined stresses of psychosis and fighting asphyxiation can overwhelm the heart's ability to function."It's because you crank the system," Barabe explains. "It's like being in the maximum stress state and prolonging it."
Cocaine and methamphetamine use is rising. Mental institution closures throughout North America have put far more mentally ill people back into the community. Even rising diabetes rates mean more people acting strangely because of missed insulin shots.
"Police officers are more than ever being called on to deal with these situations," says the Justice Institute of B.C.'s www.jibc.bc.ca/ deputy director of police training, Mike Trump.
But police officers aren't mental health professionals. "We are not training police officers to be psychologists," Trump says. Police are taught to handle the situations as best they can.
Taking control of the delirious
So what's a police officer to do when taking a delirious person into custody? Use-of-force expert Sgt. Kelly Keith says a forceful takedown is never the primary option, regardless of a suspect's mental state. Keith trains police recruits at the Justice Institute. He says effective communication - an officer's command of "mental judo" - is always the first weapon of choice.
But Keith says while police are trained to be aware of excited delirium, the issue only becomes of concern after the officers have used taken measures - forceful or otherwise -to gain control of the person.
"You're not going to say, 'he may suffer from excited delirium, so we're going to use this force option because of this,'" Keith says. "That isn't going to happen. Control of the suspect has to be our first concern. "Police are trained to make sure their detainees can breathe and to watch for warning signs after they've been restrained. But is that too late a time to be worrying about the person's health?
Lawyer Phil Rankin is representing the Andreichikovs to help the family search for answers. He feels Vancouver police showed no concern for Roman's health and blames them for his death.
"They killed him. It's that simple," Rankin says. "They didn't come there to kill him. But they came like stupid cops always do to everything. They always use force where brains would work."
'Great guy' with big muscles
Rahim Hadani watched his best friend die in the hands of police that day. He was the one who made the fateful call to 911. Hadani remembers Roman as a fun-loving, easy-going guy with big muscles and an even bigger heart. The two of them saw each other almost every day whenever Hadani wasn't out of town on business. They loved to work out at the gym, ride motorcycles together and go out for spicy Thai lunches. "He was a great guy," Hadani looks back fondly, "a really great guy."
But Andreichikov was not himself the day he died. Hadani returned from a trip to Toronto to find his friend pacing through the apartment picking his skin and mumbling incoherently. Hadani knew his friend recently started smoking crack again after quitting two years before. Hadani didn't share his friend's habit, but he wasn't concerned it was a problem."It didn't bother me as long he kept his life in control," Hadani says. If Andreichikov got high one day, he never let it keep him from getting up the next morning to go to work."He wanted to get off it again, but he didn't get that far," Hadani says sadly.
Hadani tried to calm his friend down for an hour and tried to get him to go to bed. After Andreichikov threatened to jump from the fourth-floor balcony a couple of times, Hadani called for an ambulance. By the time someone buzzed the apartment, Hadani had Andreichikov seated on the couch where he sat holding the couch's arm and rocking. Hadani answered the door, but it was the police, and not the paramedics. They told Hadani it was standard procedure.
Andreichikov's last minutes
Four officers entered the apartment single file behind another officer who targeted Andreichikov with the Taser's aiming laser. After a short conversation during which police questioned Andreichikov about his last name and date of birth, the officers asked Andreichikov to scoot off the couch and lie face-down on the floor. He did as he was told.
Andreichikov was a big man. As he laid face-down on the ground, his own body weight may have pushed against his torso making it hard for him to breathe. Researchers say this can be common for heavier people. For whatever reason, Andreichikov flipped over on his back after ten seconds lying prone.
Hadani says his friend was incoherent but calm during time the police where there. "If the cops gave me the cuffs, I would have done it," Hadani recalls. But when Andreichikov flipped himself over the police reacted, firing the Taser probes into his leg. With that, Andreichikov began the final moments of his life.
Dee Hon is on staff at The Tyee.