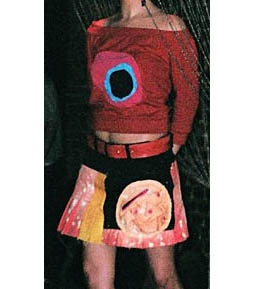 No one would accuse Vancouverites of being overly fashion conscious, but local designers and activists say we need to put more thought into our wardrobes. Last Monday night they tried to show us why.
On a floor-level runway at Ginger 62, male and female models strutted out to the sounds of a dj and commentator.
"Here comes Richard, wearing a black hooded sweater courtesy of Mexx, and faded camouflage cotton pants from Buffalo by David Bitton. As you can see, these clothes are versatile and comfortable -- clothes for everyone. Whether Richard's out for the afternoon or loafing around the house, he'll fit right in."
The first half of the show was dedicated to the traditional big players of trendy casual wear like Levis, the Gap and DKNY. But each segment inevitably ended something like this:
"Unfortunately, the workers in Guatemala who make Mexx clothes are presented not with endless possibilities, but with seemingly endless work days.
"In addition to poor wages, the working conditions can be atrocious - the factories have poor ventilation, which causes respiratory problems for workers, and there are only two monitored bathroom breaks per day. Women endure mandatory pregnancy tests and are fired if they're found positive, in direct violation of international and national human rights codes."
Sweat free and local
After the big brands had been trotted out it was time for local designers to show off their "sweat free" clothes.
"People are getting savvy to sweatshops, but we're trying to show them some alternatives," said organiser, Gisele DaSilva, of No Sweat SFU.
She said that, although the issue of sweatshops is well known, ethically produced clothing is not widely available and most people don't know where to find it. The problem is that the people making the sweat free fashions can't compete with big corporate clothing manufacturers in advertising or production costs.
One reason for the fashion show was "supporting local designers who don't have the resources to get their stuff out there," added DaSilva.
"I really am my own sweatshop," said designer Cristina Hotten. "I do everything myself."
Each piece from her "Michael" label, which sells at Twigg and Hottie, is "treated as a work of art, using care and detail."
Less guilt, more fun
She said that although there are a lot of talented designers working in the city, it is next to impossible to make a living from design alone right now. But she was optimistic about sweat free fashion for the future. "There are definitely more people are becoming aware of it. I think there is definitely a market."
The organisers said that, while they wanted to bring awareness to the sweatshop issue, they also wanted to throw an event that would attract a wider audience. That's why they chose a "mainstream location," said Shanthi Besso.
"We wanted to get away from the model of activist preaching to activist," said Besso, adding that they tried to focus "less on guilt and more on fun."
Besso said that throughout her work on the anti-sweatshop campaign she has noticed a sense of helplessness. People often feel badly about the way their clothes were manufactured, but they don't know what to do about it or where to find ethically produced clothing.
She added that her group does not advocate boycotting, but they would like to see companies be up front about the conditions under which their clothes were made. That way consumers would be able to make informed choices.
We may be a long way from the day that wearing sweatshop-produced clothing is a fashion faux pas, but in the meantime, Vancouverites have the chance to be stylish and feel good about it.
Where to find ethical fashions
Here are some places in Vancouver selling ethical fashions . . .
Dream - 311 West Cordova Street
Front - 3772 Main Street
Thriller - 1710 Fourth Avenue West
LuluLemon - Various Locations
Narcissist - 3659 Main Street
Cherry Bomb - 843 Granville Street
Bang-On! - 961 Robson Street
Smoking Lily - 3634 Main Street
Liquid - 2050 Fourth Avenue West
Motherland/Pleasant Girl - 2539 Main Street
Bodacious - 4393 Main Street
Barefoot Contessa - 3715 Main Street
Paranada - 1505 Commercial Drive
Twigg and Hottie - Main and 21st
. . . If you know of similar outlets throughout B.C., please share your information as a comment, below.
Jared Ferrie is on staff at The Tyee.