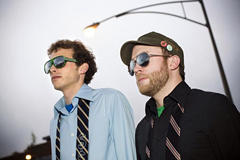 The beauty of a mashup, which mixes two or more songs together to make a new song, is that while listening to your favourite songs, you can also be discovering new music.
Talented DJing skills combined with exquisite musical tastes are brought to you on song after song by Aaron Brink (aka ABX) and Steve Reidell (aka STV SLV), who make up The Hood Internet, on their newest album, The Hood Internet vs. Chicago.
The Hood Internet takes some favourite indie classics (The Knife, The Sea and Cake, Wilco, Big Black, Broken Social Scene, Andrew Bird, LCD Soundsystem, etc.) and shamelessly pairs each of them up with recent, popular hip-hop tracks (Kanye West, Kid Sister, Hollywood Holt, Rihanna and Jay-Z, etc.), to make something new.
Many of the complaints about mashups seem to centre on the idea that mashups aren't part of a real genre. Each individual mashup song is a derivative of the genres of the other songs that it is composed of. However, many mashup artists have begun using the formula employed by The Hood Internet: hot indie band + hip-hop classic = awesome mashup.
The mixing of two artists creates something that fans of both genres can bond over. The relatively obscure indie track provides a backing for the song, and allows a more cultured (or pretentious) listener to dance to something that they would rarely have the opportunity to outside of their home.
While those in the know feel cool for knowing that Snoop Dogg is dropping his rhymes overtop of an Architecture in Helsinki song, those who know the Doggfather's lyrics inside and out get to listen to something with friends who may not have previously been so friendly to rap. And when everyone is listening to "That's That Whirlwind," (Snoop Dogg feat. R. Kelly vs. Architecture In Helsinki) they get something to dance to.
Though The Hood Internet had already perfected the art of creating this perfect party track on their first mixtape released last summer, their newest release delivers just as many gems as the all their previous albums. All of them are downloadable on their website. Perfect for the next time you're hosting a party and you need to bridge the gap between all of your friends' different musical tastes.
You can download The Hood Internet's entire back catalogue from their website, or listen to them on their MySpace page.
Related Tyee stories: