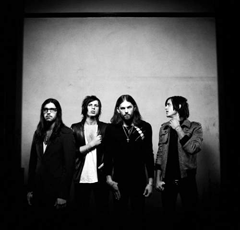 When Kings of Leon first arrived back in 2003, the Tennessee-born four-piece came on like a southern gospel version of the new wave of the new wave. The moves were angular, but the mood was swampy, and the sound -- mostly thanks to vocalist Caleb Followill -- had a revival-tent aspect that sat perpendicular to the Kings' clipped, post-millennium rock.
The effect was enhanced with backwoods haircuts, questionable facial hair systems and a band history that read like a Flannery O'Connor novel; composed of three brothers (and a cousin), Kings of Leon learned their chops on the road with their dad, a Pentecostal evangelist. They seemed to have sprung like inbred rock-savants from the cradle of Dixie-fried religious dementia.
Playing for the first time in Vancouver on the back of their debut album Youth & Young Manhood, the Kings dismayed a lot of people with a performance that was high on technique, and low on excitement. Or at least, it was low on excitement if you don't dig technique. Me? I loved it. The Kings didn't move around much or talk at all, but the energy was there, mainlined directly into a tense, clean, razor-sharp rock show. And they played like a family; effortlessly tight to the point of seeming hermetically sealed. Pry the lid of that performance, and a searing jet of hot steam would have stripped the flesh from your face. What else is needed? Dance moves? Pyro? Onstage rutting?
Two subsequent albums proved Kings of Leon to be a better, more daring outfit than anybody would have guessed back then, and the trend is still upwards judging from the latest single. The King's virtues are all here in "Sex On Fire." The rhythm section alone is carrying enough weight to drag the listener in for good. There isn't a whole lot you can do to make drums, bass and rock music any more compelling than it's ever been, but the Kings always try, and often win. Screaming lead guitar pours hot lead over everything, but it's as restrained as it is corrosive, leaving lots of room for Caleb to let rip. And thank God for that; there might not be a rock voice out there that's better, purer, or more on fire.
Related Tyee stories: