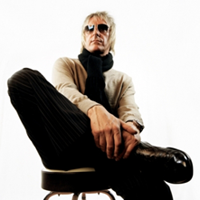 I was a teenage mod. And, um, maybe an early 20s mod too. It's not easy to admit, especially when you see young kids "suited and booted" nowadays, looking like they're on their way to a Halloween party, all mop-tops, Vespas and vintage suits (the second-best suit the original owner had, because he's buried in the first one). It's painful to see, because I too once wore those costumes -- knee-high Nancy Sinatra boots and thrift-store rayon dresses with cherry red tights -- and now I realize I was doing it all wrong. A "mod" living in the past? How ridiculous.
I may have long since given up on that style, but the music -- how could you ever leave it? The Who, with the magnificent Quadrophenia (film and soundtrack), The Kinks, Motown and, most importantly for me, Paul Weller and his band The Jam.
Weller has always been it for me. Handsome, suave and stylish, with a voice that traversed punk and Motown so effortlessly that, when The Jam fused the two, it sounded perfectly natural, and danceable. When Weller went on to form the even mod-ier Style Council in the '80s, he became even more iconic to me, and likely countless other teenage mod pretenders the world over. He wrote beautiful, danceable funk and soul tunes that could compete with any original Motown artist -- Marvin Gaye, The Supremes, Jimmy Ruffin -- he clearly worshiped them all, and paid spectacular homage to them. Considering Welller was a white kid with roots in the punk movement, the fact that he could produce authentic, gorgeous Northern soul records was some feat.
Since the Style Council broke up in 1989, Weller has been on and off the solo track. In the mid-'90s, he enjoyed something of a revival thanks to numerous hat-tips from stars of the Brit-pop explosion. That mid-'90s revival was the last major hurrah from Weller, though he continues to release records.
His latest, 22 Dreams, was released in July of this year, and it just may herald a third act for the 50-year-old Brit. Epic in reach, "22 Dreams" sees Weller (still handsome and suave, if the cover is anything to go by) doing what he does best -- revelling in disparate genres of music, revering their provenance, and then making songs that are completely his own. The 21-track double album contains many elements that Weller fans will know from his previous albums -- forays into funk, soul and folk -- but who could predict the spacey, bubbly electro of "111" or the cat-prowl jazz on the instrumental "Song For Alice"?
There's lots of classic Weller on this epic record too, and for every song that takes a little getting used to, there's one that sounds immediate likable, particularly "Why Walk When You Can Run" and "Black River." But even those more traditional Weller creations have a new, more progressive air, evoking breezy psychedelic folk one minute, and the jazzy hand of piano legend Dr. John the next.
It's hard to pick the best track on this album, but so easy to get excited about the whole thing. After a couple records where it seemed the Modfather's voice had finally been ravaged by chain-smoking, it's great to hear him back in top form, pushing his own boundaries and refusing to repeat himself as an artist. But if I must, "Cold Moments" reveals itself to be my favourite so far, with 13 plays on my iTunes and counting. Light and breezy, with a chugging rhythm and subtle, Northern soul organ, it's everything Weller has matured to as an artist -- unmistakable, yet unpredictable and better with each passing year.
Related Tyee stories: