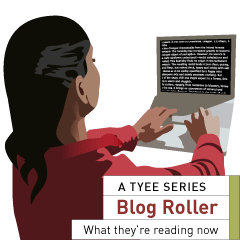 [Editor's note: Thom Wong "came late to blogs and I started five of them before I could sustain one regularly. I thought, 'This is boring and stupid and no one wants to read it.' Then I did it again."
His first blog was One Good Tum. His most recent, and current, is Thomas In Law School. Lately, he's spent more time reading others' blogs than writing his own.
The name of the blog, "a Chinaman of average intelligence," was taken from a case he read in his first year Torts class (yes, that's where he gets the time to do all of this). In Mulloy v. Hop Sang, a doctor had cut off the hand of a "Chinaman" without informing the patient. The judge awarded $50, since the Chinaman, while Chinese, was of average intelligence, and therefore would have understood the doctor's diagnosis.
His blog is representative of most of the 86.6 million so that are out there: it gets about ten hits on an average day, a few hundred on a good day, and a couple of complaints from devoted readers when it's not updated.
Like many, Wong still reads blogs, but looks for different qualities in them than he did several years ago. Today, he starts to explain why there's a tipping point underway in the blogosphere.]
There are those who decry the current crop of writing available on the Internet, claiming, at least in part, that the ease with which people can "publish" has lead to a significant drop in the quality.
But while the sheer quantity of written words online definitely makes a higher percentage of craptacular collocation more likely, it is not necessarily the cause. Expecting to find good writing just by hitting the "Next Blog" button at the top of your screen makes about as much sense as wandering into a library and randomly pulling books off the shelf (although I recommend both wholeheartedly). More often than not, you're going to have to do a bit of searching.
Here are a few blogs I came across while being bored in class ... er ... learning about the legal system.
Reading the majority of music blogs out there, one is forced to reach an inescapable conclusion -- loving music and being able to explain that love are two very separate things. You might be a passionate aficionado of the ondes Martenot, but express that passion like a kid talking about dinosaurs. (Come to think of it, how awesome would that be?)
Thankfully there are the boys at Said the Gramophone, who write about music with a poetic grace unrivalled by those Pitchfork nincompoops. Yes, there are times when I don't have any idea how the Said the Gramophone description fits the song, but the description is so good I don't care -- I just know I want to listen to it. For example, "A song like a secret casually disclosed; a 'So there!' murmured so quiet that the pride is lost."
One of the best aspects of the Internet is the way formerly isolated, fringe fascinations become geeked-out celebrations. Calculator watches, the films of Dan Aykroyd, cubic time, kittens dressed as people -- all of them get equal footing online with other, less culturally shameful obsessions. Even better is when those fascinations mesh beautifully with the form of the medium itself, as happens with typographers and web pages. While there are many designer/typography blogs out there, for my money, or free wireless Internet with dollar coffee, the best is Ace Jet 170 by the excellent Richard Weston. My favourite feature is Found Type Friday, which finds the beauty in randomly spotted type.
There are a lot of reasons to love McSweeney's -- the writing, the design, the Superhero Supply Store writing workshops. The best reason may well be Paul Collins, editor of McSweeney's Collins Library, chronicler of missing human remains, and keeper of the arcane in publishing at Weekend Stubble. Right now he's been keeping track of an increasing interest in radiated household items -- that would be people bidding on everyday objects from yesteryear that came complete with radioactive material (usually radium). If you like his writing, I strongly recommend Not Even Wrong, his at turns hilarious and heartbreaking non-fiction book about raising his son who was diagnosed with autism.
Daring Fireball features "Mac and Web Nerdery, etc.", but I read it for the Weekly Jackass, basically an annihilation of Apple critics that reads like The World's Most One-Sided Fist Fight. Blogger John Gruber's favourite target is Rob Enderle, an industry analyst who is remarkable for seeming to know almost nothing about technology. Reading Gruber take apart Enderle's statements is high comedy. As another writer said of Enderle, "Why don't we just replace him with a large switch marked OFF, and be done with it?"
Finally, Fashion is Spinach is a wonderful blog about style in Singapore and beyond, and wins the title for best use of food in a blog about clothing.
Related Tyee stories: